Making Easter Toppers with Kids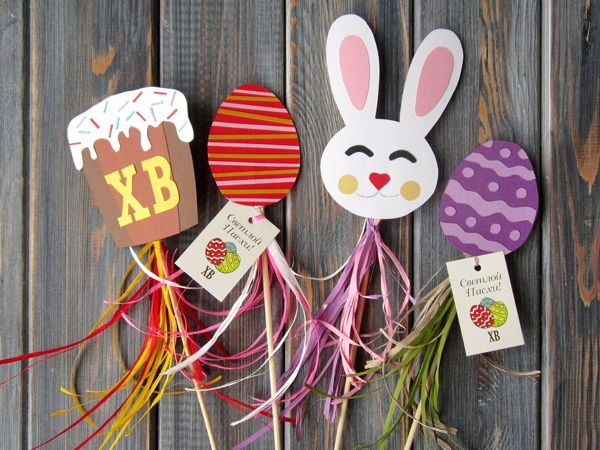 Easter — the oldest and most important Christian holiday — the Resurrection of Christ, the Bright Resurrection of Christ (quote from Wikipedia).
Even if you are not religious (like me), it is unlikely that this event goes unnoticed — Easter cakes and painted eggs are sold everywhere. Besides, willow is a symbol of palm Sunday, a holiday celebrated a week before Easter. Easter rabbits, though they are symbols of Western culture, but they have also taken root in our country, once again demonstrating a mixture of cultures and traditions.
It is very entertaining and interesting with the children to dye eggs and make Easter decor.
We will make one of these options (topper on a stick).
For work, you`ll need:
1. Template for printing.
2. Colored paper/cardboard.
3. Knife, scissors, cutting mat.
4. Glue.
5. Wooden sticks (bamboo or birch skewers about 25 cm long).
6. A small piece of three-layer corrugated cardboard (about 4 mm thick). Firstly, print the template and cut out the parts. Let's start with the cake. The main parts are better made of cardboard (density of 220 g/m2). If your printer allows, you can print directly on it. Mine doesn't do that :( So I had to print on plain paper at first, cut out details and transfer the contours on the cardboard.
The letters "XB" can be made of thinner paper (120-160 g/m2), I could do it on my printer, so I immediately printed them on gold paper. Do not forget in this case to turn the picture (mirror) to the contour of the printout remained on the back side.
That is what you get: Glue everything in layers. I used PVA glue, the main secret that there were no "wet" dents — use minimum amount of glue. For convenience, you can squeeze a small drop of glue on a piece of cardboard and take glue, for example, with a toothpick. So you can apply a very thin layer.
However, you can use any glue convenient for you.
You get such a cake: Next, take a piece of corrugated cardboard and cut into squares about 3*3 cm. It is Important to ensure that the lines of the corrugation are parallel to one side of the square. Then, glue a square from the inside of our cake and insert a wooden stick. It is important that the corrugated cardboard is thick enough to stick tightly (but without strong pressure) to fix the stick in the hole without glue.
In general, there are several ways to strengthen sticks. For someone finding thick corrugated cardboard will be problematic. But I think this is the easiest option for children, and most importantly, it is always easy to replace crafts with another if something goes wrong.
In principle, the cake is ready, but we have decided to decorate it a little more.
Firstly, cut the colored cardboard into narrow strips 5-7 mm wide. Then cut each strip across finely, getting small pieces of 1 mm wide. Decorate the cake with it. Now we're going to make eggs.
Cut and glue the parts for an egg. I must say that this option details are small and they may be difficult to cut. So there is an easier way to decorate the egg.
Cut out the pattern of eggs and a lot of colored stripes (2-3 mm), it is very easy to do with a ruler and a knife (here, you may need to help your child). Glue the strips on the egg in any order. Cut off the excess, and striped egg is ready. To decorate eggs, you can use completely different paper elements: squares, circles, flowers, etc. You can paint with dots, using the contours, or paint with paints and pencils. That is up to you :)
Do the same with rabbit. Cut and glue all the details. The nose is supposed to be black, but I wanted to make a red heart :) I cheated with eyes: I don't know how to draw open eyes, so my rabbit just squints :)
Here are the toppers we have made: We can stop here. But you can add more decor.
Take two pieces of artificial raffia (different colors) 30 cm long. Tear off a thin strip from one. For clarity, I had to flatten the ends of the raffia, so that it is not twisted and you can see everything.
Take two thick pieces and tie a knot on a stick. Lower the ends down and fix a thin piece (which was torn off in advance). Then share all fiber ends, turn the knot and pull it up, hiding from the inside. If you have Easter tags, you can also tie them. Here are the toppers :) They can decorate a cake, a basket with eggs, flower pots or just stick in a pencil box. Good luck!
DIYs & Tutorials on the topic