Cherry Blossom Season 2019 Oficially Open: Ideas for Creativity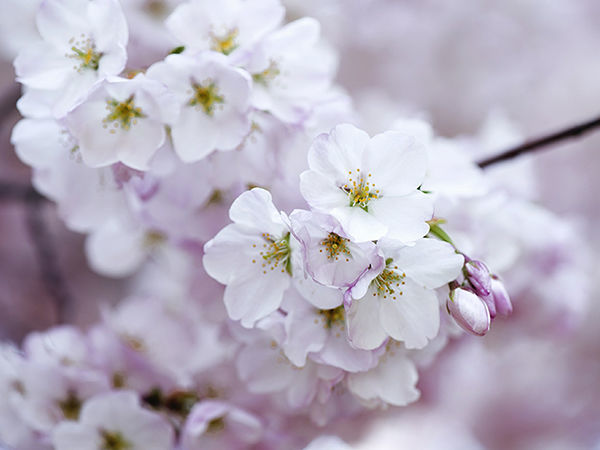 On March 20, the Cherry Blossom Season has officially opened in Japan. "Hanami", a traditional admiring of flowering trees, begins with the first blossoming plum or cherry flower and lasts only 7-10 days until the petals fall. Favorable temperature for cherry and plum blossom starts from 68 °F. Today in Tokyo, the thermometer rose to 72 °F, and in the southern regions of Japan, these figures are even higher. Some types of early cherry blossomed in Okinawa at the end of January, but the same pink flowers of the Somei Yoshino blossomed only in the morning on 20 March in the city of Nagasaki on the island of Kyushu.
The first tender petals appeared at 10 a.m. and were immediately captured by observers: The so-called "cherry blossom front" is monitored by the Meteorological Agency of Japan. To do this, 59 cherry trees of the same type were planted throughout the country as control samples. The trees are planted in such a way that they get approximately the same amount of sunlight. As soon as the first cherry blossoms, scientists continue to observe, noting the progress of the "cherry front" on a special map — from the south of the island of Kyushu to the most northern areas of the island of Hokkaido.
This is a map of the "cherry blossom front". Each area has a mark of the start date of flowering in the format of month/day: Life in pink: ideas for creativity and inspiration

If you cannot go to Japan, it is possible to bring a piece of Japanese culture to every day life. Below you can find a selection of options for spring decor, dresses, jewelry and handmade projects with Sakura flowers. Admire, embody and share your impressions in the comments!
The easiest way to transform any room is to decorate it with a bouquet of flowering twigs: Beautiful floral wallpaper or painting on the walls will help to create spring mood: Delicate sets of dishes will be a perfect decoration of the table: There is a place on a table for thematic culinary masterpieces. Especially beautiful Sakura flowers look on desserts :) All shades of pink fit perfectly into spring wardrobe when you want to change jackets for feminine dresses and skirts. But if you are not ready for a "total" transformation, look at unique accessories: And delicate floral jewellery: A little romance in everyday life will bring pleasant and beautiful things. For example, candles: If you keep a diary, it's a great idea to decorate spring months with cherry blossoms: Share spring with your beloved ones and customers! Beautiful packaging and cute details will express your feelings: Take a minute to relax — here are a few simple ideas for thematic projects in different types of craftswork: