Creating Crystals Pendant of UV Resin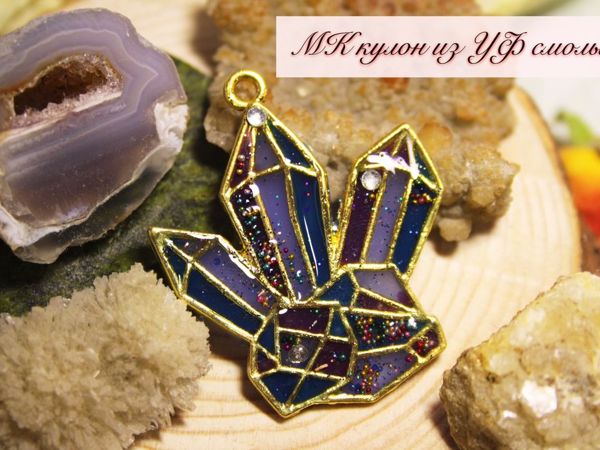 Today I will tell you how to work with UV resin and contours for its filling.
To create a pendant, you will need:
1) contours for filling in crystals form;
2) UV resin;
3) color schemes (I use 3 colors: blue, green, red);
4) plastic mixing sticks (I have coffee sticks);
5) mixing tanks (suitable containers made of silicone or any plastic, which is are useless);
6) various rhinestones, sequins for nails;
7) UV lamp;
8) wipes just in case;
9) plastic bags (tough);
It is recommended to work with resin in disposable gloves.
So, apply a contour for filling on a polyethylene. Mix resin with dye on in a container: The place should be protected from direct sunlight, otherwise resin will start to harden too early.
Apply resin in the contour cavity. Mix dyes of other colors with resin, and fill spaces between the contours. "Bake" in a UV lamp for 2-3 minutes and take it out. Next, decorate the pendant with decorative balls for manicure, sequins and rhinestones. Cover the pendant with a layer of UV resin and place it under the UV lamp for 2-3 minutes. Turn over the pendant and leave in the lamp for another 2 minutes.
Having taken it out, remove the film and cover the back side with a layer of resin, put under the lamp for 2-3 minutes. The pendant is ready! DIYs & Tutorials on the topic