Penguins-Cooks and Sandwiches with Surprise: Felted Miniatures by Trois M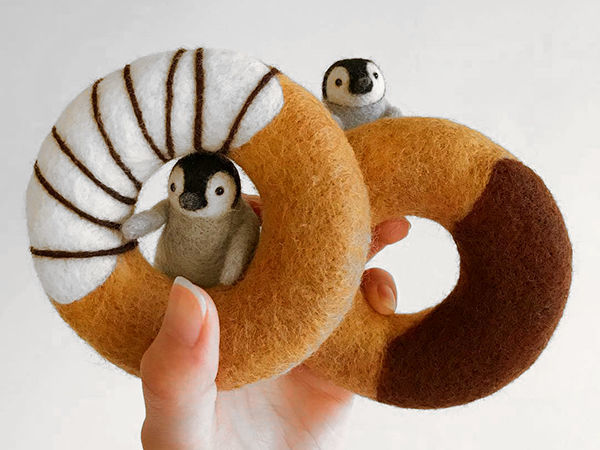 Japanese artists continue to conquer my heart with the ability to create stunningly touching and cute things. I especially liked the work in dry felting technique - culinary miniature and woolen animals. Today I would like to share work of the felter, hiding under the nickname trois M .
In her works, she combines my favorite directions, excellent sense of humor and creative approach to photography. So are born whole stories about penguins, worthy of chef title; about bears, who love things cooked by penguins; about seals, who like to hide in sandwiches... You need to see it with your own eyes. Enjoy watching! :) Meet the team of penguins. They are passionate and inspired chefs: Penguins are really responsibile. They start with discussions and preparation of sketches of their goods: Only then they start cooking, do not forget to check with the outline ideas: Are the sweets ready? Sweet teeth are right here! The penguins are making pancakes... They are preparing delicious cakes with cream and fresh strawberries (which not only bears love, but also seals): They are baking strawberry cakes, attracting the attention of a crowd of bears :) Improve baking skills on a variety of cookies: In the preparation of products, friend otter helps penguins: So the company was preparing for the New Year: Whatever the penguins have prepared, there will always be willing to taste :) Penguins relax, doing their hobby - gardening: