33 Super Treats for Maslenitsa Festival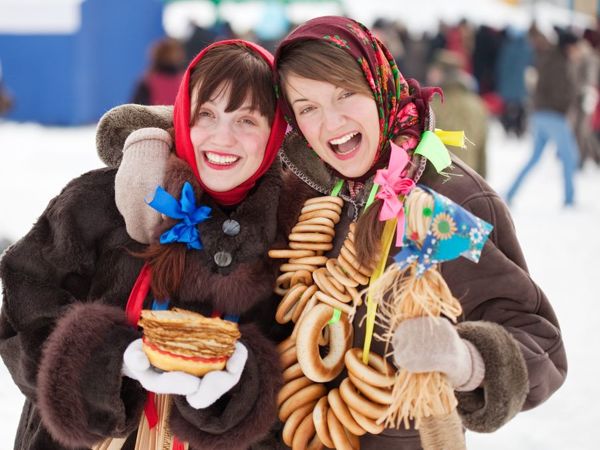 Maslenitsa is the sunniest, brightest and the most cheerful Slavic holiday of the year, preserved from old times. During 7 days we are celebrating the farewell of winter and meeting spring! In 2019, we will celebrate a wonderful holiday of Maslenitsa from 4 to 10 March. Celebration of Maslenitsa unites all generations — it is equally loved by adults and children!
Pancakes are the main treat and symbol of Maslenitsa: round, ruddy, hot, they are like the sun, which is getting brighter and the days are getting longer! From time immemorial, numerous pancakes were baked for Maslenitsa Festival. For each day of the Maslenitsa week there were some ceremonies. Monday — carnival meeting, Tuesday — start of merriment. On Wednesday — a mother-in-law invited son-in-law to eat pancakes. On Thursday, there were the most crowded tobogganing. On Friday, a son-in-law invited mother-in-law for a treat. Saturday was called "daughter-in-law parties". Sunday is called Shrove Sunday. Moreover, a winter scarecrow had been made by Sunday, it was dressed in women's clothes, carried through the whole village, and solemnly, with songs, carols and dances burned in the main square. Immediately arranged various competitions, fist fights, fair... Winter Farewell was always celebrated noisily and cheerfully!
Nowadays, all Russia — every village, every city — organizes Maslenitsa festivities with colorful performances, circus, attractions and treats! It is customary to visit friends and relatives, learn and sing with the children new carols, songs, crackers and sayings. After exciting celebration in fresh air, it is so nice to return home a little tired! It is also great to taste the treats cooked by the hostess with family and friends.
Keeping the tradition, with the arrival of this wonderful holiday, caring housewives tend to surprise their family and guests with delicious pancakes, the best recipes of which are transmitted from generation to generation, but there are new recipes — new ingredients are available, the conditions of modern cuisine change. The best pancakes literally melt in the mouth, and it is impossible to recall anyone from the plate, and this is the highest degree of gratitude to a good hostess. To achieve this skill, you need to try and use your skillful hands at the kitchen. Children, according to their age, can also be involved in the festive preparation.
It is even more interesting when pancakes are not only delicious, but also beautiful!
I have found the brightest and the most creative, delicious ideas for a good and tasty holiday!
Just look what beautiful dishes you may cook from pancakes!
1. Beautiful pancake fruit and berry dessert will not leave anyone indifferent!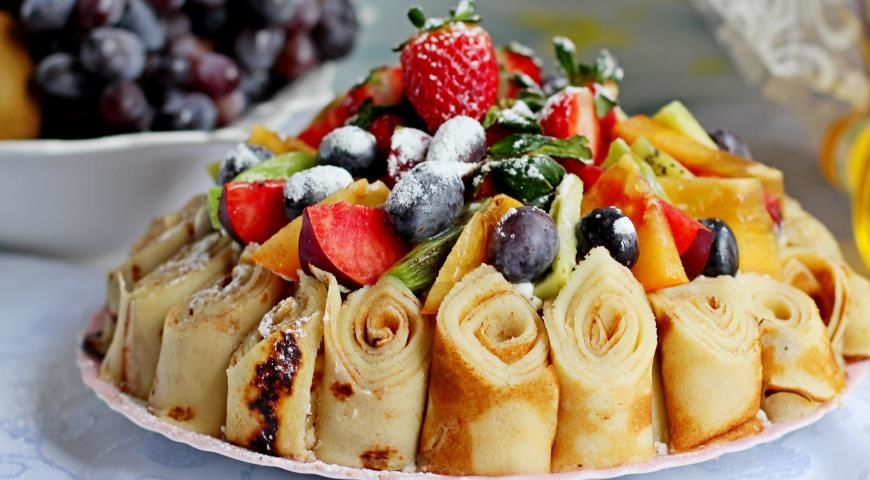 2. How about a big rainbow stack of fluffy pancakes? For the preparation of colored dough, use only proven food colorants! Fortunately, now they are easy to find in a store.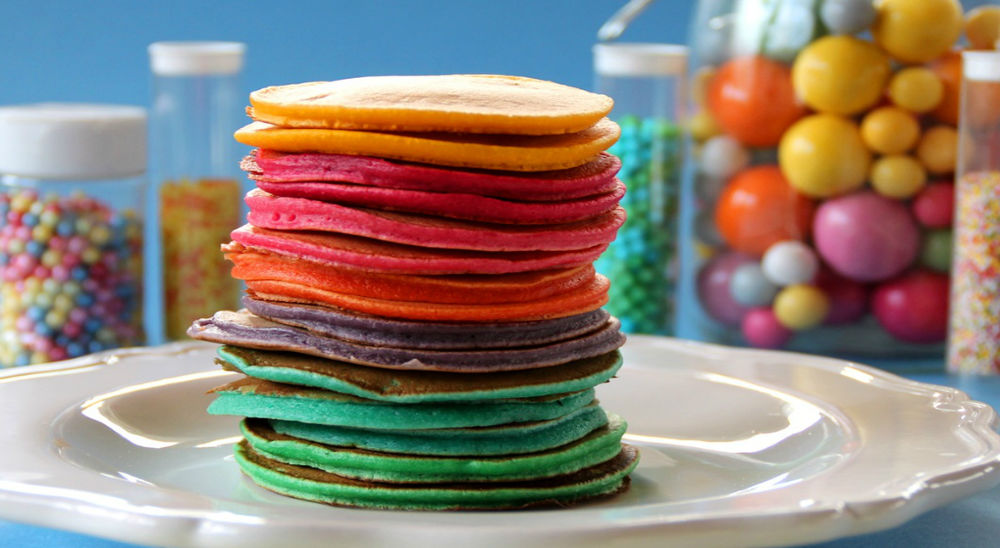 3. Here's how you can serve beetroot and egg pancakes with currants.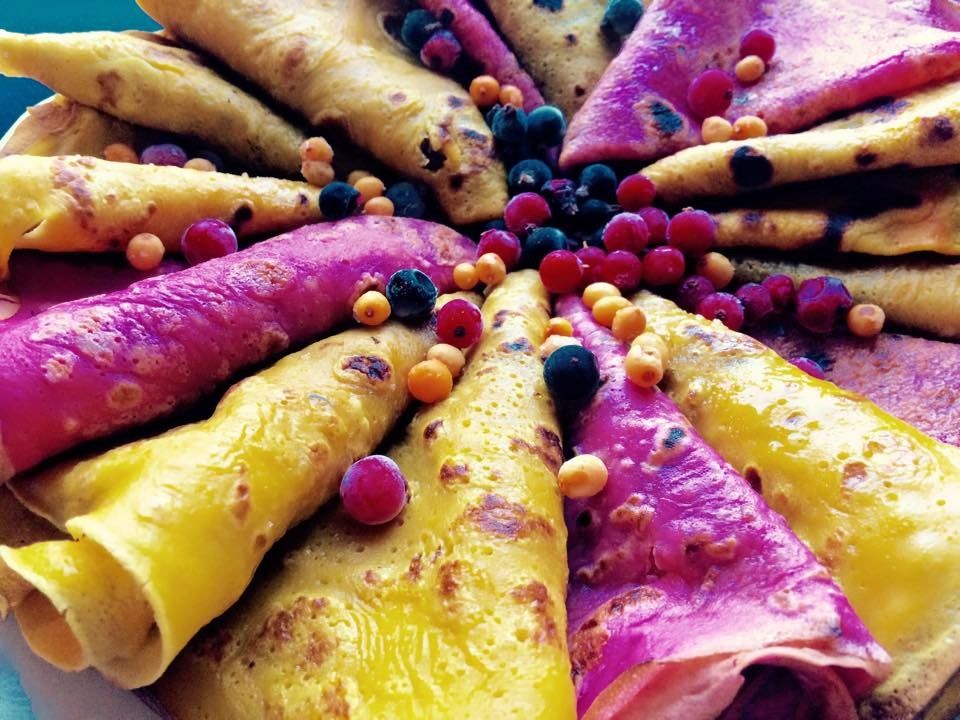 4. Unusual bouquet — salad of pancake rolls stuffed with beetroot!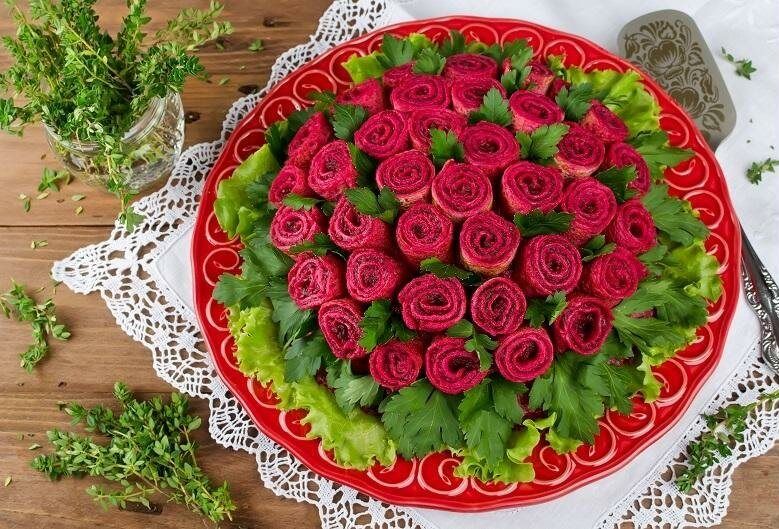 5. Big beautiful pancake cake with cream and strawberries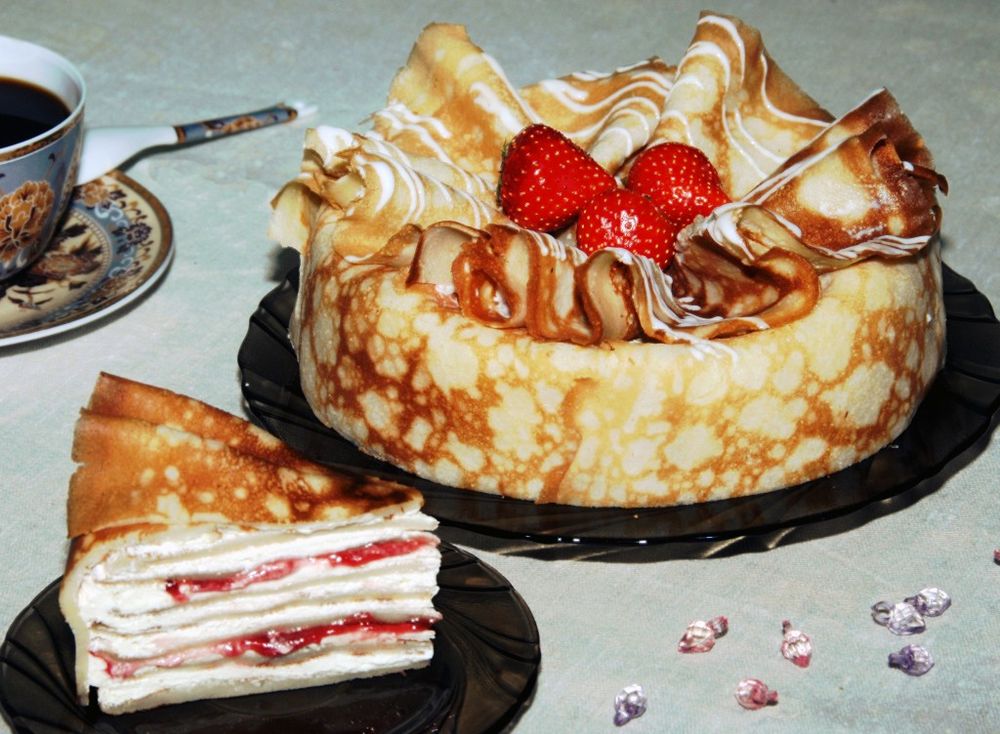 6. Flower pancake plate — a wonderful design!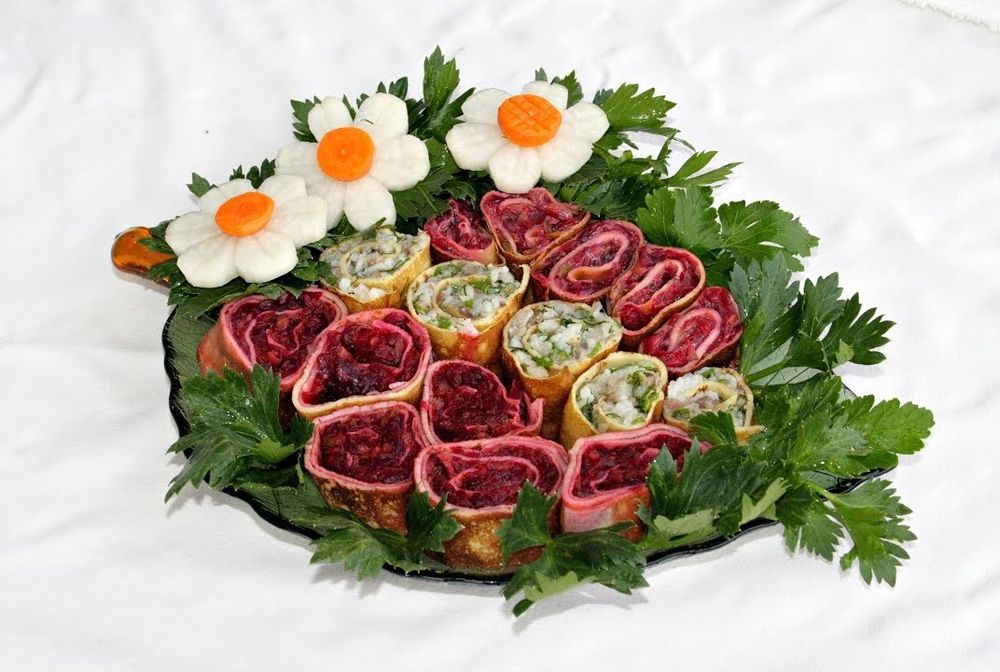 7. Have a look at this, the kids will be delighted! Seals, butterflies...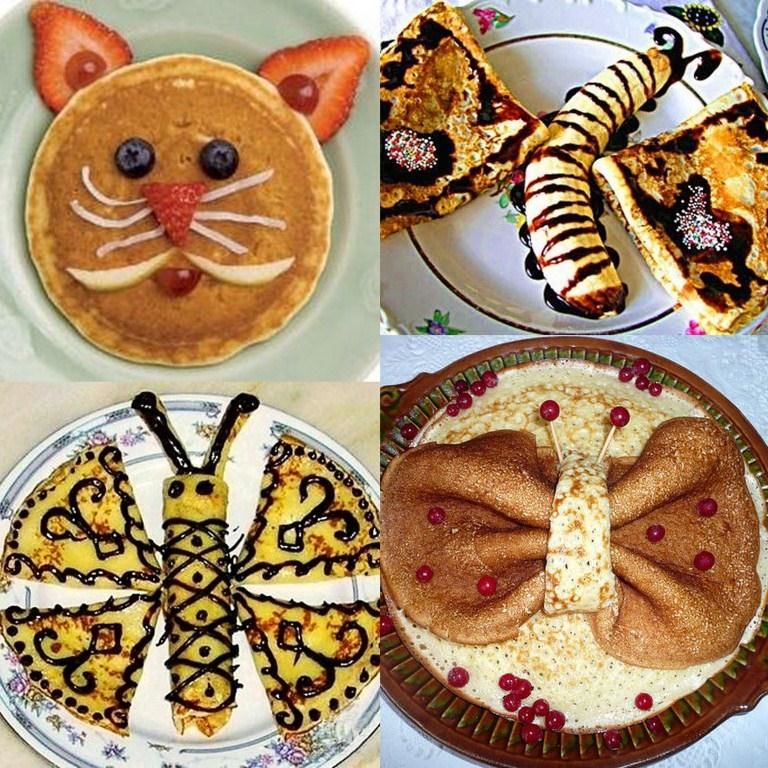 8. Rag doll made of pancakes.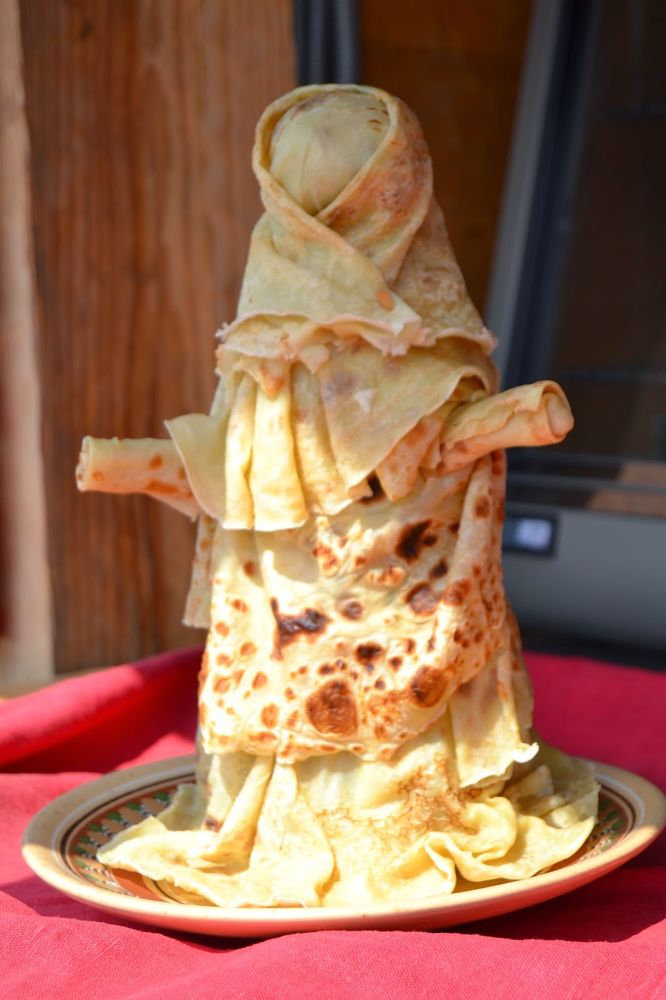 9. A doll with a bag! There is a filling in this bag.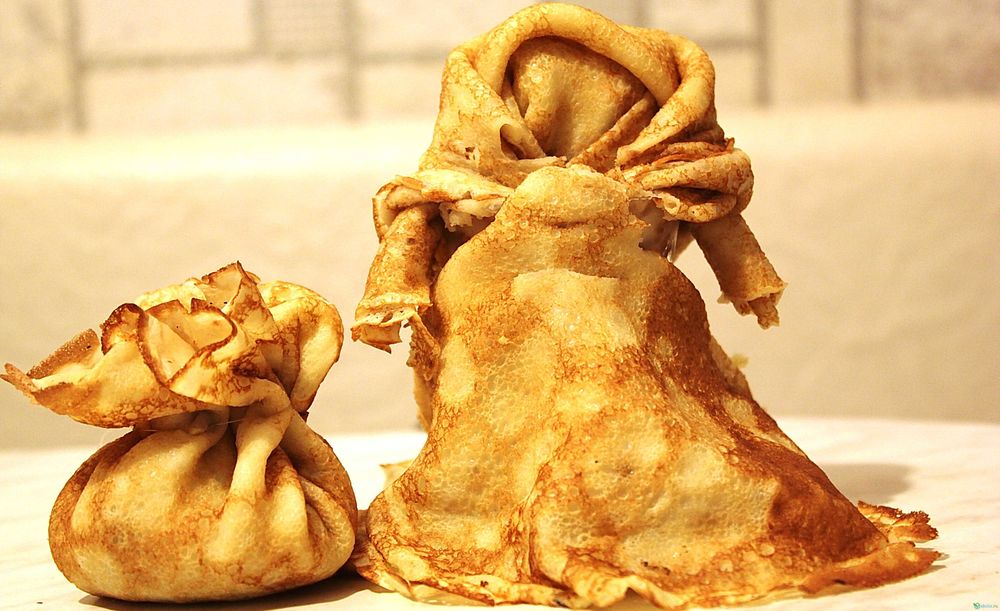 10. Pancake hut. Or a house. Russian version of gingerbread house!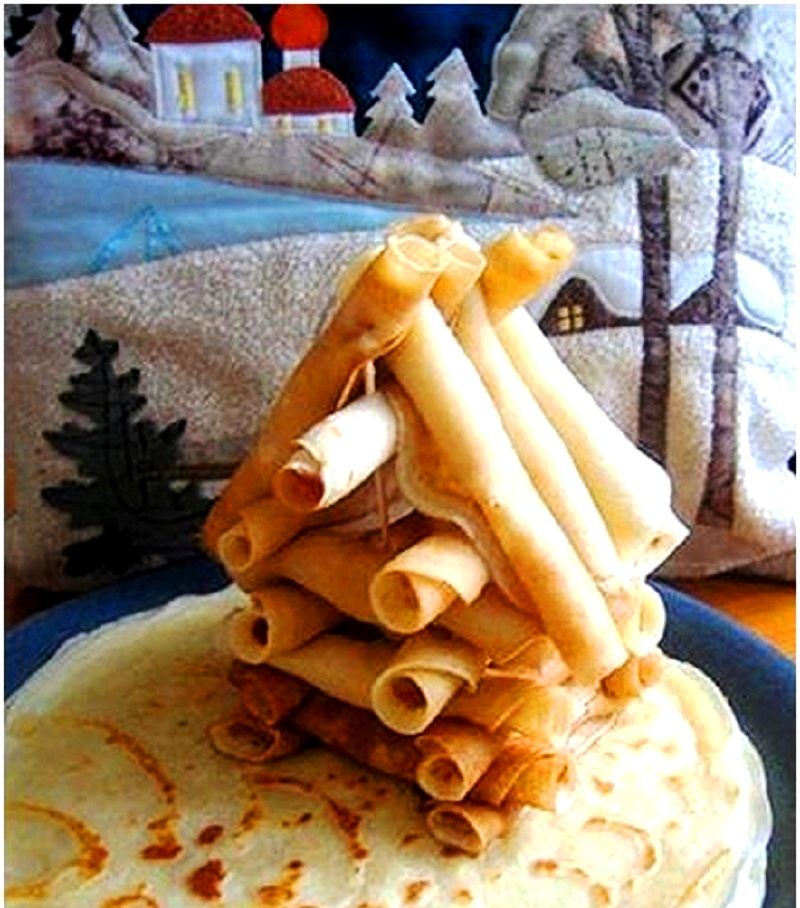 11. That is how you can congratulate, surprise and please a little daughter, granddaughter, niece or goddaughter...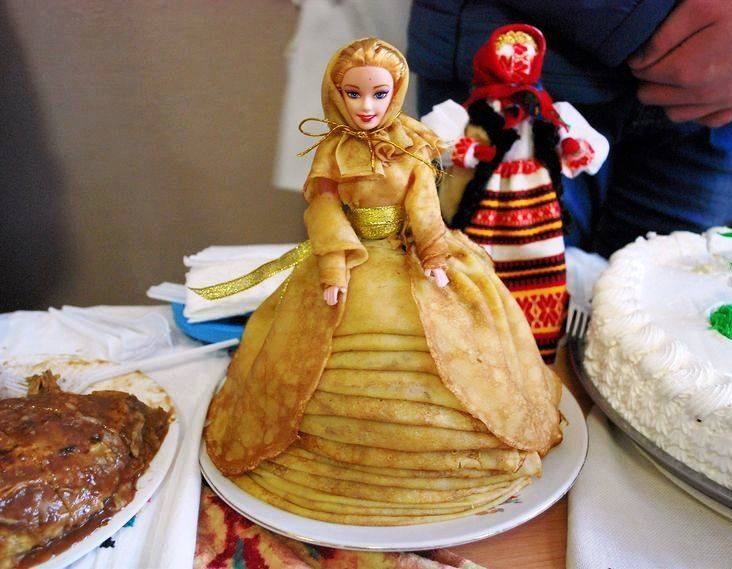 12. The doll must be pre-wrapped in plastic where it will be in contact with the pancakes. A doll dress can be given to the girl separately, along with a postcard.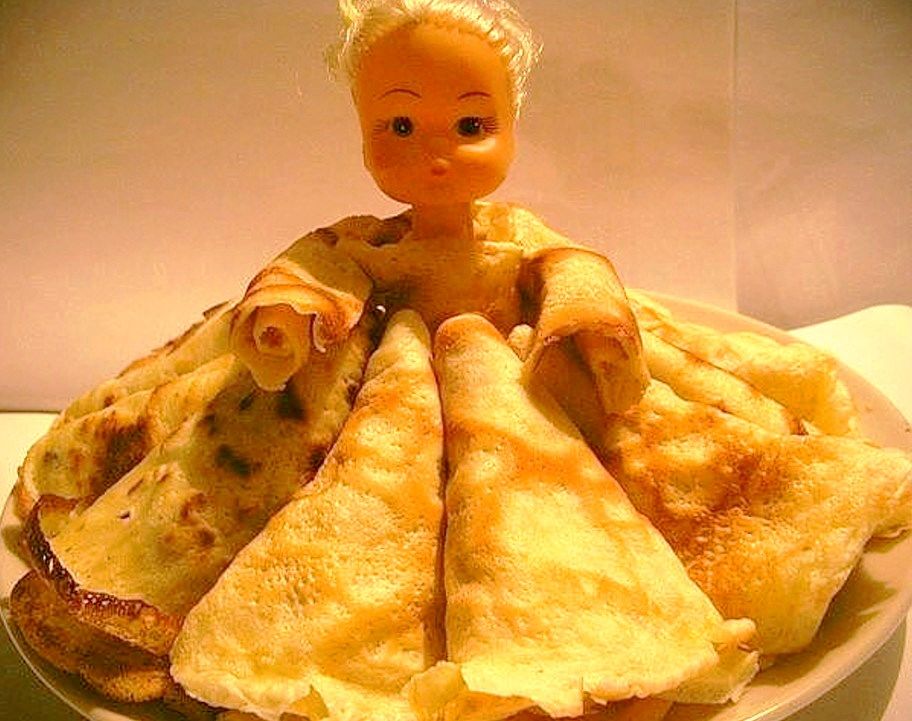 13. Boys will love this delicious pancake tank!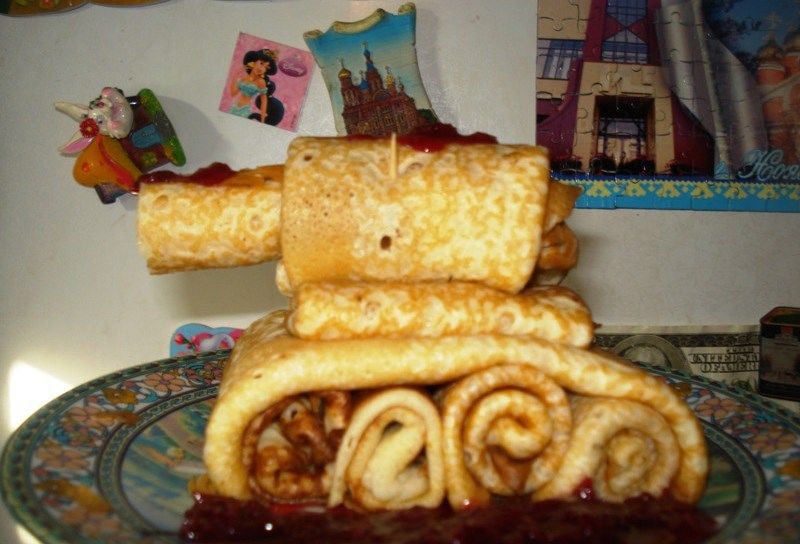 14. In general, children are very fond of curly pancakes — you can experiment endlessly, especially since this work is rewarded hundredfoldly!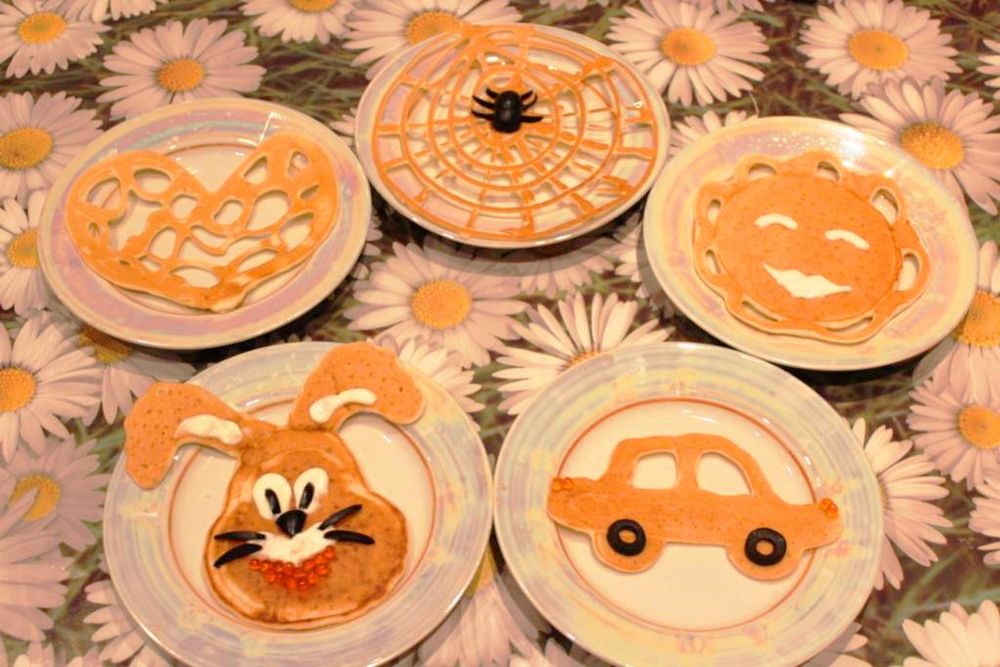 15.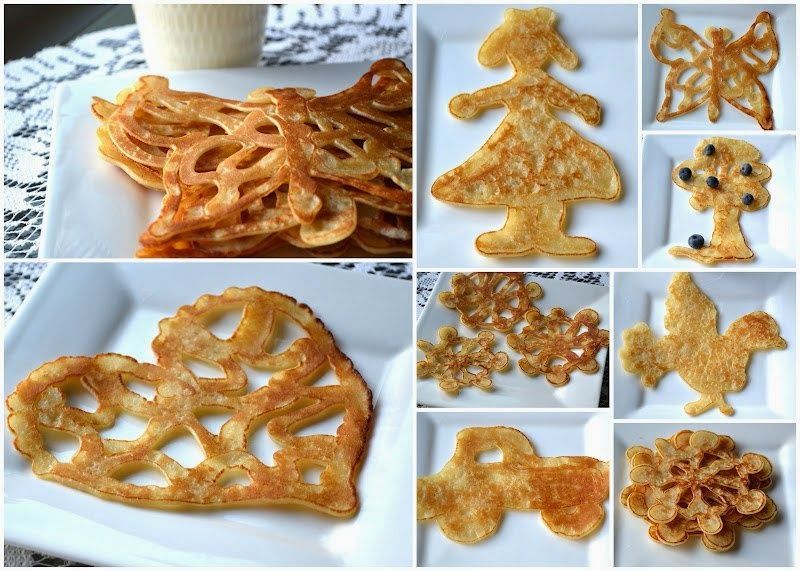 16. An owl of pancakes with cherry eyes!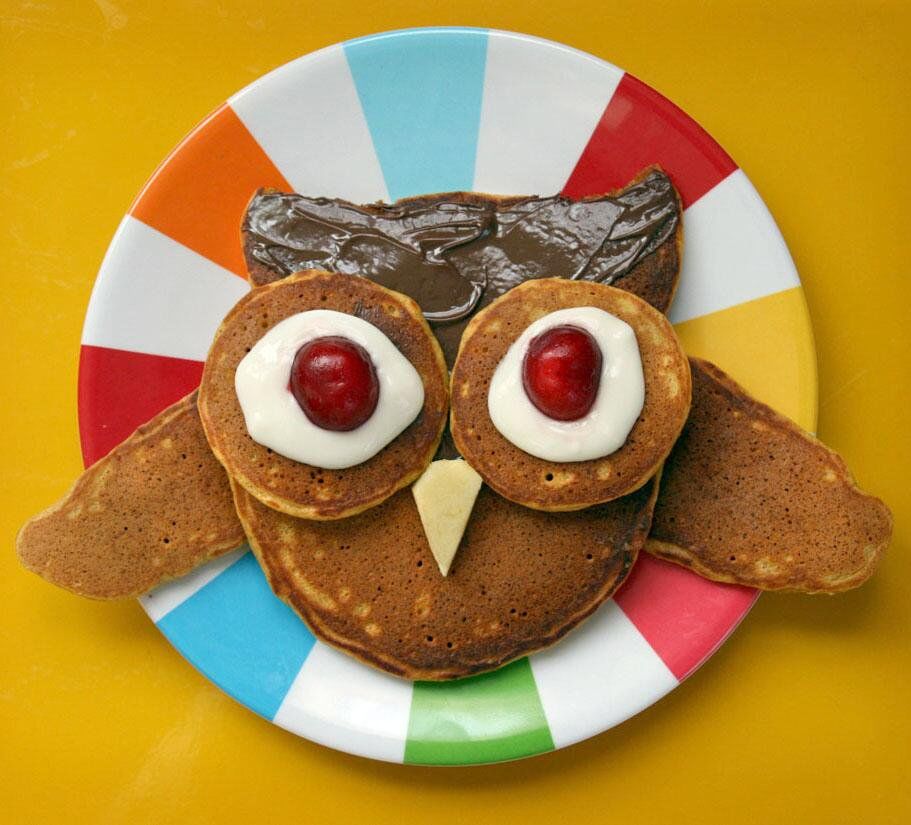 17. Here is a positive lion!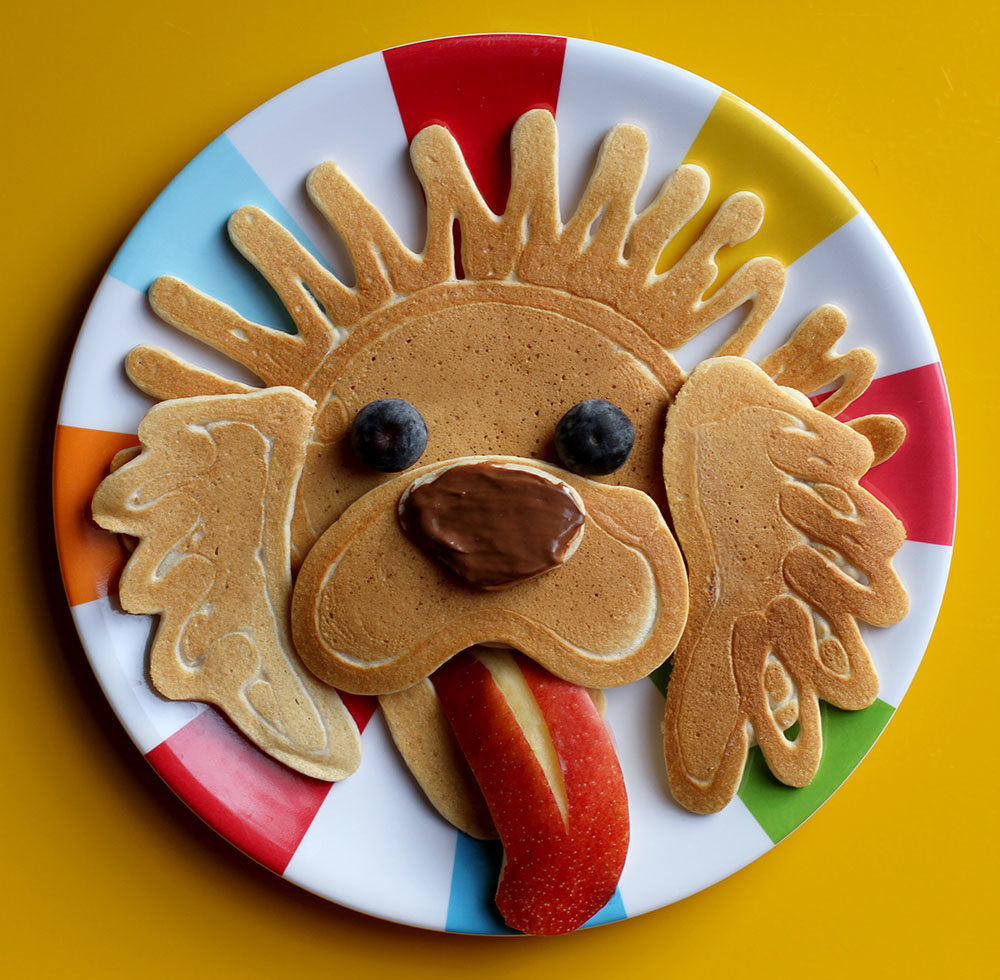 18. What a lovely doggie! And jam hearts...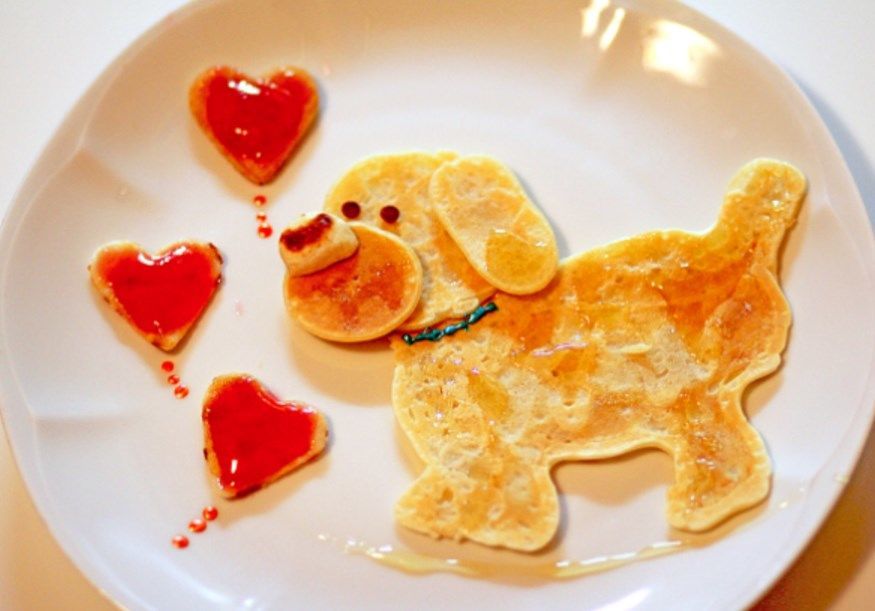 19. The most delicate Calla lilies. The bouquet on the plate!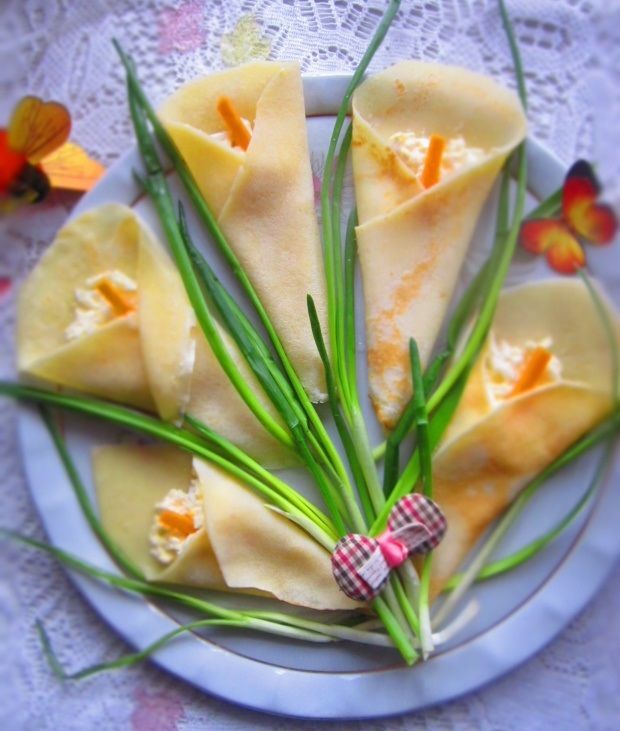 20. Let this Festival be the most beautiful!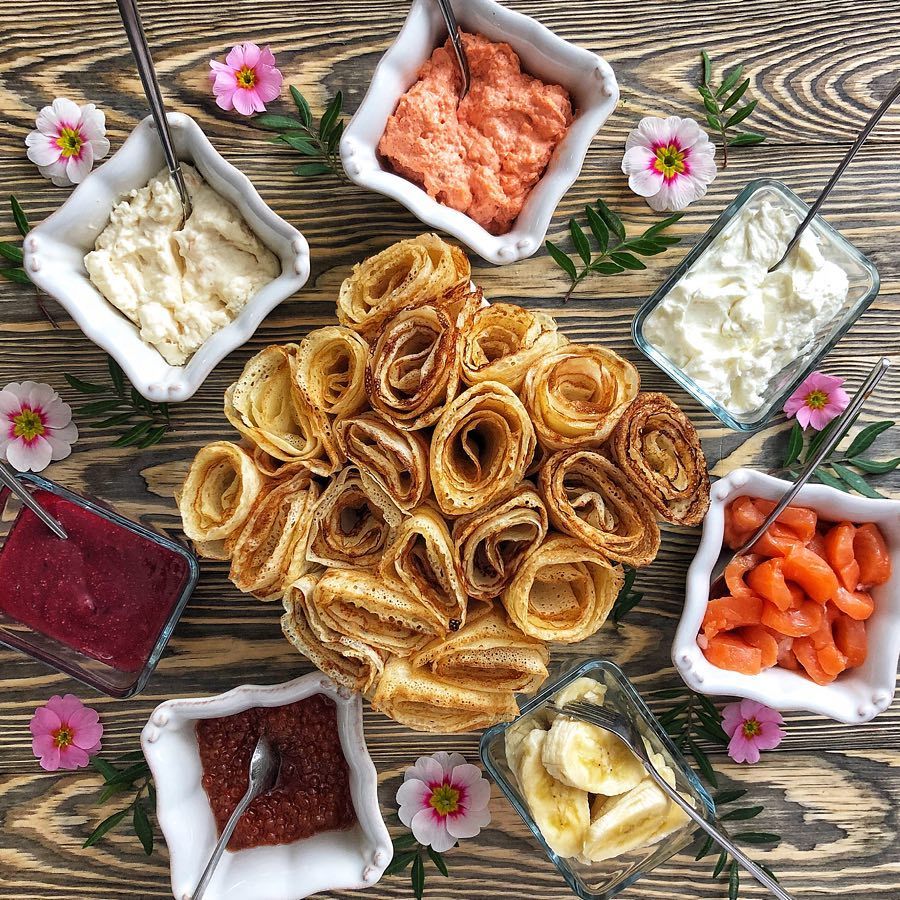 21. Get inspired, cook! Let's create, surprise!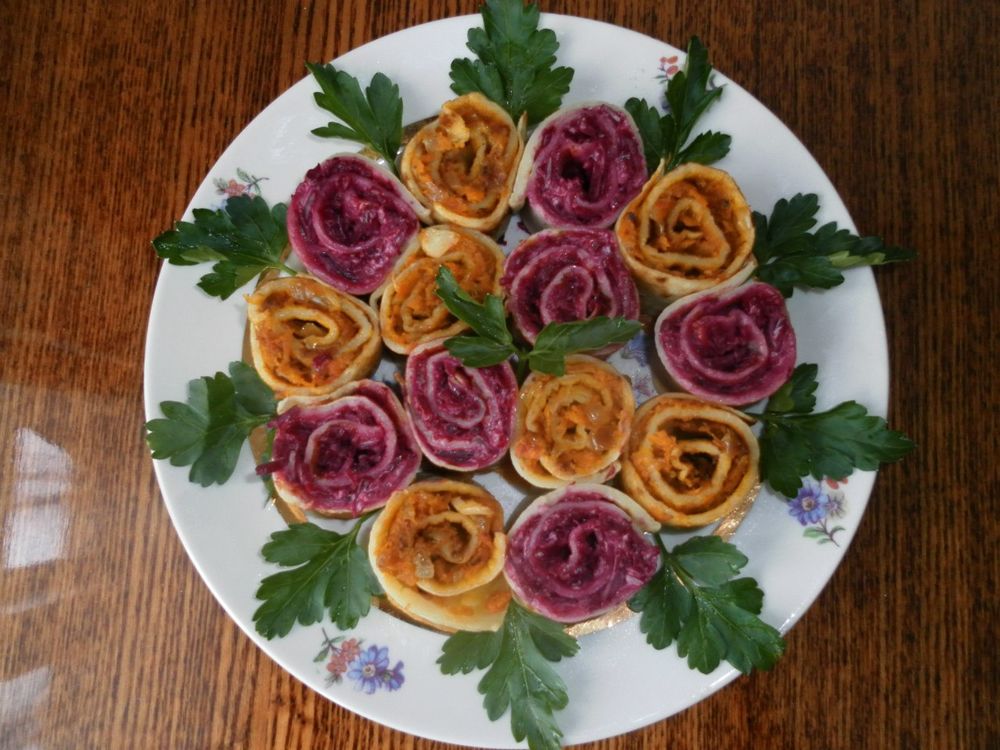 22. This is a cherry on the cake! Delicious, right?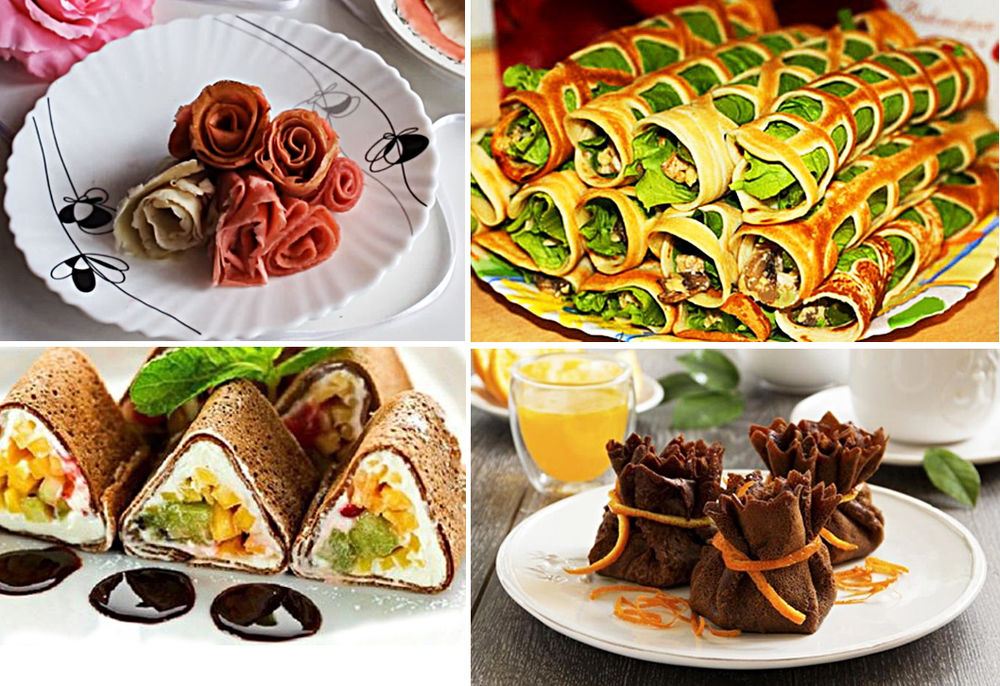 23. How do you find these rolls on skewers? How refined and sophisticated, and this is done very simply!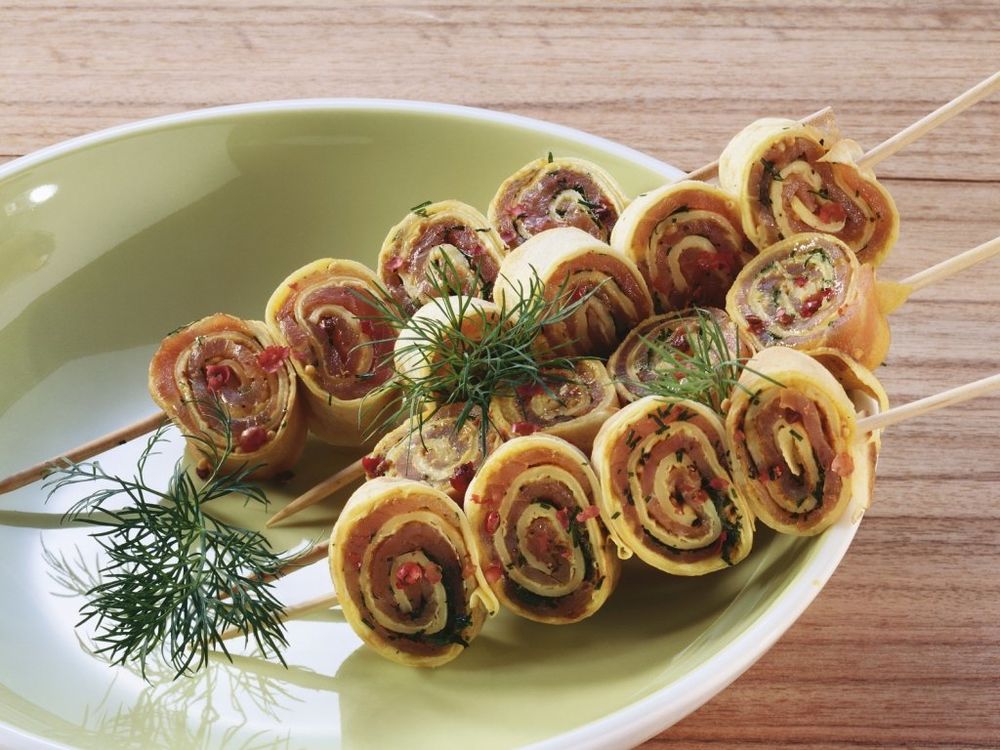 24. Pancakes with poppy seeds will perfectly prepare for bedtime — confectionery poppy has soothing properties.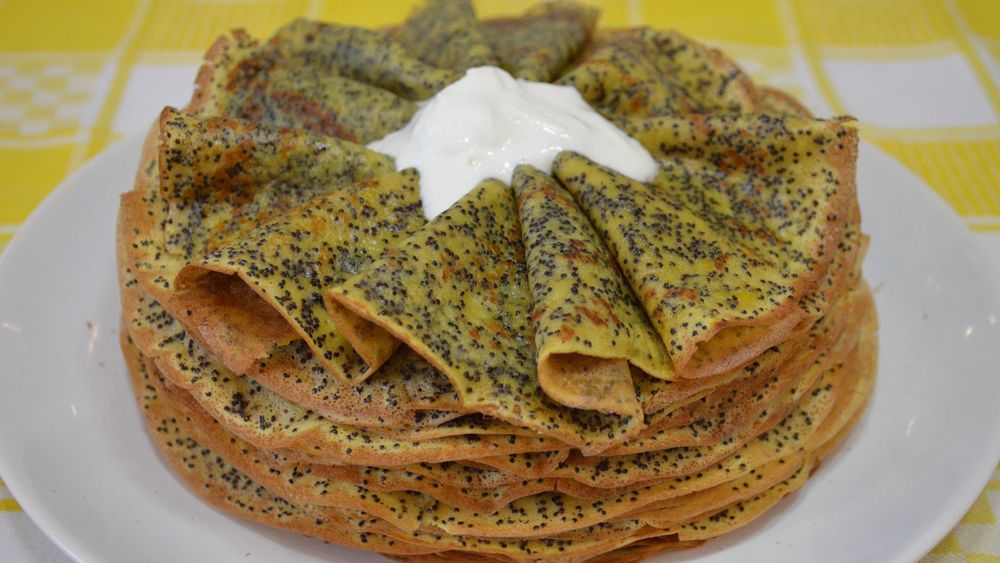 25. Here is an unusual cake!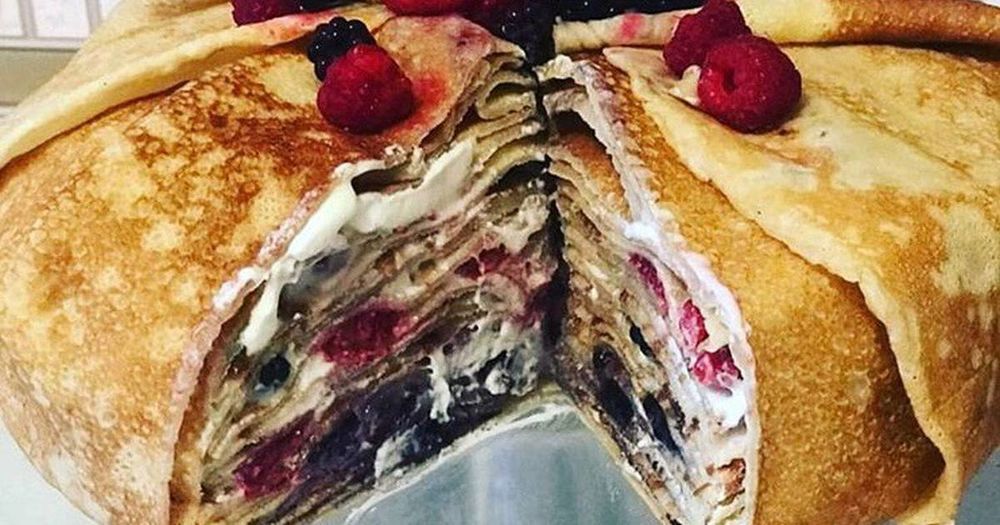 27.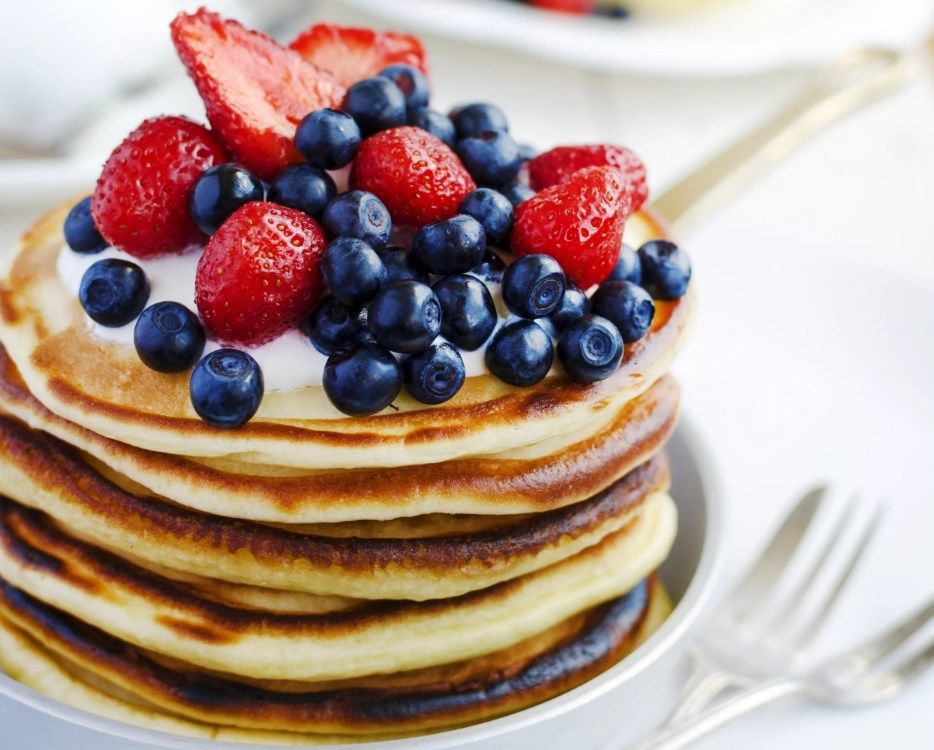 28. Happy Spring! I wish you bright holidays, bon appetit, warmth and sunshine!