Making Simple Easter Wreath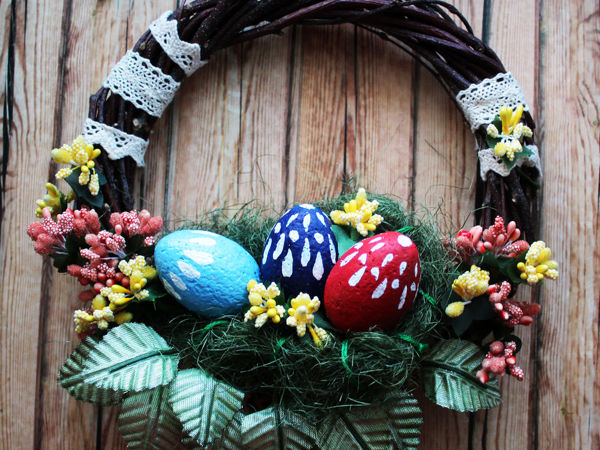 In this tutorial we will show you how to make an Easter handmade wreath. You will need a base of branches (we used a base of birch branches), three foam eggs, leaves, stamens, cotton lace, linen twine, sisal fiber, paints (we used tempera), cotton yarn (thin), brushes and a needle for sewing. Firstly, just lay out the materials to understand what the composition will be. Cut small pieces of lace and sew them to the base. Stitches should be placed on the back side. Next, insert stamens on the sides of the wreath between the branches. For stamens not to fall out, fasten them with linen twine. If necessary, they can be fixed with glue. Then in the same way, attach the leaves to the wreath. Take a small piece of sisal fiber. Form a nest out of it. Place the nest on the wreath. Sew the nest to the twine. The walls of the nest can also be stitched. Paint eggs with tempera or acrylic paint. In any case, do not use alkyd primer — it will eat destroy the foam. Sew the eggs to the wreath. Do not glue them with a superglue. It, like alkyd primer, will destroy the foam. The thread must pass through the base of the egg. All sticking out threads are fixed on the back side. The wreath is almost ready! We have finally decided to decorate it with yellow stamens. DIYs & Tutorials on the topic