Making Copper Pendant Filled with Jewellery Resin. Part 1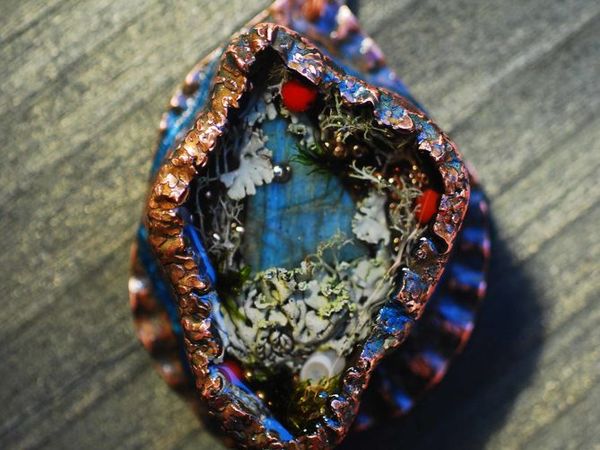 I offer you a tutorial on how to create a pendant made of copper sheet and filled with "jewellery" epoxy resin.
You will need:
- large gas burner;
- small pliers, round pliers, wire cutters, tweezers, metal scissors;
- file, sandpaper;
- anvil and hammer (can be two hammer-one in as an anvil);
Used materials:
- copper wire 1.5 mm;
- copper sheet 0.4-0.5 mm thick;
- copper-phosphorus hard solder;
- decor for pendant;
- transparent epoxy resin, it is also called "jewellery";
- varnish.
For copper lightening you will need:
- pot;
- water with citric acid.
For the etching of copper you will need:
- lacquer marker, solvent for washing off;
- glass jar;
- hydrogen peroxide 100 ml;
- citric acid 30 g;
- salt 5 g.
For copper blackening you will need:
- waterproof container;
- ammonia;
- a plastic cap with a cotton swab.
Let us begin.
Large gas burner is the main tool. You are to hold the burner+gas cylinder almost upright, the deviation of the axis of the cylinder from the vertical should not be more than 45 degrees. This must be remembered as the workpiece is on a steel lattice, and not hanging in front of the nozzle. Firstly, cut a strip 1.5 cm wide from a sheet of copper, bend to the desired shape and solder the ends, so you get a caste. Tall, deaf and still boring. I cut out the base of the pendant, put everything on the grid for soldering. Start soldering: warm up the inside of the workpiece, a rod of copper solder will be led from the inside. A small gap will disappear under the solder without holes.
Soldering result: Bleaching — boil in a solution of citric acid. Take the token based on a varnish (to sustain the etching) and paint "trees". The beginning of the etching. Mix 100 ml of hydrogen peroxide, 30 g of citric acid and 5 g of salt in a container. Place the this inside — the reaction starts immediately. Closely monitoring the etching process, remove the workpiece, when indicated by topography; re-immersed in solution only the edges of caste — leaves smooth line.
I wash off the lacquer marker with solvent. Place of the seam — solder etched, the seam is almost invisible. Gently bend the edges of the caste. I place the moistened with water workpiece in ammonia vapor for a few hours — the surface is covered with a beautiful patina. After grinding with fine sandpaper a pattern appeared. Start pitching. I mix the components according to the instructions, wait until the bubbles leave, and start pouring. The first layer is just a few millimeters to the decor stuck and not surfaced. In my case, it's labradorite stone and moss, lichen, beads. This is the end of Part 1 :)
DIYs & Tutorials on the topic