How to Begin Painting with Watercolors: Musthaves for Beginners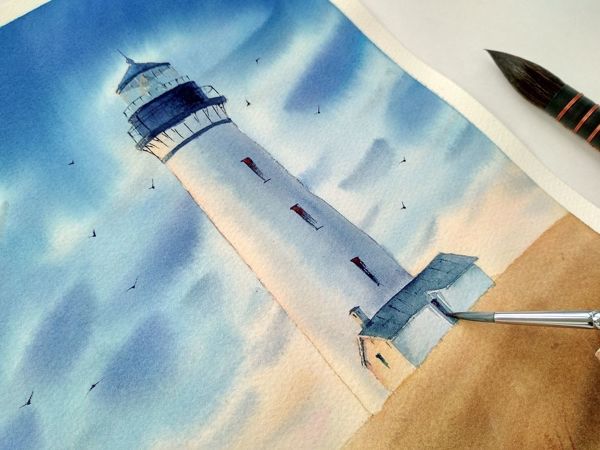 Do you come across more and more watercolor pictures? Do you admire the lightness and transparency of watercolor paintings? You are itching to do the same: "I also want", but you do not know where to start?
So, it's time to get down to business! Not God but man makes pot and pan.
If I had such an article at the beginning of my journey with watercolor, I would have saved a lot of time, nerves and money to find really necessary materials.
Here is my minimum universal, and most importantly cheap set of materials for beginners to paint with watercolors:
1. Paper
One of the most important tools for watercolor technique.
Watercolor paper can be of three types: 100% cellulose, 100% cotton and a mixture of cellulose and cotton in different percentages.
Cotton paper keeps moisture during wetting for a long time. The paint penetrates deep into the layers of such paper. It is the most expensive of all types of papers suitable for watercolors. But you will use it later, when you gain experience. In the meantime, you can save.
With proper soaking chemical paper is also capable of keeping water for a long time. The paint falls on the pulp as a film. That is why it is easily erased from the paper (when wetting the sheet with water, when wiping with a brush). I have a favorite brand of paper, but you can also take another, it will also fit. Now I use 100% cellulose for sketches, preliminary works, exercises, sketches .
Mixed paper does not differ much from chemical one, and costs more. Therefore, I advise you not to bother and take a pure cellulose sheet.
Paper is sold in albums, glues, sheets and rolls. Here I will not go deep. Take the sheets. It is more convenient and again cheap - cut to work into the pieces you need. Tip: when I started, I took usual watercolor paper, sold in the nearest supermarket (the main thing is the desires, isn`t it?). With it I understood watercolors and had an opportunity to practice basic exercises in watercolors.
Paper according to the method of pressing and the resulting texture is of three types:
1 ) smooth paper (satin / hot pressed) is obtained by hot pressing. But water and watercolors on the paper slip. But the glaze is good. This paper is good for drawing botany.
2) textured paper (fin/cold pressed/Not) is obtained by cold pressing. It has moderate roughness. Paint on this paper lies flat, forms a beautiful spreading. Universal paper. Suitable for different things.
3) rough paper (torchon/rouge) is obtained through natural drying. Its texture is strongly expressed. The surface of your drawings will be with a strong surface.
I advise you to try all kinds of papers and to determine the chosen texture.
The density of the paper is also different. A generic version is 300g/m2. Paper with lower density goes wavy when wet. It is better to attach the buttons to the tablet. There is no sense to overpay for denser paper.
So, I advise you to buy cellulose 100% 300g / m2. Any texture.
2. Brushes
For a beginner, four brushes are quite enough. a) squirrel or squirrel mixed with synthetics. Squirrel brush is considered to be the Queen of watercolors. Main brush. Take a round brush with of 6-7 mm diameter. Russian manufacturers have numbers 6, 7, respectively. Foreign manufacturers have different. I do not advise to take cheap bruches — hairs fall out and don't keep a sharp tip.
b) synthetic round brush with sharp (this is important!) tip. Beam diameter is 4 mm. Number 4, respectively, from Russian manufacturers. The manufacturer doesn`t matter.
c) goat brushes, a size of 25-30 mm. It is a flat brush for wetting the sheet. Natural pile gives good water from the brush. Synthetic gives paint well but water badly. So, take natural ones.
d) striper, schlepper. You can buy natural or synthetics. Choose 1-2. Natural ones tend to lose hairs.
3. Paints
Choose any professional set of 12 colors. One has only to check the presence of color burnt Sienna. This is one of the most used colors in watercolor lessons. If it does not appear, it does not matter. Exercises with which you should start getting acquainted with watercolor, you can do any other colors.
4. Glass of clean water
5. Roll of dry towels
6. Spray 7. A simple HB pencil
Everyone has it.
8. Putty rubber
To erase a pencil from watercolor paper it is better to use it. It does not damage the paper, unlike the eraser.
9. Tablet
You will attach sheets to it. 10. Masking tape
When wetting the sheet, it will inevitably "lead" waves. To avoid it, fix the paper with the tape on edges to the tablet at the very beginning of work.
11. Palette
Any flat white plate will do.
That's it. Your universal set for working with watercolors is ready. It's time to attach the sheet to the tablet. Open the paints. And start drawing. Good luck!