Unusual Wedding in Little Shepherds Style of Bo Peep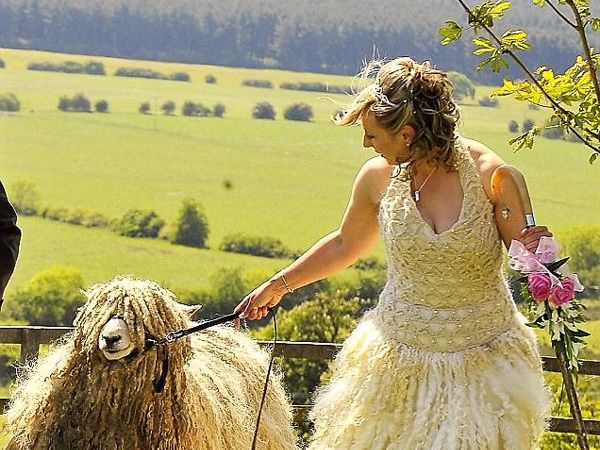 My attention was drawn to an unusual photo from the Internet. It turned out that there was an interesting sory of creating an extraordinary wedding dress behind it! I want to share this story that happened 10 years ago.
First of all: who is Bo Peep?
This is the character of a famous English song about a little shepherd and her sheep. Little shepherd girl has a certain image and costume, she is now a character cartoons, comics, and even dolls have Bo Peep`s costumes. The owner of the farm, has received many awards for sheep, Louise Fairburne from the English village of Risby Grange, in the Lincolnshire Wolds, decided to have her wedding in Bo Peep style. She met Jan, her future fiancé, when looking for like-minded people to revive Lincolnshire Longwool, one of the oldest breeds of English sheep. During the preparation for the wedding, Louise came up with an unusual idea - to use the wool of sheep of her own herd in wedding dresses.
With her idea she went to Caroline Chamberlain Couture, Lincoln, a wedding boutique, where Louise helped to create an unusual wedding dress made of English sheep wool.
Louise wanted this dress to look like any other wedding dress, and that people would not realize that it was wool until they approached, and her wish came true!
A sketch of the dress was created taking into account the wishes of the bride. According to the pattern, a woolen bodice from favorite sheep was crocheted, which was then embroidered with beads and Swarovski crystals. The back was made of Lincoln Longwool Felt and trimmed with hand-made felt roses. The unusual skirt was made of curls of natural wool, which Louise washed by hand before they were sewn directly on the woven fabric Lincoln Longwool. During the wedding, Jan, the groom, had on a woolen vest of sheep of their own herd. Mrs. Fairburne even carried a Bo Peep style shepherd's hook, and the ring pillow was made of wool fleece. Guests were served chocolate dishes in the form of sheep. An unusual topper for a wedding cake was also made with the use of sheep wool of their own herd! After the story was published in the Daily Mail, the photos caught media`s attention around the world! Louise said that she just wanted to prove that people can do something fantastic out of yarn, and the result was something that was beyond her wildest dreams...
She wanted to prove to people that wool was not just what people need to knit bobble hats, and that their local breeds could have the same great presence today as in the past.