Drawing Flower Field with Oil Pastel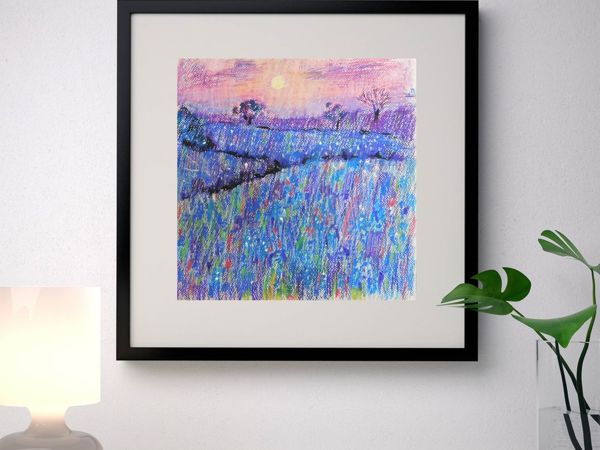 Materials:
oil pastel (Van Gogh by Royal Talens or Koh-I-Noor);
palette knife;
paper napkins (for cleaning pastel);
pastel paper (Fabriano, Tiziano or Canson, Mi-Teintes);
fixative for oil pastel.
The concept of this picture is the following:
When drawing a picture, I was inspired by different fields and their colors. I decided to create a series of drawings, where I explore an issue of "color influence on a person in painting" (in terms of psychology and art therapy).
In this work, I wanted to show calmness, so the picture is painted in appropriate colors, causes a sense of peace, serenity, comfort, relieves stress due to the color scheme. I didn't want to go into details. My goal was to show an overall impression of flower fields beauty. Therefore, it is necessary to work expressively, in one breath. For inspiration, you can see photos of the fields in calm colors.
Stages of work:
Apply overall color base (determine in advance where the sky is).
When the overall tone is created, sketch field composition.
During the work, scratch the pastel with a palette knife to see the layer below and create an unusual effect, texture (see the video). Create texture the way you feel!
Draw symbolic flower field and the background with trees, the total mass.
Highlight accents.
So, I offer you to watch a video tutorial.
I hope you will like it.
Enjoy!
Details. DIYs & Tutorials on the topic