Versatile Dress of 1980-1982 by House of Worth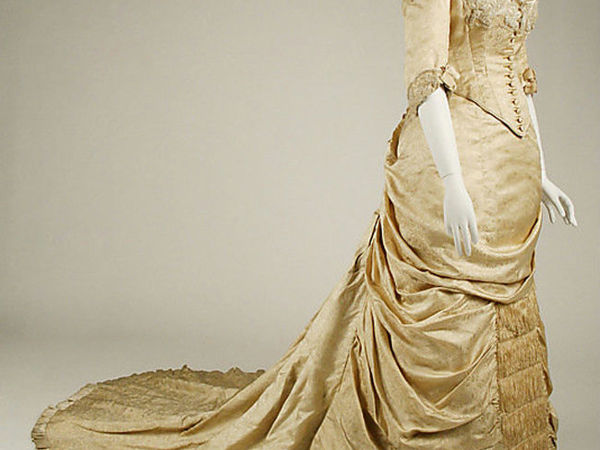 We present the dress by House of Worth (French, 1858-1956) of 1980-1982. This is an interesting variant of a versatile dress, which has two bodices for one skirt: closed with long sleeves (for visits) and open for evening. The skirt is decorated with ruffles, fringe and long train. The outfit is complemented by a cape.
The outfit is made of golden satin with a full pattern of roses and a second fabric of the same color is without a pattern. The day dress has a square shape of neckline and long sleeves to the elbow. There is a series of buttons on the bodice. The evening dress has a semicircular neckline and a turn-down collar. The bodice has a long cape in the front.
The outfit is decorated with embroidery made on the grid, in the form of an application sewn to the dress. The pattern of embroidery is large flowers, stems and leaves made of sequins in the form of leaves and cuttings of pearl color.
House of Worth is a French Haute couture house that specializes in Haute couture, pret-a-porter and perfumery. The historic house was founded in 1858 by Charles Frederick Worth.
Let us have a look at the outfit and details!