How to Make a Light Panel From Old Stuff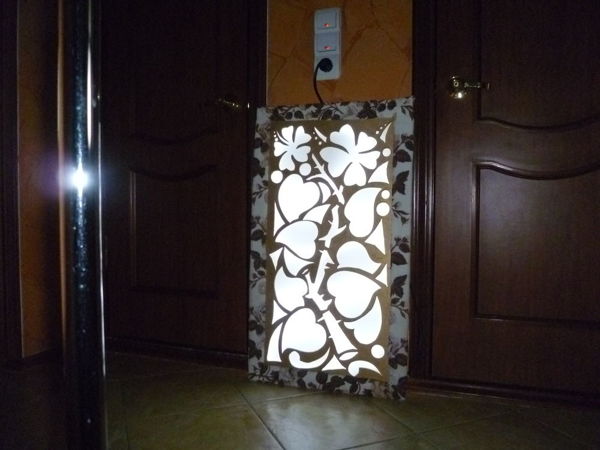 Today we will have a look at a homemade light panel with LED strip.
This panel is perfect for children as it shines dimly, and therefore suitable as a night light. In addition, it does not heat up! It cannot be broken!!!
So, we will need:
a rectangular sheet of fiberboard, 6mm thick;
planed timber 40x30 cm or 40x40 cm;
a piece of polycarbonate, the same size to a sheet of fiberboard;
LED silicone flexible tube with power cord;
tapestry upholstery;
jigsaw;
furniture stapler;
screwdriver;
self-driving screw;
wood drill.
Proceed to making the panel!
Firstly, draw a pattern on a sheet of fiberboard. Then, cut the pattern with a jigsaw along the contour (the drill is needed to start cutting from inside, not the edges). Next, cut the bar into 4 pieces so as to repeat the perimeter of the fiberboard flush with the edge of the sheet, after that, screw these bars with screws around the perimeter (this is the back side). You will get some kind of a box, where the bars are walls.
Well, then everything is simple. Take polycarbonate, cut so that it completely covers our pattern, and insert it on the back side (you can glue). In conclusion, place the LED tube leaving little place from the polycarbonate on the back side. Plug the power cord in, cover the back with thick cardboard. Cover front frame with tapestry (using a furniture stapler). Thus, we close screw caps that attached to the bars.
The most important thing! Paint a fiberboard in any color (I painted it gold).
You're done! DIYs & Tutorials on the topic