Creating Realistic Berries from Polymer Clay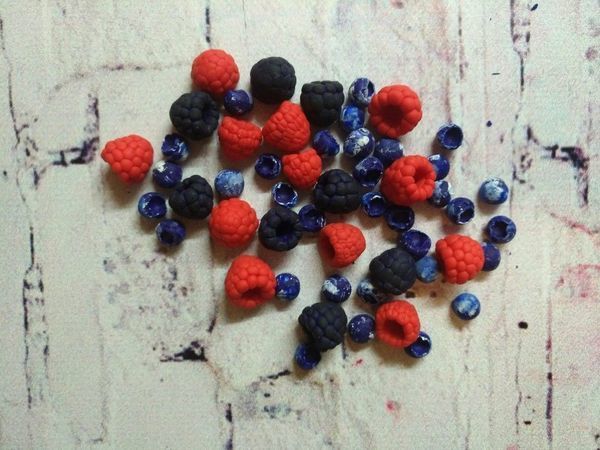 Let us have a look at the tutorial on creation of juicy realistic berries using a minimum set of tools and materials, which any person may handle, and the result will be great!
These berries have a wide range of usage. They can be used for creation of trendy summer jewellery — berry bracelets, necklace, earrings or rings, and for various gifts — it may be jars for jam, candy or sugar bowls, jewel boxes, sweet spoons, mugs.
So, let's start!
We will need the following:
baked polymer clay FIMO: scarlet, ultramarine, white, lime;
office knife;
the stack (the blunt end of a brush for painting);
awl;
polyethylene;
fluffy brush, oil pastel (black), rolling pin, tweezers, nail scissors, oil paints: zinc white and ultramarine.
RASPBERRY Take a piece of scarlet clay and push it flat. Roll a cane with a diameter of 1 mm. Cut the cane into many small pieces with the office knife, 1-1.5 mm each. Roll each piece into a ball. Take the stack, put on a piece of polyethylene for clay not to stick to it and put clay on it. Place the first ball right in the middle of the "cup". Make the first row of balls around it. Then, do the same with the second, third and fourth rows, push them a little to each other, so that they slightly stick together. That's what we get: Remove the "cup" from the stack and cut extra clay with nail scissors. Finish the berry with the last fifth row made of extra left-outs to get a nice berry. Press the last row a little with fingers to the rest balls and bake in preheated oven for 15 minutes at a temperature of 130 degrees. Our raspberry is ready! BLACKBERRY To make a blackberry, use ultramarine clay and follow the same steps as we did with raspberries! There is one difference: to make a blackberry look real, before baking, I use a fluffy brush and shavings of oil pastel of charcoal color and touch up the berry and then bake.
Here is the result: To make them shine and for the safety of berries, I recommend to cover the finished product with a thin layer of acrylic glossy lacquer.
In a similar way, you can create cloudberry from lemon clay to make your decor look interesting.
BLUEBERRY Take ultramarine clay, roll the canes 0.6-0.7 mm wide. Cut it with a knife into small parts, 0.6 mm wide. Roll the balls. Using a stack, make a small hole in the middle of each berry. Take tweezers and slightly pinch the edges of the berry. Slightly bend them inside with your fingers. Prepare drops of white and ultramarine oil paint in a homemade basket. Place ready-made berries there and shake the basket to get different color transitions, so that blueberries look more interesting and real.
Bake in a preheated oven for 15 minutes at a temperature of 130 degrees. Remove and cool. You can also varnish them.
STRAWBERRY A similar technique with a different amount of scarlet clay is used. Take a piece of clay and form a drop. Using the awl, do recesses across the surface of the berry on all sides from the tip of the berry to its base. Using the stack, make a small flat cavity on top of the berry. Take a piece of lime clay and form a small drop, it's a tail for our strawberry. Make 5 to 6. Using the awl, draw veins on them and press them with the stack into a shallow recess. Bake in a preheated oven for 15 minutes at a temperature of 130 degrees. Remove and cool. You can also varnish it.
CUT STRAWBERRY Bonus. You can make beautiful and juicy strawberries without making a whole berry, but a half of it. Especially if you cover such a berry with acrylic glossy varnish.
Take white and scarlet clay. From small pieces mix 2 colors: pale pink and rich pink. From the pieces of rich pink and scarlet, form two triangles and fasten together into a single rectangle. Roll it with a rolling pin to 1 mm thick. Cut into strips 1 cm wide. Flatten the stripes to mix colors, roll into a cane and put it in order. Roll the cane again. You will get a long plastic tape with color transition. We fold it as an accordion. Take pale pink clay and roll out a rectangle that closes the accordion to the middle. Cut extra clay with a razor blade. Roll out a long thin stripe. Cut it into 12-15 parts. Join this parts together. Slightly roll them out, so that they stick together, and form strawberries. Make the middle out of a thick white sausage and wrap around a thin layer of pale pink clay. Insert the core into the pulp of strawberry. Wrap it with a thin layer of scarlet clay without covering the white base! Using the blade, cut the blank into parts 2 mm thick. I got 4 parts. Now, we need to form a rounded half of the strawberry from scarlet clay. Form a drop and make one side flat. Make the diameter suitable for the resulting core. Carefully combine the two parts, covering the line of joining. With an awl, apply the pattern on the berry. Make a stick out of lime clay. Pressed down to the base and bake. Bake in a preheated oven for 15 minutes at a temperature of 130 degrees. Remove and cool. You can also varnish. Here is what we get: Similar techniques can be used to create blueberries, cloudberries, rowan, cranberries, strawberries. Use your imagination!
DIYs & Tutorials on the topic