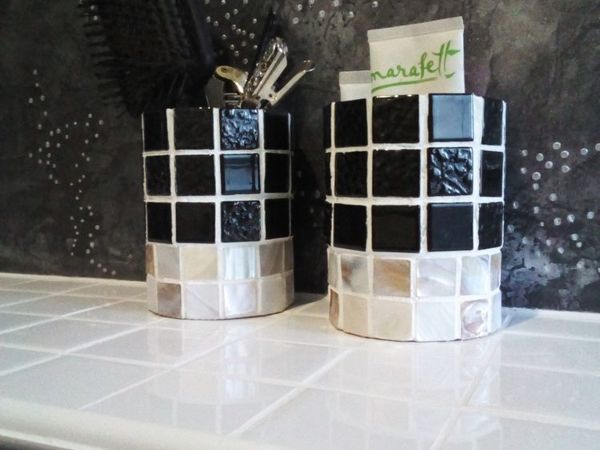 Today I am going to make cups to place them in my bathroom. After the flat renovation, I had many glass-inlay leftouts and decided to use them to make something.
To do it, you`ll need the following:
1) glass-inlay;
2) glasses;
3) plastic lids;
4) knife;
5) masking tape;
6) grout;
7) tape;
8) superglue. I diceded to use the cups from this chandelier :) But there was no bottom! My idea was to use a plastic lid as its diameter fit well! I cut off extra things with a knife. Then I fixed the lid to the glass with masking tape for them not to fall when I glue it. You may use superglue (I used this one). As soon as the glue had dried, I started decorating! I took a strip of glass-inlay and applied the same glue on it. I glued it to the glass and fixed with tape. It was inconvenient to apply glue on the glass-inlay, so I decided to apply it right on the glass. Then I placed a strip of black glass-inlay. When the glue dried, I made the grout and began applying it in the joints. When the grout dried, I wiped it off with wet cloth and then with a dry one for the cups to shine. That's it! The bathroom glasses are ready. They are simple and stylish, and you may keep little things in them. By the way, I made the surface of the table on which they stand with leftouts of white tile, which was used for the walls. I cut it into squares 6 cm x 6 cm. It turned out very well... DIYs & Tutorials on the topic