Volume Violets Embroidery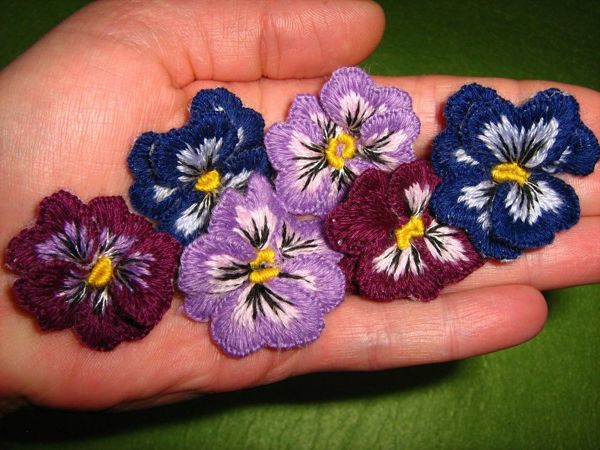 To do this, we`ll need the following:
1) hoop;
2) a thin needle with a large eye;
3) scissors for embroidery;
4) woolen mouline threads of two colors;
5) woolen mouline threads of black and yellow;
6) white floss thread;
7) not adhesive non-woven (or water-soluble);
8) pen or pencil. Description.
1. Tightly place the non-wooven into the hoop without bagginess.
2. Draw 5 petals shaped like hearts. 3. Starting from the corner of the "heart", make long and short button-hole stitches. 4. Placing the stitches into a fan from the corner, fill the middle with damask stitches of a different color. 5. Emroider black mouline thread stitches from the corner to the edges, not very often.
6. After that, top white floss thread on the stitches. 7. Then, carefully using scissors, cut out the petal closer to the edge. Be careful not to cut the embroidery itself. If this happens, you can glue the cut with clear nail polish. 8. On a separate piece of non-woven join the petals together by their corners.
9. Emroider the middle with yellow mouline thread, making two Rococo stitches and cutting extra non-wooven off.
The violet is ready! Use your imigination to choose other colors! :) DIYs & Tutorials on the topic