Packaging for a Gift – Surprise with Wings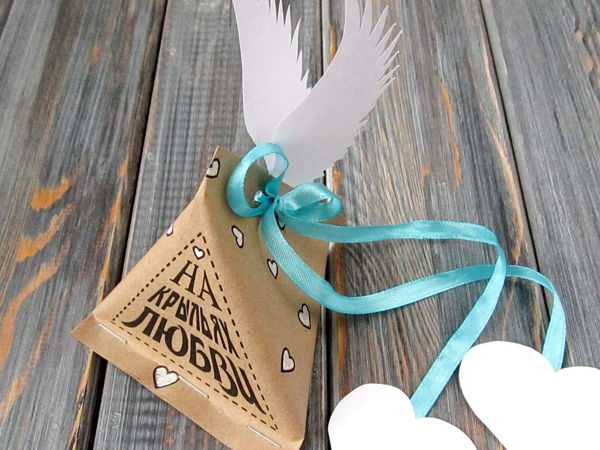 In the Soviet Union, milk was sold in triangular packages in the form of tetrahedrons.
In fact, it is an easy way to make a package! By adding wings, you can make a little surprise with wings :)
To do it, you`ll need:
Template for printing;
white and A4 kraft paper (density 70-80 g / m2);
tape;
scissors;
glue/double-sided tape;
stapler;
white gel pen.
The paper strip size should be in proportion of 1:2 (I have 9*18 cm).
Print and cut out the details. You may paint the hearts white - it looks very good on kraft paper. Make a cylinder with a paper strip and glue it. Make the bottom. You can glue it, or use stapler which is faster, easier and more secure. Glue the wings from inside to each side, close and make holes for the ribbon. For your convenience, temporarily fasten the edges with a paper clip. Tie the ribbon. You may glue hearts to the ends of the ribbon :)
Ta-dam! A cute little surprise for Valentine's day is ready!
You may not wait till February 14 and give this winged surprise without any reason :) Good luck!
DIYs & Tutorials on the topic