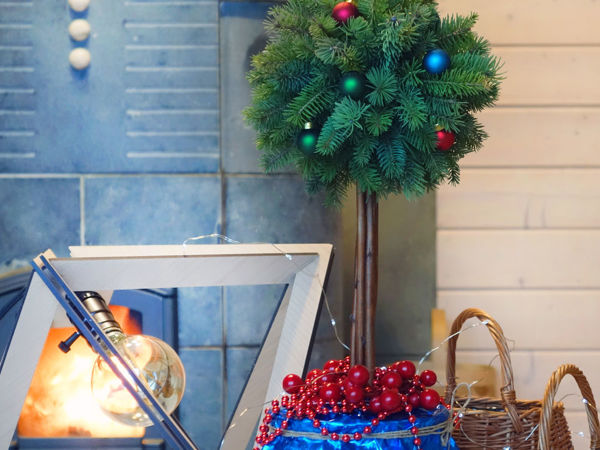 Let me have my own tutorial...
It is relevant not only for New Year — you can thematically decorate any holiday. Christmas tree takes up little space, so it will perfectly decorate a table.
By the way, we made such a Christmas tree as a Christmas craft in the kindergarden and it took the first place ;)
You will need:
- a florist's sponge (I bought in store for a fixed price);
- a vase, a bucket or any container with a diameter of 12 cm;
- one thick stick or several thin branches ~ 25–35 cm;
- decorations for a Christmas tree (a set of mini toys);
- sprigs ~ 3–7 cm, you can take sprigs form the most ugly trees. Mine are from my hedge;
- rope, scissors, gift foil packaging, an office knife (or any cutting tool, I have a ruler). Let's begin!
1-7. Make a ball of a floral sponge. There's a lot of garbage at this point. First, measure the thickness of the sponge and cut a cube with the sides as the thickness of the sponge, it is about 7–8 cm. Then start to cut all the corners. The result should resemble such a ball. The diameter is about 7.5 cm. 8. Secure the twigs of the trunk (if there are several twigs). 9. Insert the remains of the sponge into the container and tightly press them to the walls (so that the sponge does not fall out). 10–12. Insert the twigs into the sponge, which is in the container. And you can already attach the top of the prepared ball of sponge. But if you need to put the "trunk" deep, do not set the sponge ball deep (in the process of placing the twigs of the tree it will get loose, so you will be able to secure it at the end). 13-16. And begin to insert fir twigs. Do not remove the needles from the "legs", they are better fixed like this. And more importantly — in the photo with a red ball – if you want to decorate with Christmas balls, they must be inserted before you insert a spruce twig in the sponge. 17–18. You need only to decorate the beauty: close the visible part of the sponge (with paper, artificial snow, cookies...), decorate with a garland and, most IMPORTANTLY, water it: water the lower sponge in order to give it weight, the top — for the twigs, so that the needles do not fall off quickly! If you have any questions — ask! But if I made it, you can make it too.
Happy New Year 2019!
DIYs & Tutorials on the topic