Unusual Jackets by Cindy Hoppe. Continuation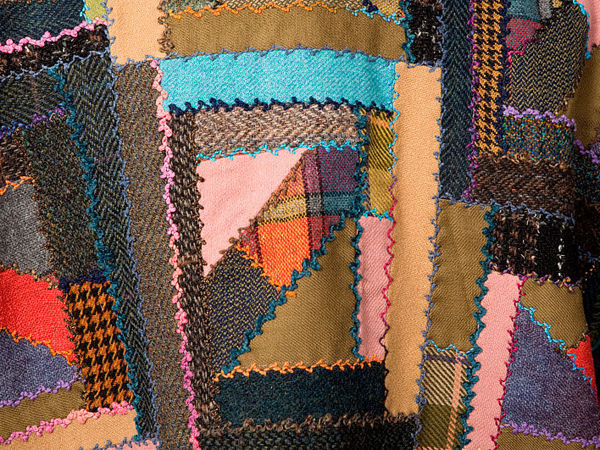 I continue the theme about the works of the Canadian artisan Cindy Hoppe. I told about her wonderful landscapes in the previous post. Now I want to show you some of her jackets. In search of interesting patchwork jackets on the Internet, I came across Cindy Hoppe. She has cheerful and bright jackets :) Of course, I can note that for me the color selection of fabric is quite controversial, but I am attracted by the combination of techniques and the history of the appearance of these jackets.
The technique in which these jackets are made is familiar to many artisans who work in patchwork. I liked the combination of several directions that Cindy Hoppe combines in her work: patchwork, knitting and embroidery. Like many people living in rural areas, Cindy is diligent about old things and gives them a second life in new products. And here is another interesting point: the combination of fabric base and knitted parts, sleeves, collars is not uncommon, but pay attention to the patchwork inserts on sleeves, in the elbow bend — it is very practical.
Cindy Hoppe's mother is an artist who has worked in many techniques and with many materials. At a fairly advanced age, Cindy Hoppe's mother mastered spinning wool and weaving on a large machine. Over time, weaving became physically difficult for her, but Cindy offered her to spin wool, then she dyed it and used it for her cheerful jackets. Thus, Cindy Hoppe turned the years of fading and old age of her mother into a continuation of creativity and the need for her work. Just a wonderful solution!