7 Types of Hair Ornaments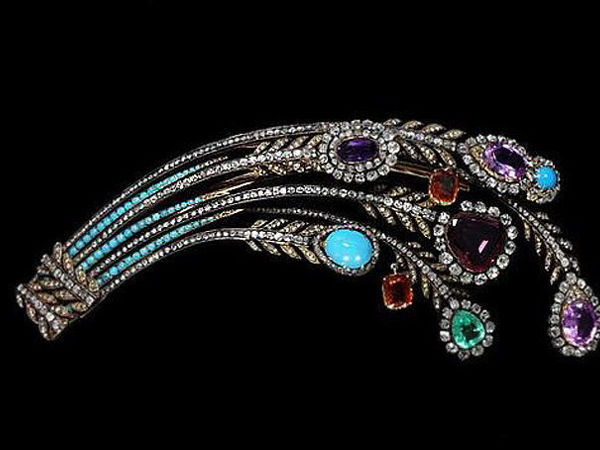 Since antiquity, women (and some men) have decorated their heads and hats with jewelry. Types of precious jewelry for hair can range from simple hair clips to sparkling tiaras, but these terms are often confused. What is the difference between a crown and a diadem, for example?
Let's learn the types of vintage jewelry and hair accessories that are used most often. Some of these examples have been widely used to this day.
1. Aigrette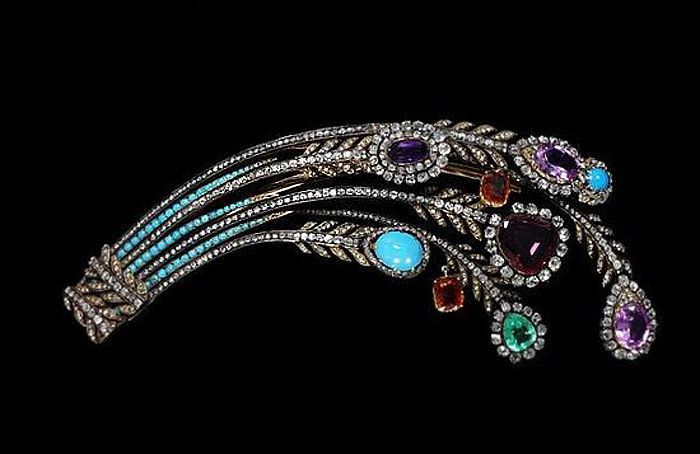 An aigrette (from the French "aigrette" — "heron") is a sticking up feather or some other decoration attached to a headdress or a hairstyle. In the Eastern countries in the 12th century aigrettes were attached to turbans, and by the end of the seventeenth century, the style came to Europe. In the middle of the 1700s they took the form of a feather. Most often, they had a fastener of a brooch. They were originally encrusted with diamonds, but later aigrettes of colored gemstones became popular. They disappeared from fashion during the 1800s and then returned at the end of the 19th century with the advent of the Rococo — the revival of towering hairstyles, and continued to be popular in the 1920s. At the time, people wore them with bandages. Aigrettes often had small hard rods or springs that vibrated when the person moved, adding the effect of swaying feathers of a bird. Other common shapes were flowers, birds and, in later epochs, more geometric shapes, such as crescents or stars.
2. Barrette

14K gold barrette with an accent of mother-of-pearl pearls, 1909.
A barrette is a piece of jewelry with precious stones and/or made of precious metal that holds hair by a spring clasp or a pin on the reverse side (the word comes from the French "barre").
It was invented around 1901. Initially it was rectangular, as the name implies, but acquired a variety of forms throughout the 20th century. The popularity of jeweled barrettes was completely explainable by the prevalence of more simple and short hairstyles, popular during the era of Art Deco in the 1920s — those that could no longer be worn with combs, tiaras or other jewelry for long heavy hairstyles of the past.
Of course, over time manufacturers started to make barrettes of a huge variety of materials — wood, plastic, more simple metals.
3. Comb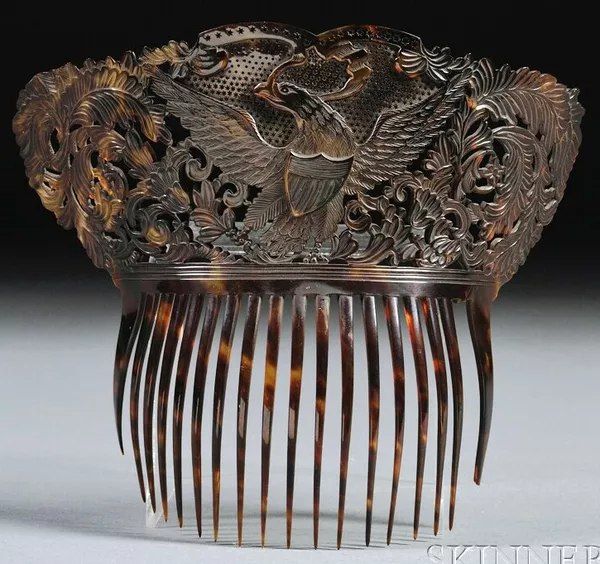 An American comb of tortoise shell with a shield and an eagle, 1800–1825.
This type of hair decoration has at least a three teeth row. You can wear it at an angle or vertically. The forms and materials of the combs may vary. Combs with precious stones belong to the Renaissance period and enamelled pieces are quite typical for the Art Nouveau style. Throughout the 1800s many combs were worn so that they could be seen from the front, although the Spanish version of wearing them, when they are visible only from behind, is probably more familiar to most people.
4. Coronet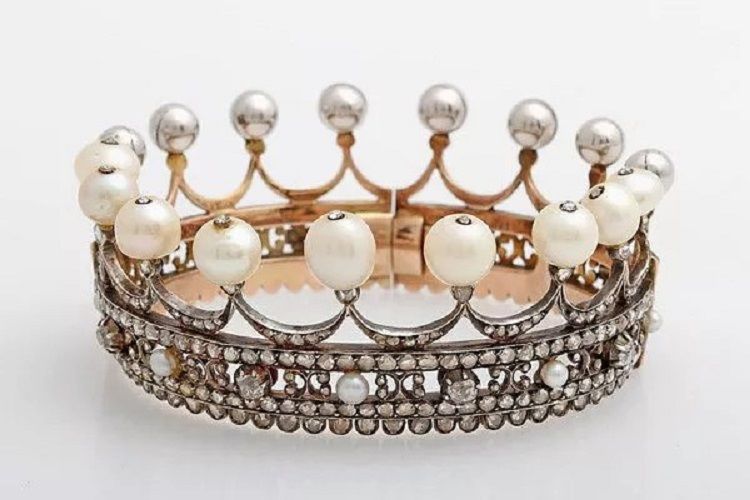 The coronet, owned by Countess Pauline V. Wuerttemberg of 14k gold, silver, diamonds and natural pearls, Germany.
A coronet is a circular head ornament in the shape of a small crown, with pointy spikes. It never has convex arches. They were traditionally worn by members of the national aristocracy or nobility — those who were below the rank of the reigning monarch. They were made of precious metals such as gold and platinum, and inlaid with various precious stones; the number of stones or thorns could reflect the rank of the owner. Unlike a tiara, a coronet is a full circle that sits on top of a head, crowning it. Today a head decoration in the form of a coronet is often used in bridal looks.
5. Diadem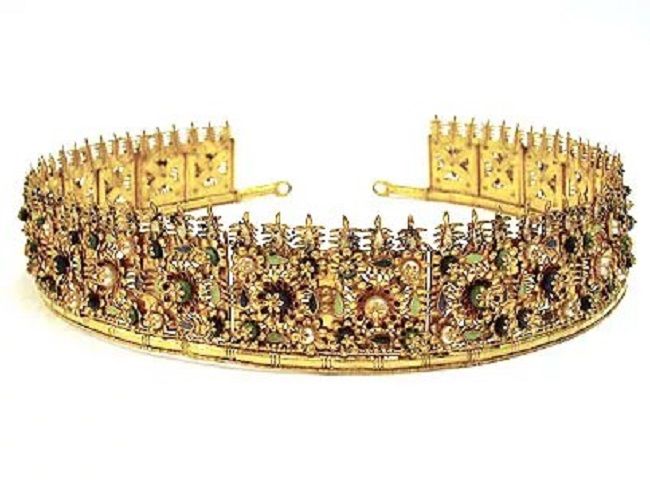 The diadem of gold, enamel and pearls, designed by Alessandro Castellani. The Victoria and Albert Museum in London.
An ancient style of a head decoration is a semicircular or circular metal band worn around a forehead. Diadem is worn across the forehead, unlike a tiara, which is usually on front of the hair. It can be made of different materials and decorated in various ways, often with pearls and precious stones. In ancient times, when tiaras could be worn only by noble persons, the earliest pieces had hangers around ears. More modern versions, at the beginning of the 19th century, had small crown-shaped point.
6. Hair pins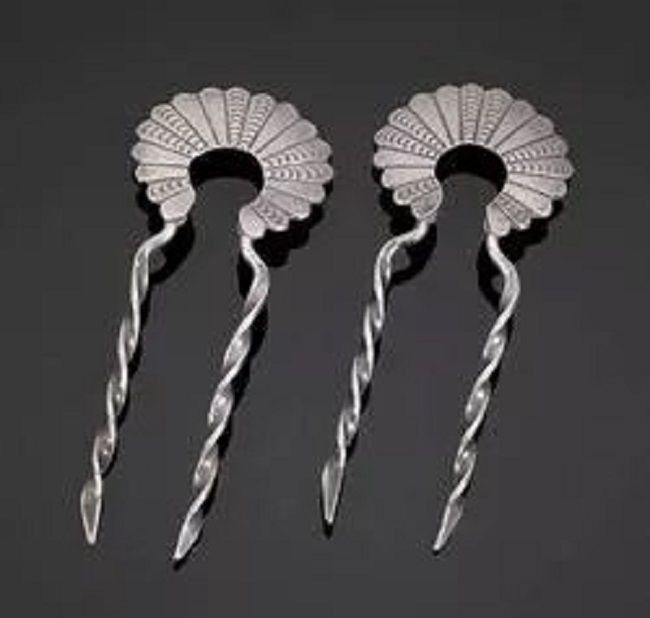 A couple of Navajo hair pins with a scalloped top, silver. 1920s
In jewelry hair pins are a very ancient method to decorate hair that is referred to the ancient Greece and China. Hair pins come in two varieties: single-point hair pins — a single long straight spike with decoration on one end; and an U-shaped version with two points, two blunt ends or prongs. Hair pins can be worn at any angle and they are typically used in pairs. For women of the Victorian era hair pins were not just a tribute to fashion but a necessity — done hair of an adult lady was a sign of respectability.
7. Tiara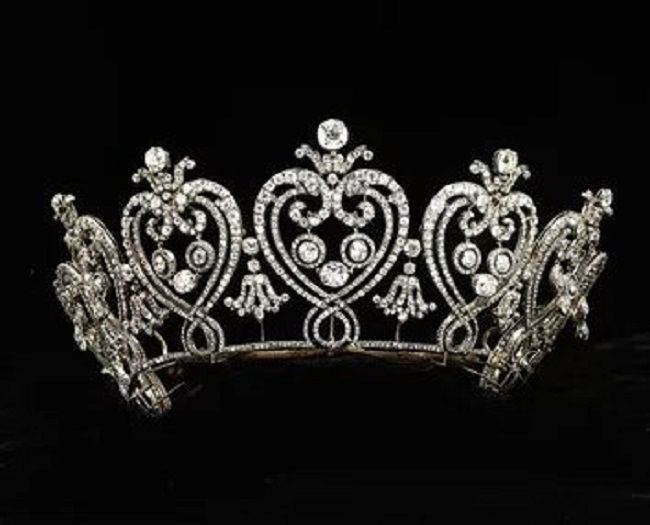 The Manchester Tiara by Cartier. 1903. The Victoria and Albert Museum, London
This type of jewelry is put on the upper or front part of the hair. It usually has a semicircular or curved shape, often with a small peak in front. It can be made of any metal with any decoration.
Since the 19th century, women, with the exception of the Royal family, started to wear tiaras. They were often made with detachable elements, allowing wearing them as necklaces or brooches. Surprisingly, sometimes in this period tiaras were sold with screwdrivers, fasteners and fittings, so they could be turned into a necklace and/or a brooch. Today, brides wear tiaras or children play with plastic pieces.
Hope you have profitably spent your time and discovered something new.
Have a good day and sunny mood!