Process of Creating the Unique 'Fan' Dress with an Embroidered Christian Dior Signature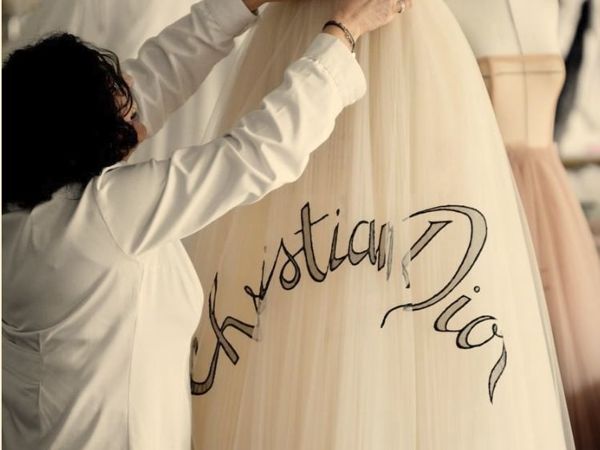 This outfit from Dior Haute Couture spring-summer 2018 collection, presented in Shanghai, has an interesting story. Maria Grazia Chiuri, the creative director of the house, created a dress out of light pale pink chiffon with pleating, which required over 1000 hours of manual work.
This is a floor-length dress with a full skirt, sleeveless. At the waist there is a thin belt.
The creative director was inspired by an inverted painted paper fan. Therefore, a complex structure was made for the skirt. The edges of the additional skirt were raised to the shoulders, they fall down in a cascade. The fan is revealing and floating in the air. We also present a sketch of the dress.
The dress has modest trim, but there is a signature of Christian Dior embroidered on the skirt with threads and beads. The signature left by the fashion designer and the founder of the house was found in the archives of Dior. The embroidery is made with a needle and a Luneville hook. Thank you for viewing!