Hold the Moment: 50 Fine Art Nouveau Pieces of Jewelry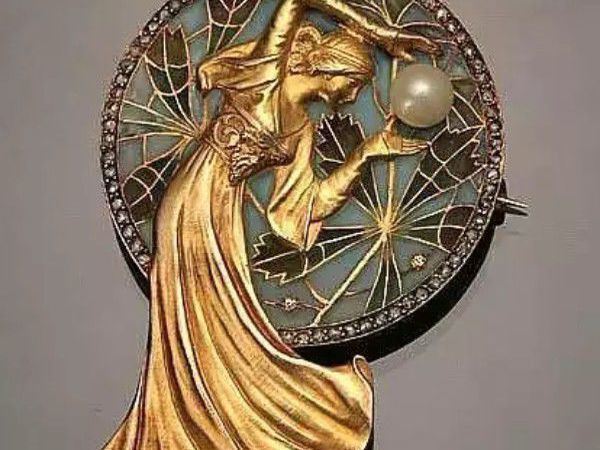 This publication presents a selection of photographs of pieces of jewelry in the Art Nouveau style of the late 19th and the early 20th centuries, with enamels and pearls.
The more you see beauty, the more your taste and perception of harmony are honed. That's why we go to museums, theatres, concerts, walk in parks, sit by a river, look at the sky, watch the flight of birds — to be fed with harmony and beauty, it gives us strength to cope with our circumstances. Yes, life is a struggle with circumstances, and if you have nothing to deal with, and you're good, you don't enjoy it for long, and gradually, as if by accident, as if it's not you, you prepare for new circumstances. Life is a process, not a result. The result will be in the end, but let's not talk about sad things.
So, brooches in the Art Nouveau style. There is nothing more elegant, feminine and mysterious and therefore alluring than this style in the culture of our civilization. It is alluring, because elegance is a prerogative of the elite, feminity beckons because of its deep intrauterine memory of warmth and security, and the mystery makes desirable the things that you don't even need at all.
Someone will say: "How can you sell brooches, for example, American jewelry after such beauty?" I will answer this question. Here are the works of jewelry art, first, only a few people can afford something like that, second, these things aren't designed for everyday life. They are not for going to the grocery store or to work, in the kindergarten for a children's matinee or to a restaurant for a wedding anniversary of a friend, even at the exhibition opening or at a vernissage they would be inappropriate due to their price. But we want to decorate ourselves. Ladies are also people. And jewelry with a less complex design is the way out. And the wideness and the beauty of a smile from the flickering brooch on your shoulder is the same if you wear Kramer for 3 thousand rubles or Lalique for 300 thousand. But if you are delighted like a child with a frosty matte lucite unsigned brooch — spit in the face to those who say that it is bad taste and spoil your mood. And lucite, by the way, is one of the favorite materials of Rene Lalique. People's tastes are different, and we will not impose our concepts of beauty to each other. Narrow-minded people moan that vintage is something used, but on the other hand, all that is available to us now is used — paintings, dishes, furniture, fabrics, and jewelry. If you prefer new items — the shelves are full of Chinese brooches, and there is also a huge selection of gold and silver contemporary jewelry in stores. The main thing is that it must warm your soul and improve your mood. Because if a woman is happy, she's generous, she's got strength and desire to make others happy, her loved ones, friends, passers-by and bus drivers, shop assistants and postal workers.
So. Let us watch and soak up this beauty, otherwise why do we need eyes? And maybe we will become kinder, better, brighter, higher, further and faster!
With appreciation for reading,
Elena (Fort Knox Vintage)