Flawless and beautiful, original and unusual details will make a bride perfect and complete. The details that we will not see immediately, will allow a bride to feel like a real queen of the holiday, and the celebration will be an unforgettable one. To these at first imperceptible accessories we, with ease, can refer a bride's garter.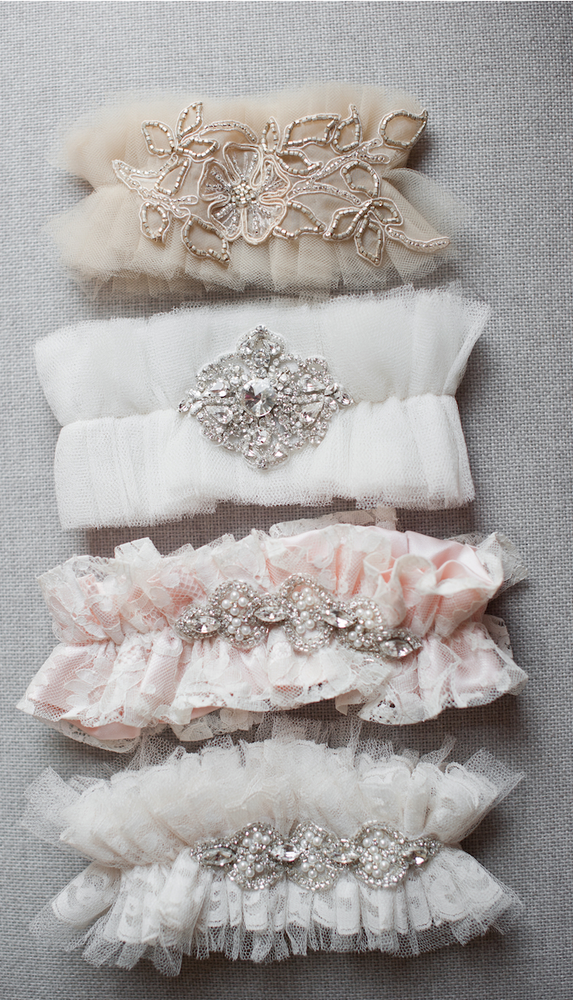 How to choose a wedding garter?
Every girl does it all by herself based on her own preference or the style and palette of the celebration.
The abundance of materials for creation of this accessory is amazing, it is: lace of different brands and weaving, tulle, voile, corduroy, cotton, linen, satin and many other fabrics that can draw attention.
You can decorate a garter with embroidery, lace, flowers, sequins, rhinestones, feathers — fantasy makes wonders.
Most importantly, don't be shy and if you have not found a garter of your dreams, then contact a designer, and they will definitely help you to choose the materials and make your dream come true.
In this article we will tell you more about a bride's garter, and I hope that I will answer most of your questions, help you to choose and touch on the theme about the origin of this accessory, and much more.
The origin of a garter
The origin of a wedding garter goes in the time when girls and women had no idea about tights, and boys and men about pants.
A garter (from French — "la jarret", which means "the popliteal cavity") — in the beginning was a narrow strip of fabric with embroidery or other ornament (and sometimes without it), which was tied in a knot or a bow. This accessory used to keep stockings in place, because there were no elastics at all, and linen was constantly slipping down.
In the 18-20th centuries a garter was worn 2–3 cm below a knee, in the place where a leg was more slender, and there was a small cavity that allowed the accessories to stay in place well.
It was the time when garters were made of durable fabrics or delicate leather. This accessory was worn by absolutely everyone, regardless of gender.
Some time later, there were stockings of light fabrics, and in some places it was possible to meet even knitted stockings, but it did not added them flexibility, which is why a garter was more relevant than ever! At this time they began to make garters of delicate materials such as silk, velvet, handmade lace, they decorated these garters with gold embroidery, silk flowers and precious stones.
At the time a garter was not only a useful, but also a beautiful accessory, and some instances turned into luxury items.
The skirts of ladies were still very long and, because of this, a garter has acquired a special charm. If a man saw a little part of this lady's accessory — he was considered lucky!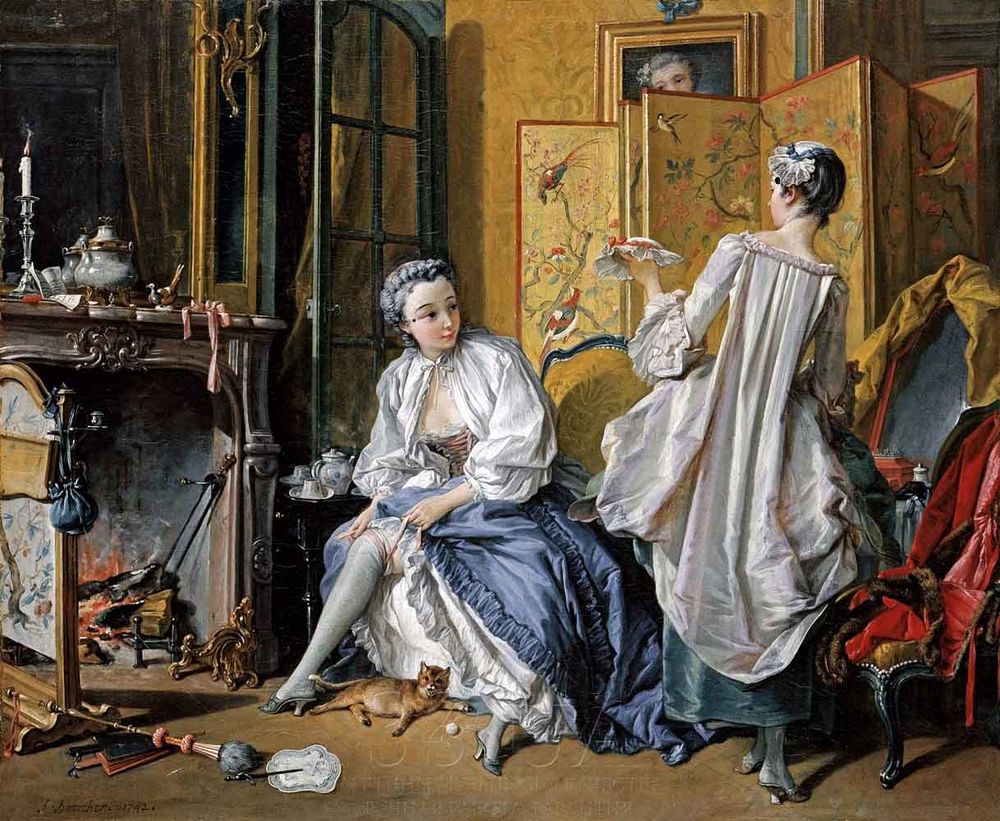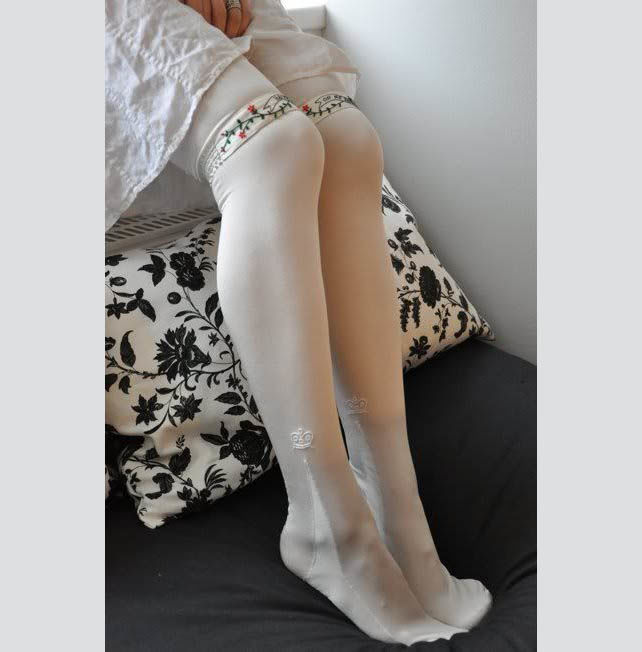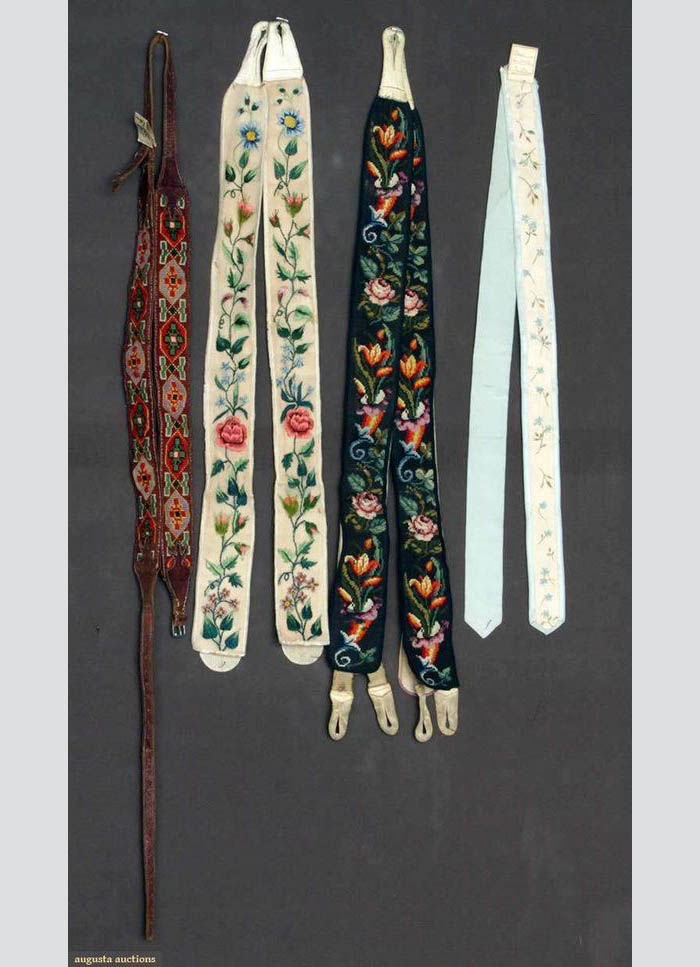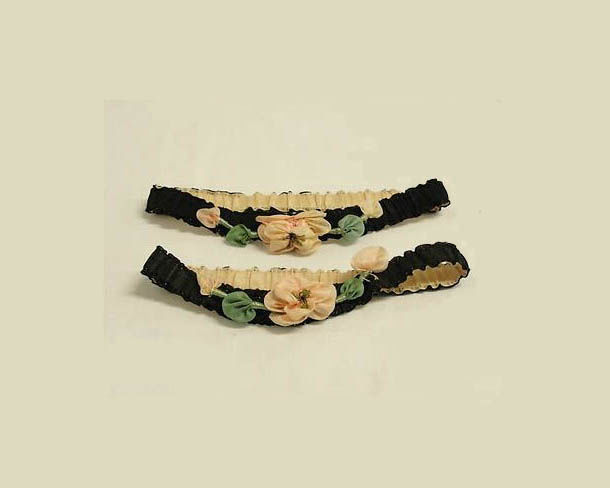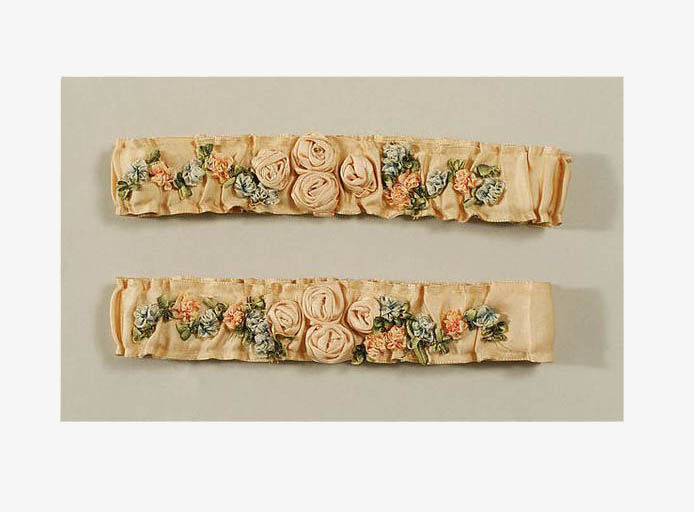 But, over time, a garter changed
So, in the 18th century, this accessory was very richly decorated.
On some of the garters you can see the name of a famous family or a sweetheart, a motto of the house, an emblem or a phrase — a joke. Such accessories were fastened with buckles or screwed coil springs.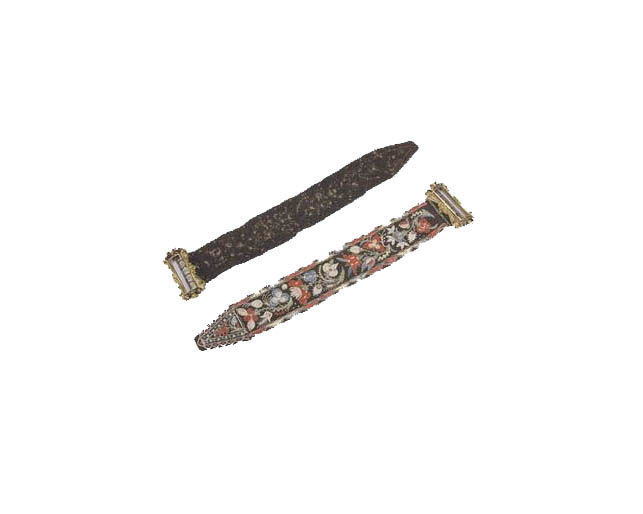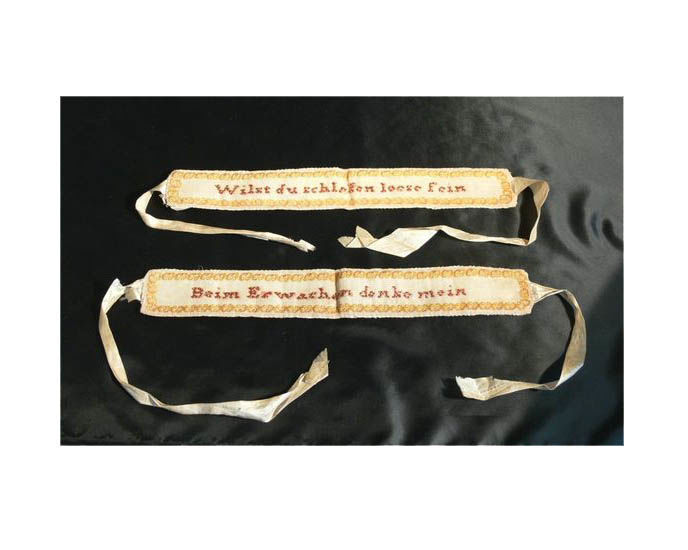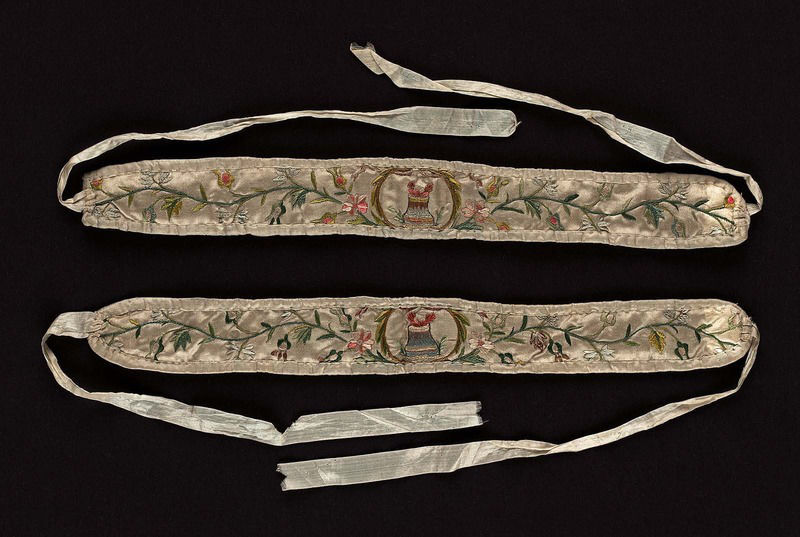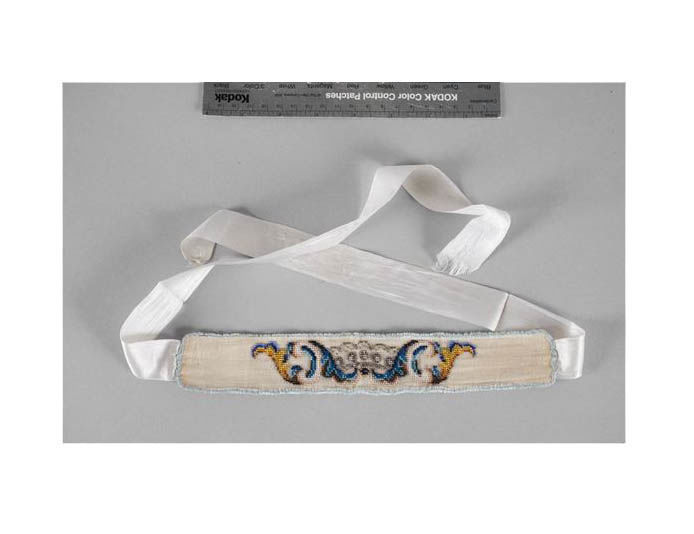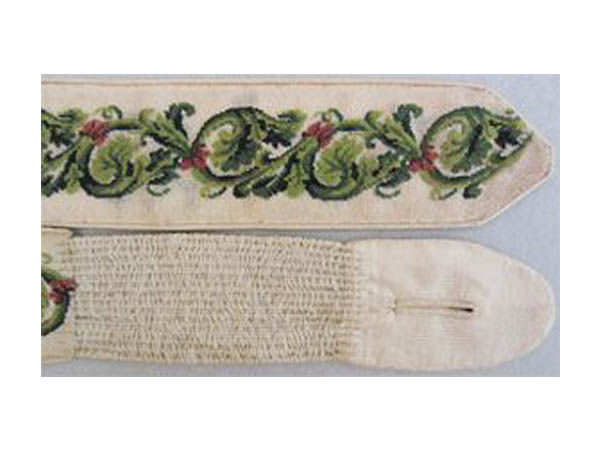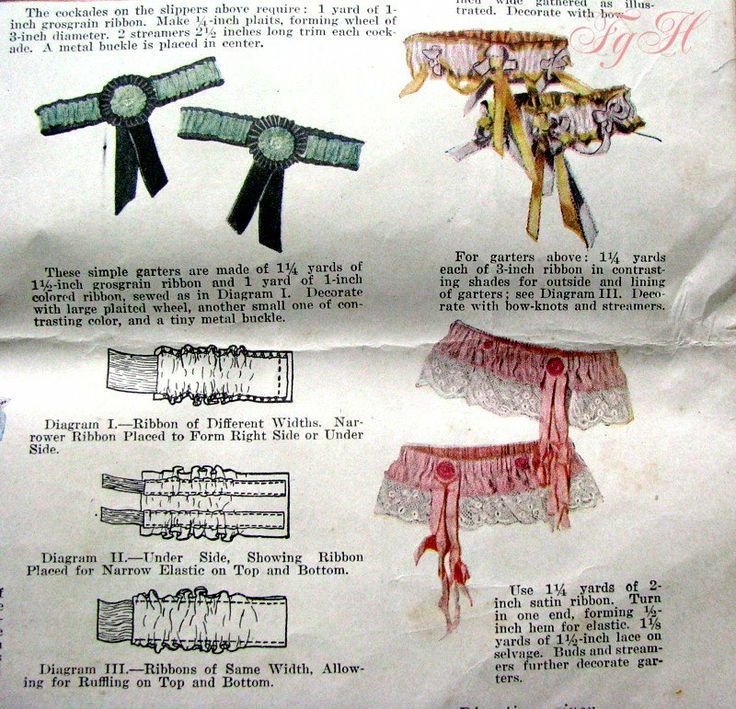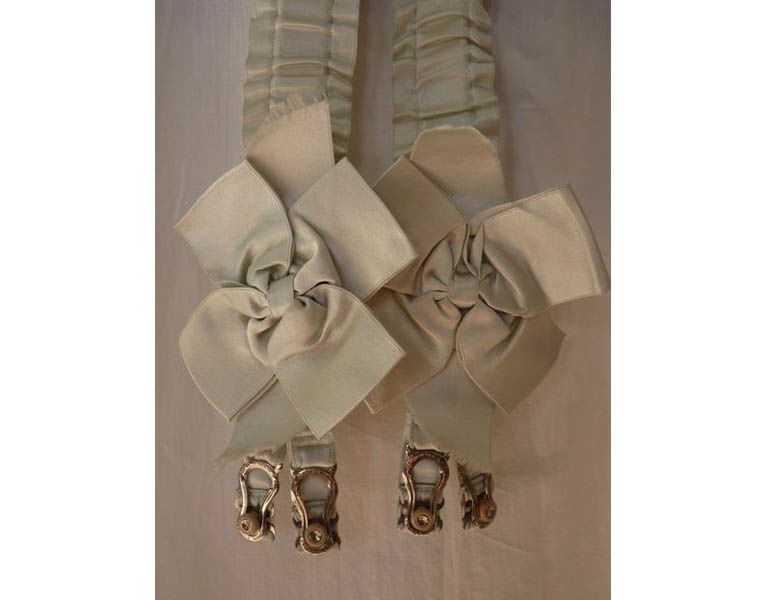 In the 19th century, many girls and women, especially servants, wore a garter of common white elastic (at the time, it was already invented and extremely cheap) or used a piece of cloth, as their earnings did not allow buying a classic corset.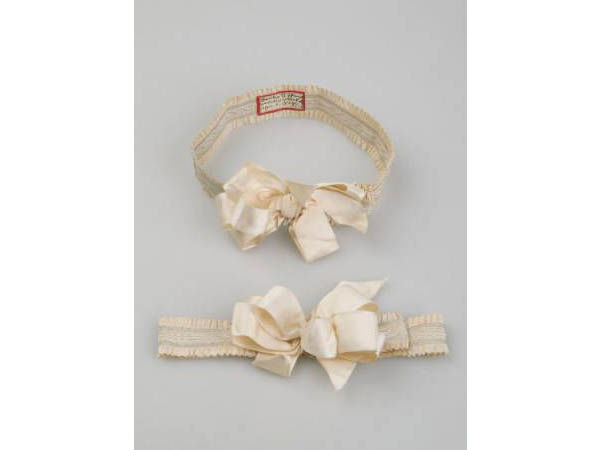 In the 20th century, during the Second World War, there were braces, and from the 40s to the 60s of that century they were an alternative for a garter and a very fashionable accessory among young people.
Interesting facts
In the UK, currently, there is an honorable Order of the Garter that was founded in 1348 by the king Edward III.
The Order includes: Her Majesty the Queen (the King), which is the Order's Sovereign, his Royal Highness the Prince of Wales and 24 knights-companions.
Most likely, we will never know where the symbol of the Order of the Garter comes from, because all the records of this event were destroyed by fire.
By the way, the symbol of the Order is a blue garter with the motto "Honi Soit Qui Mal Y Pense".
People have a small story about how the Order appeared:
Once at a ball, the Countess of Salisbury accidentally (or intentionally) dropped her garter and King Edward, seeing her excitement and hearing the laughter of the guests, picked up the garter and tied it on his own leg with the words: "Evil, [or shamed] be he that thinks evil of it."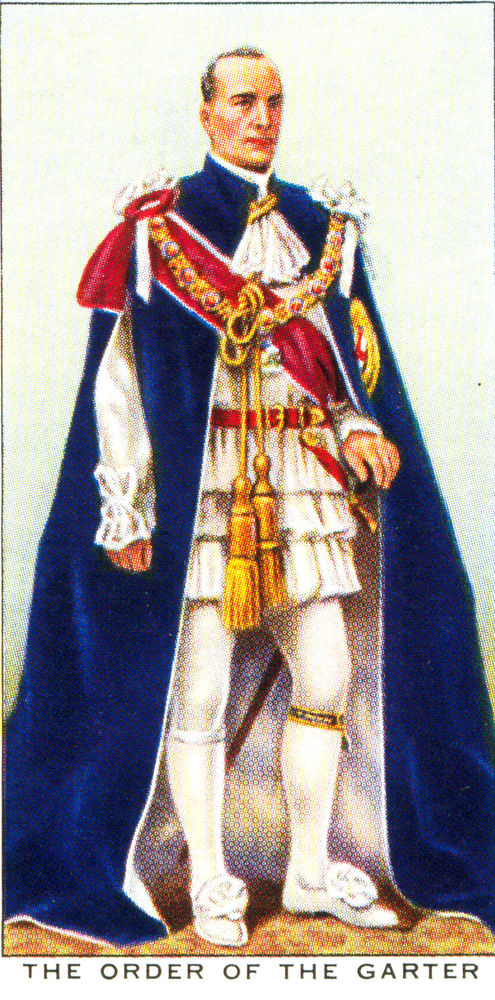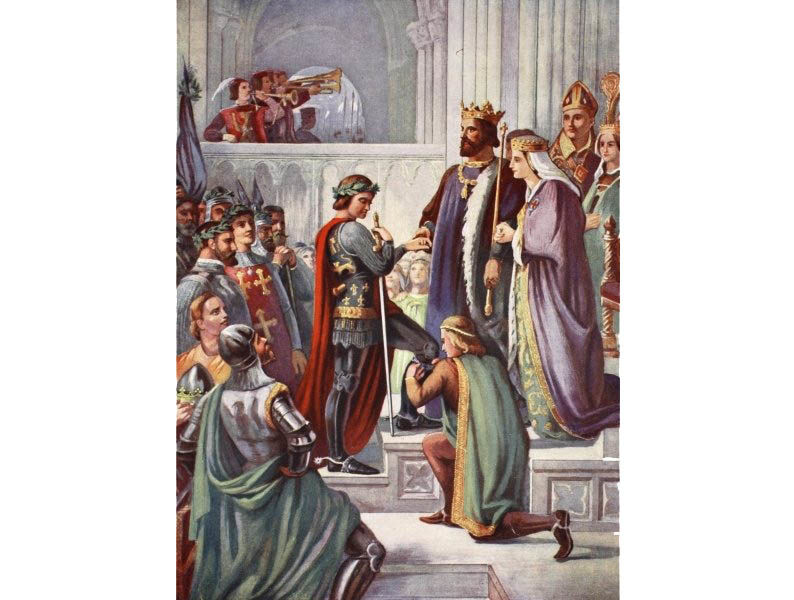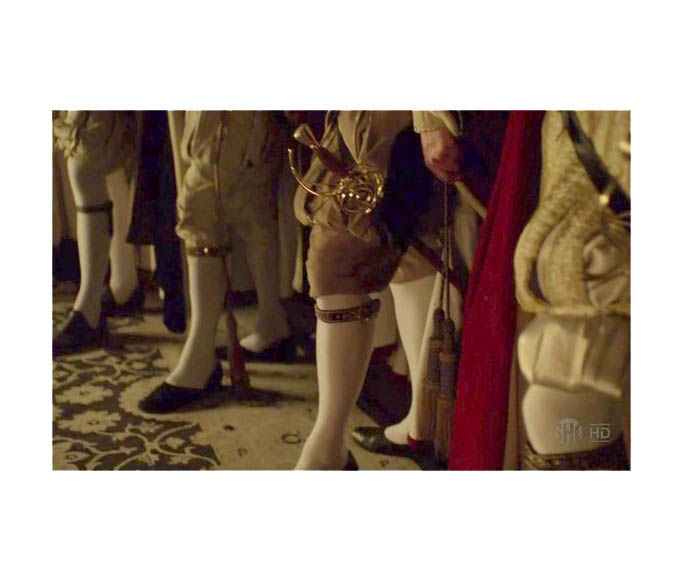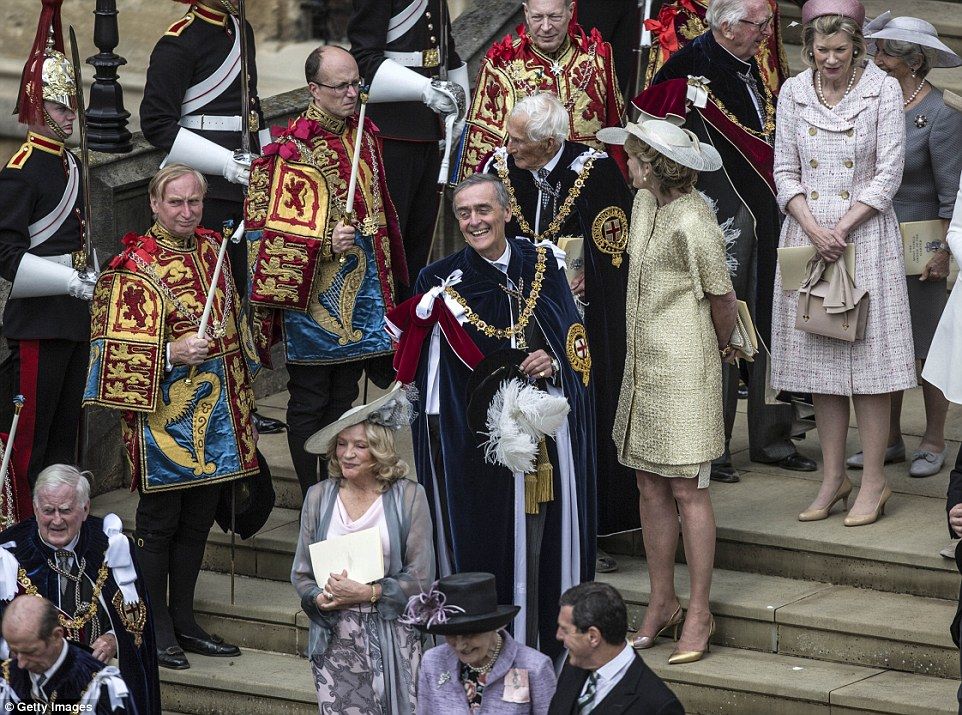 During the reign of the great Queen of England Elizabeth I men wore long, slinky stockings and short puffy pants or skirts, a garter was a way to stand out and to emphasize their position, it acquired completely different shades and shapes. In the "Twelfth Night" by Shakespeare, "cross braced" garters were an object of ridicule.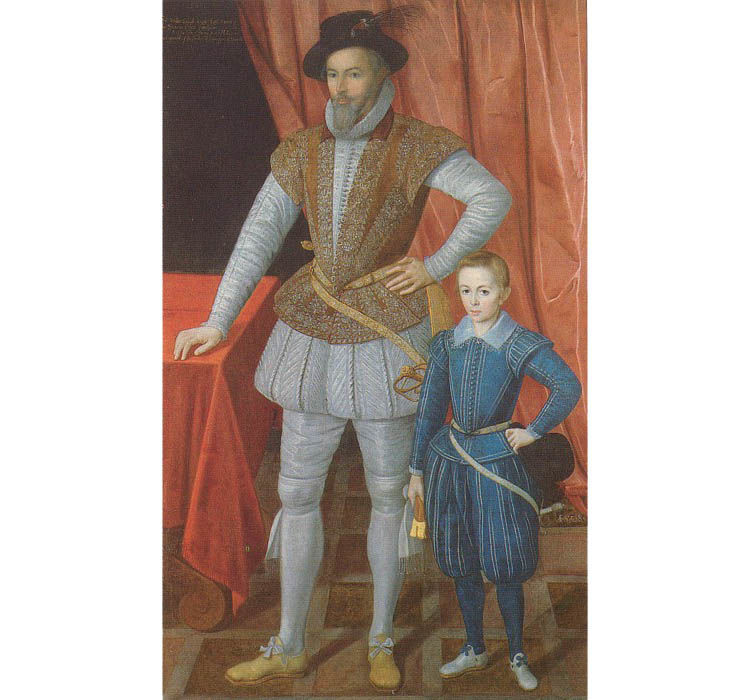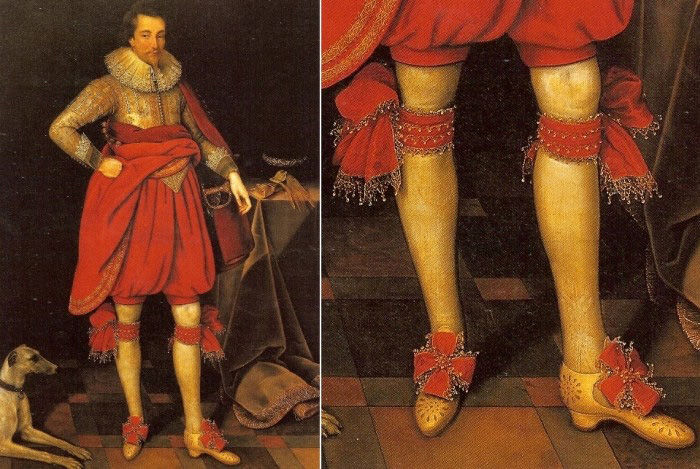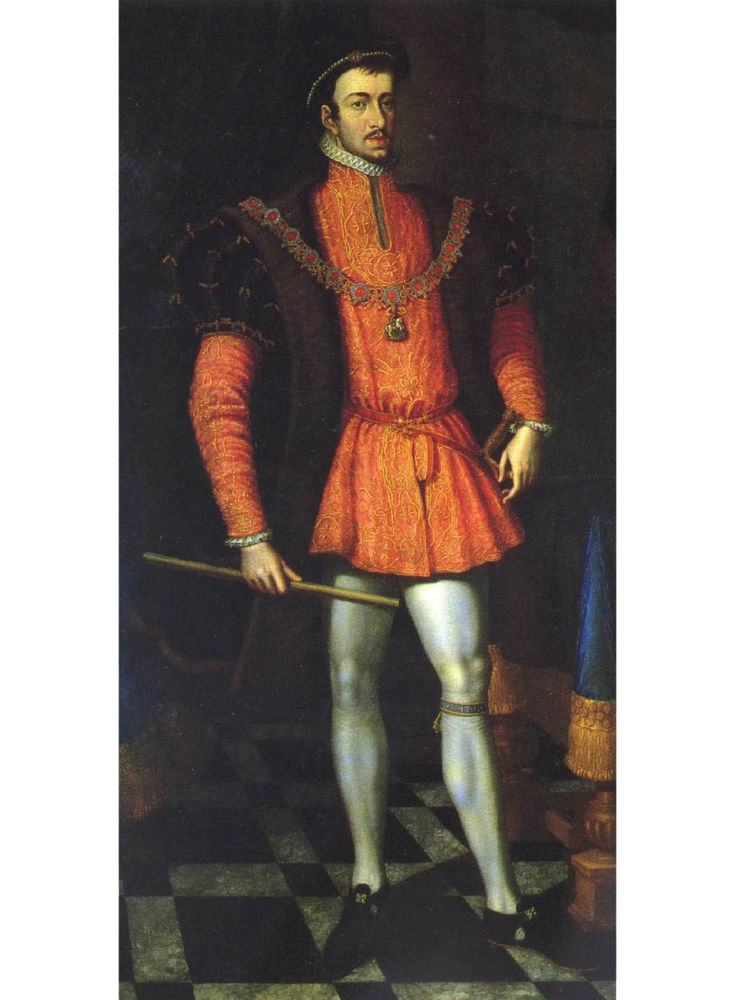 Fashion for garters was also in the United States during the prohibition era, this accessory was holding a flask with alcohol that ladies concealed from prying eyes.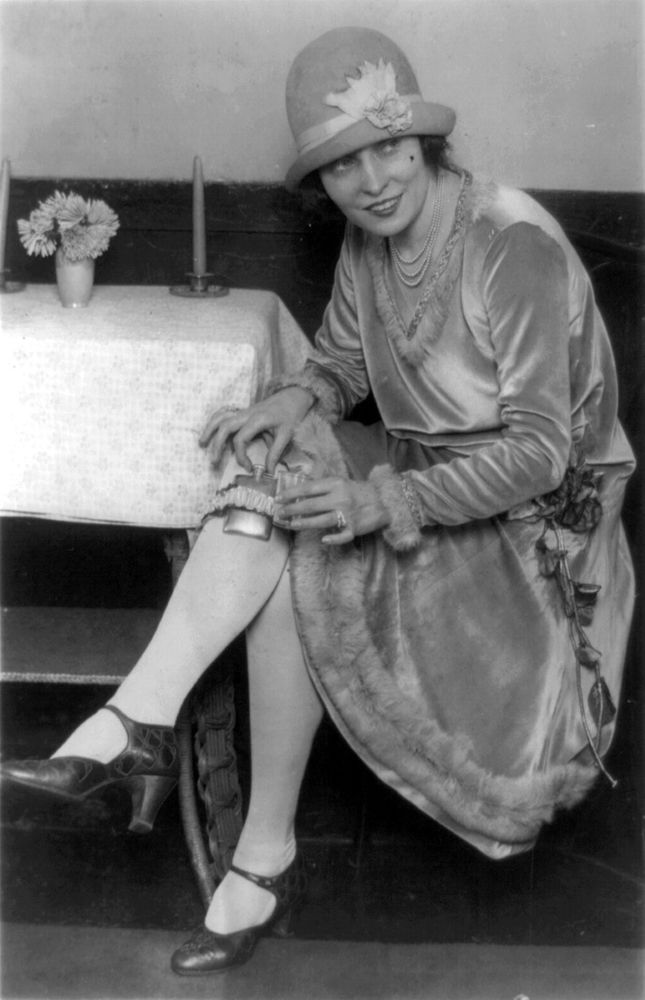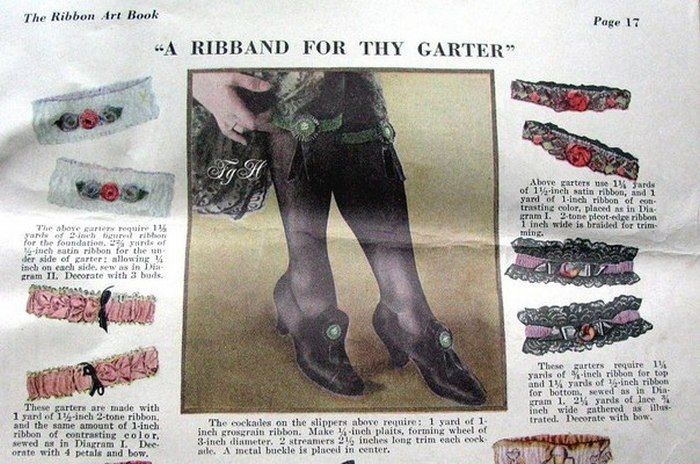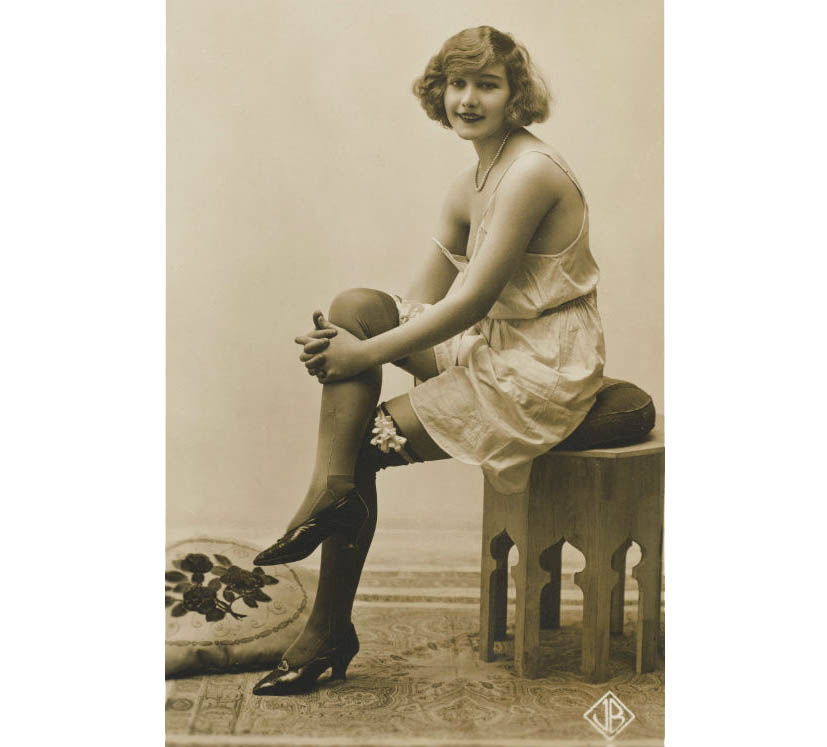 In 1888, amazing Bertha Benz, the wife of the famous inventor of the automobile Dr Carl Benz, during the first in the world travel by car managed to use a garter to insulate a broken wire of The Benz Patent-Motorwagen number 3. The inventiveness of this young lady is amazing!
There is a memorial route on the trail of Bertha Benz from Mannheim via Heidelberg to Pforzheim (black forest) and back, in memory of this incredible event.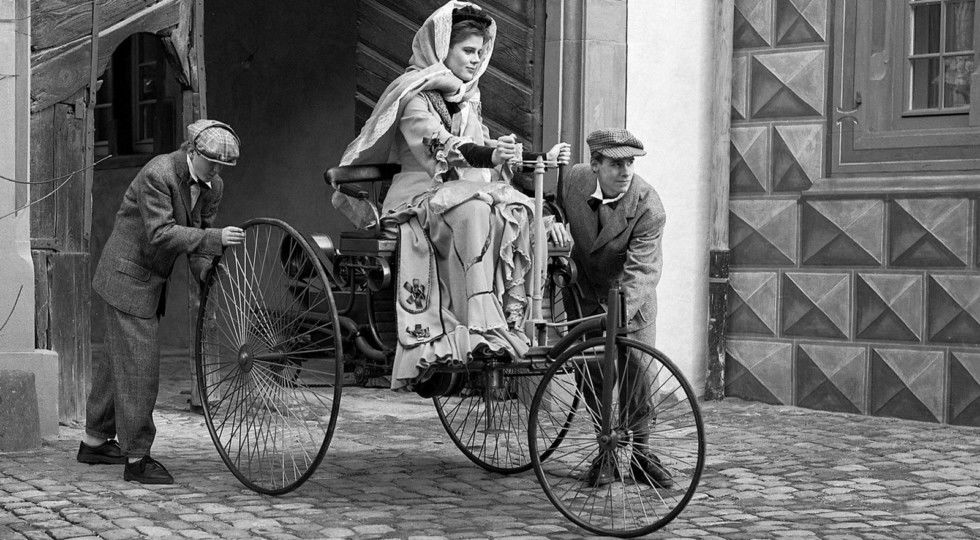 In the 1930s and 1940s people hid values under a garter to take them across the border unnoticed, especially during the journey to the New World.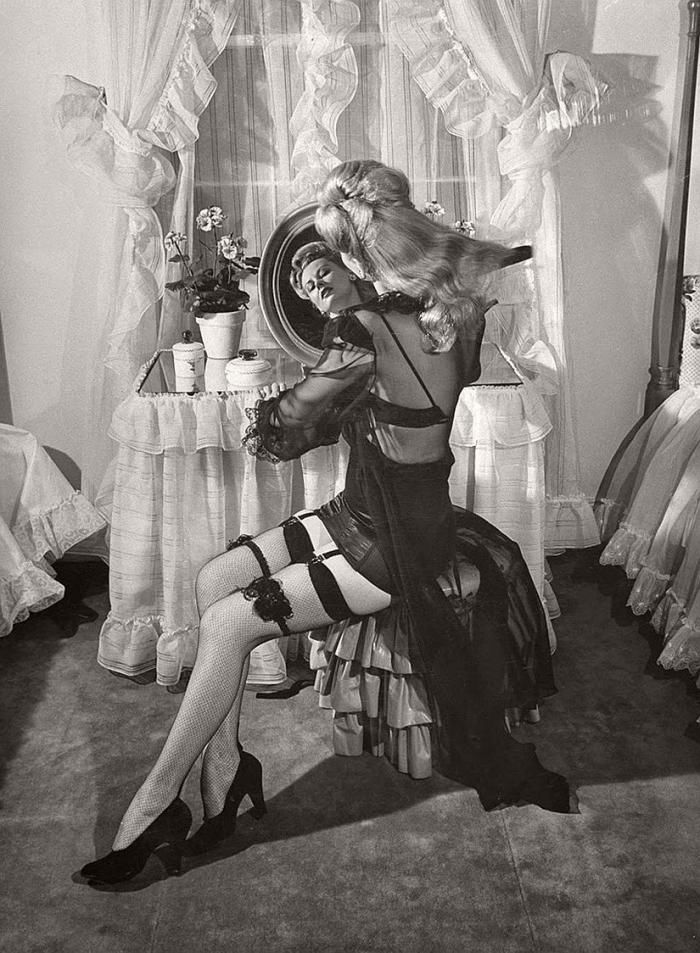 By the way, in men's fashion a garter for socks is still used, but rarely.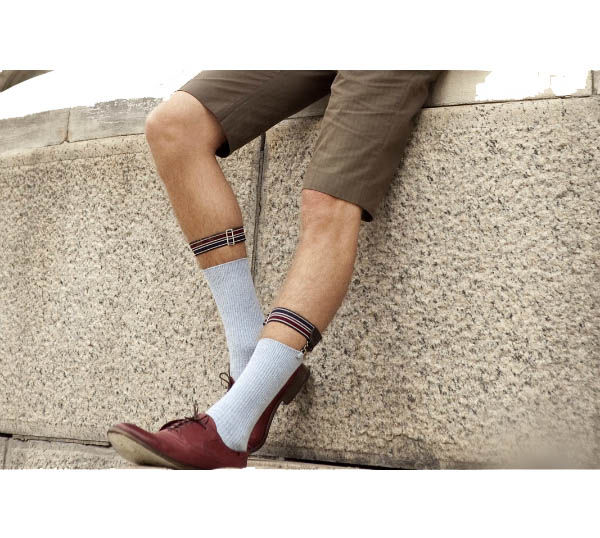 Why do we need a wedding garter?

Of course, in today's world when we have so many things for convenience, this accessory has lost its function.
But on the wedding day, many brides still pay tribute to the tradition and wear it.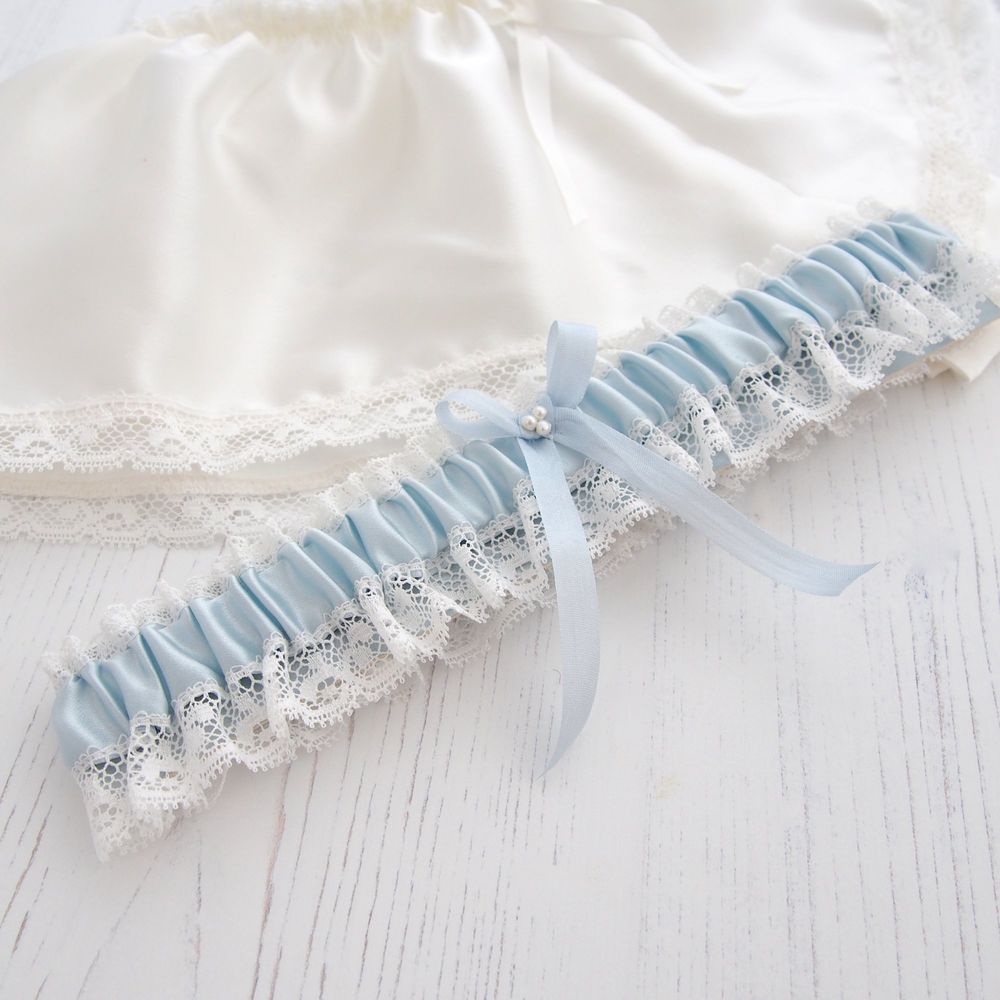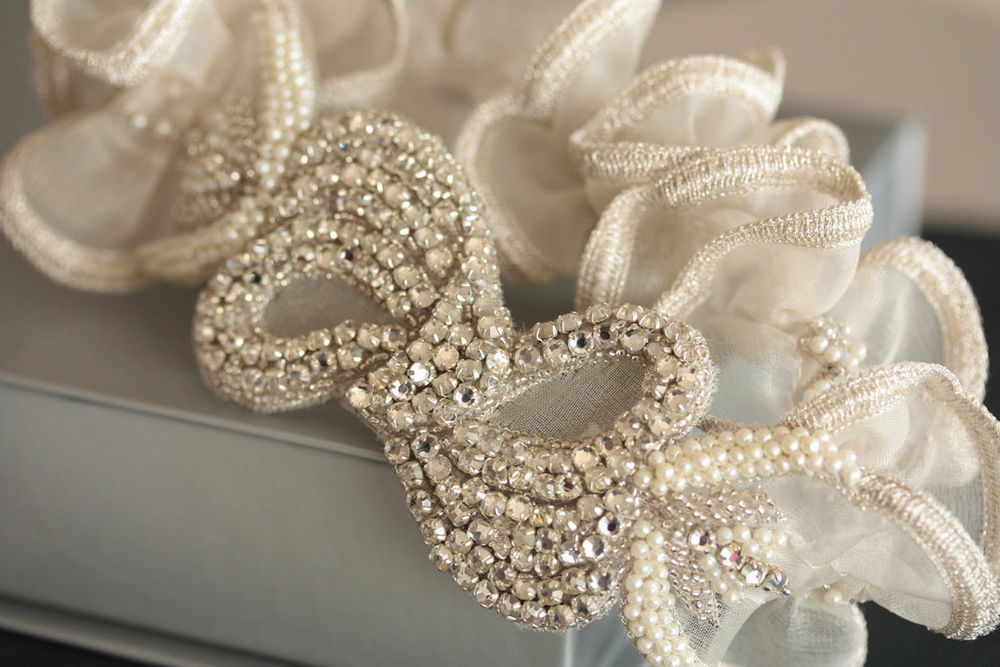 1. First of all, it is a mystery. A garter is well hidden under the dress and only your fiancé will see it.
2. An addition for a look. Beautiful lingerie and an element of the old time will make you feel like a princess at a ball.
3. Memories. A perfect garter for a bride can be stored for years and remind about the past celebration, and maybe you will pass it by inheritance.
4. Tradition. Currently, the custom of throwing a bride's garter has become a fascinating pastime in which all the guests participate.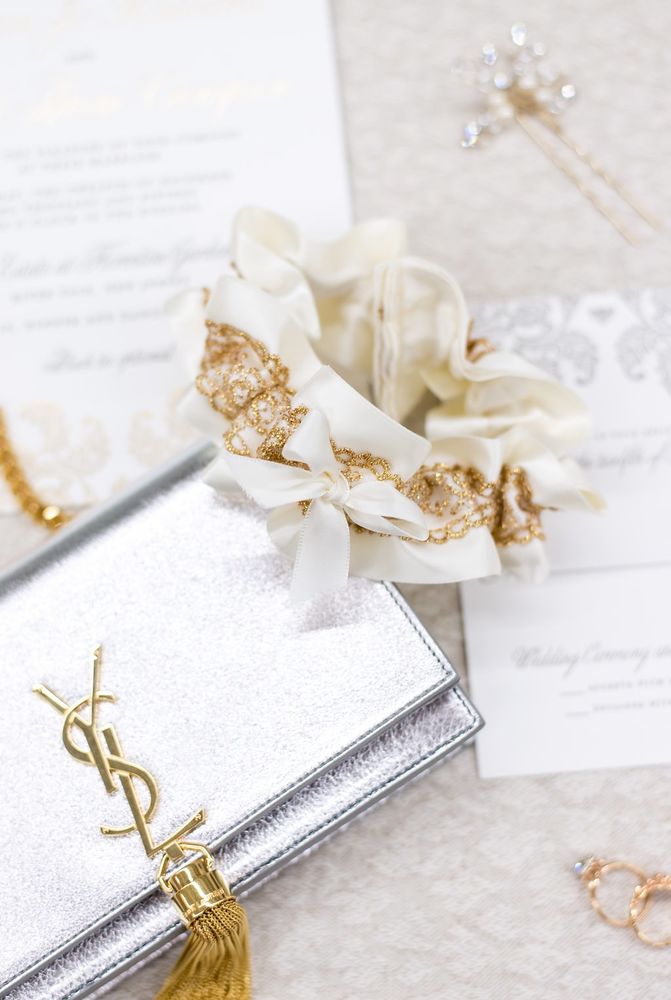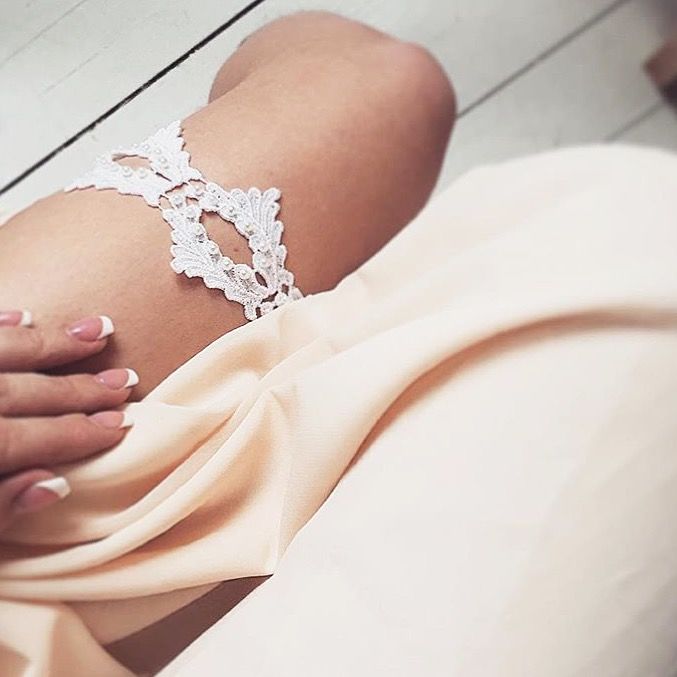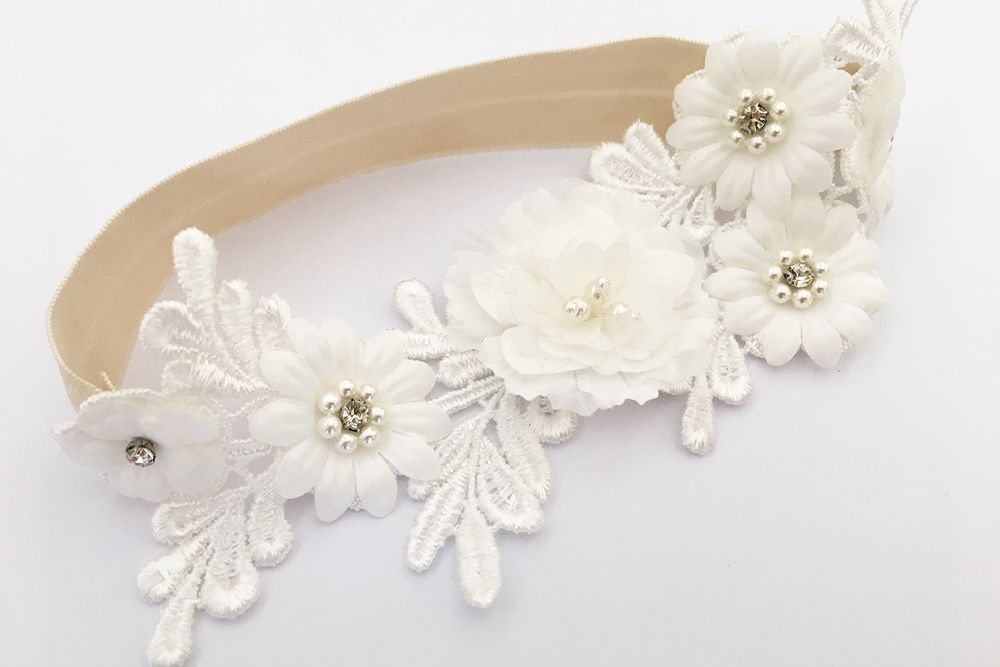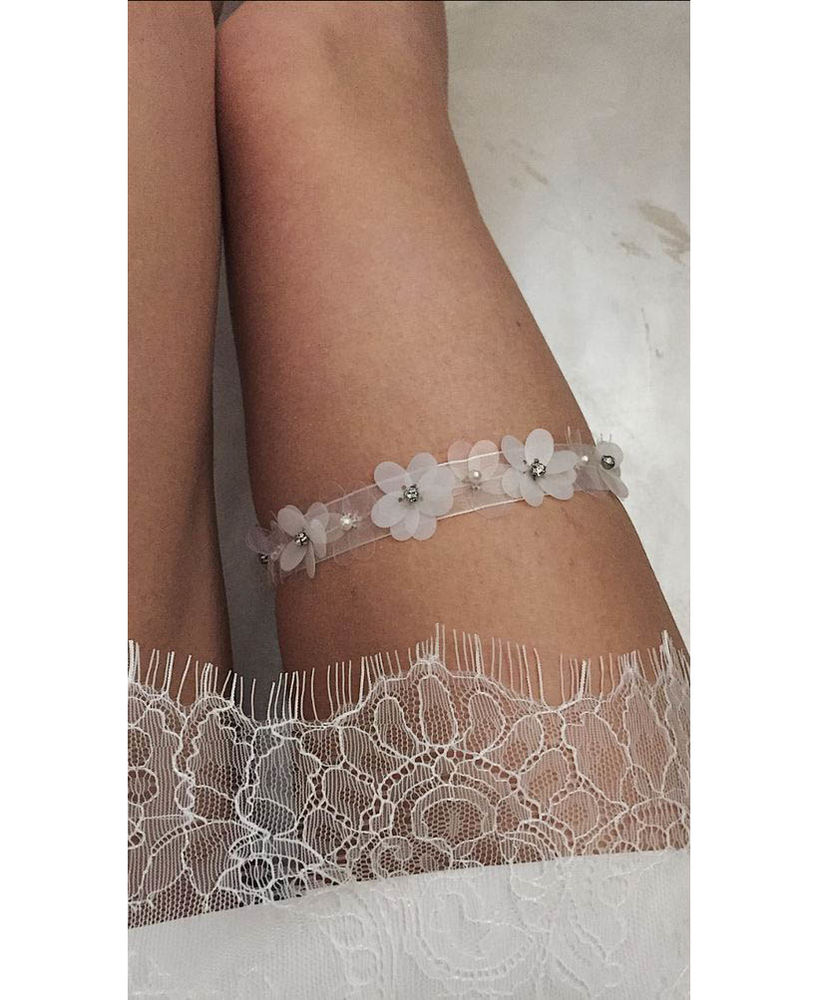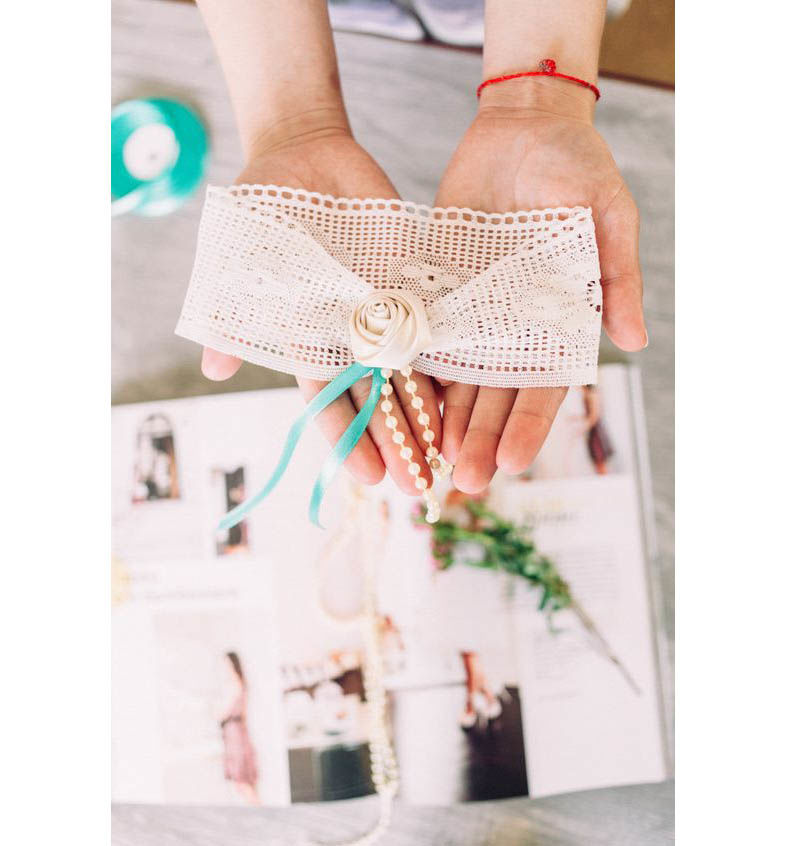 How many garters should be there?
According to tradition, there must be two bride's garters.
Most likely, this comes from their historical use to support stockings (because we have 2 legs).
In today's world, if you buy 2 garters for a bride, one is kept as a souvenir and the other is involved in "the game", it is thrown to unmarried guests, men.
By the way, this custom has not changed much from previous years, with one exception, earlier a bride didn't throw a garter to the guests, but the guests tried to catch the bride to remove her garter, the one who succeeded, received the coveted accessory as a gift.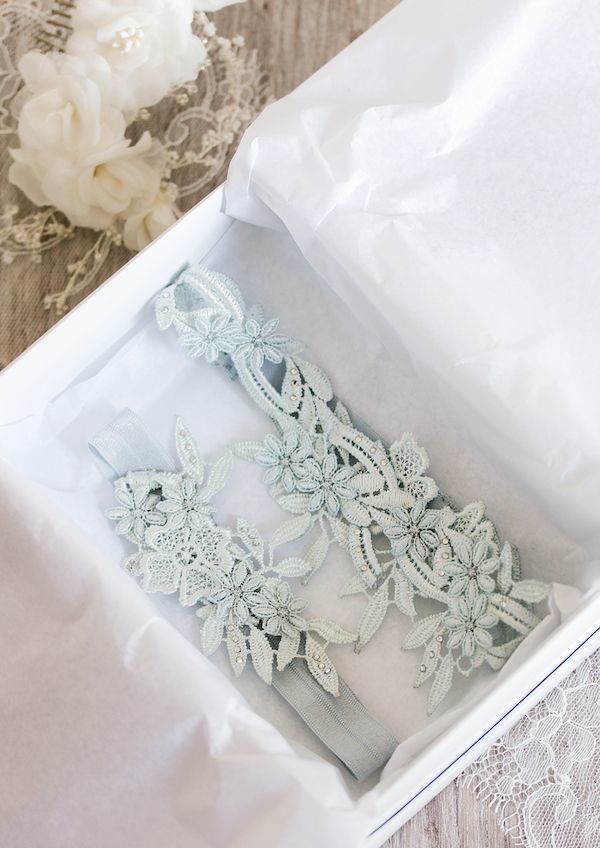 The second garter for the bride is traditionally removed by a groom, in the bedroom, and it was a sign of the bond of marriage, it was carefully kept in a box, as a symbol of loyalty, piety and devotion.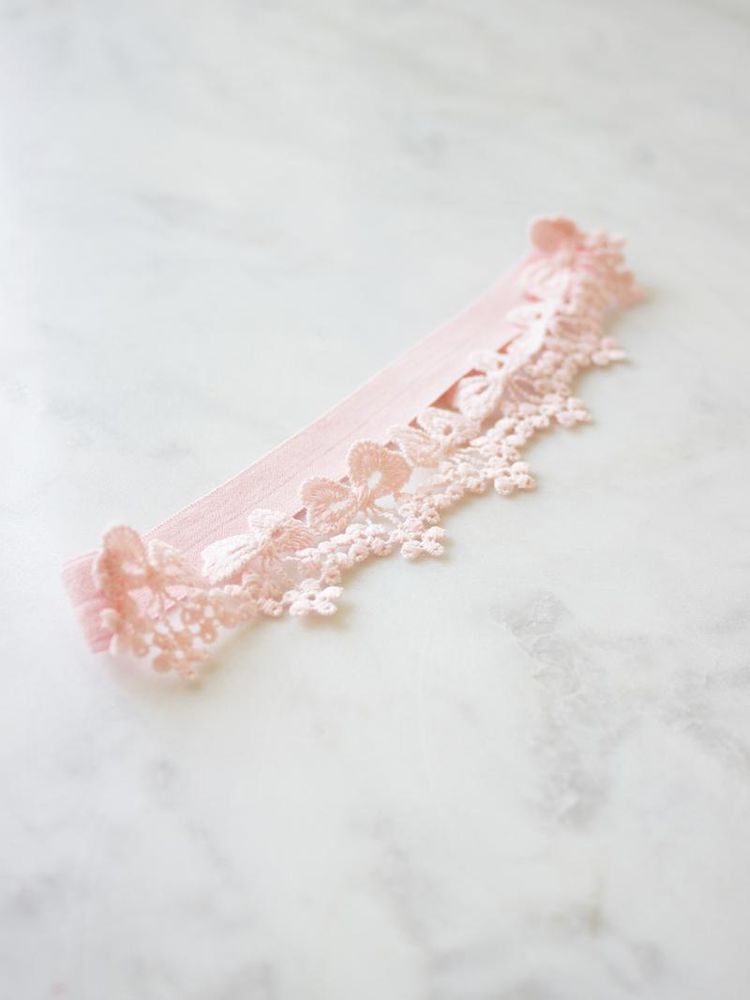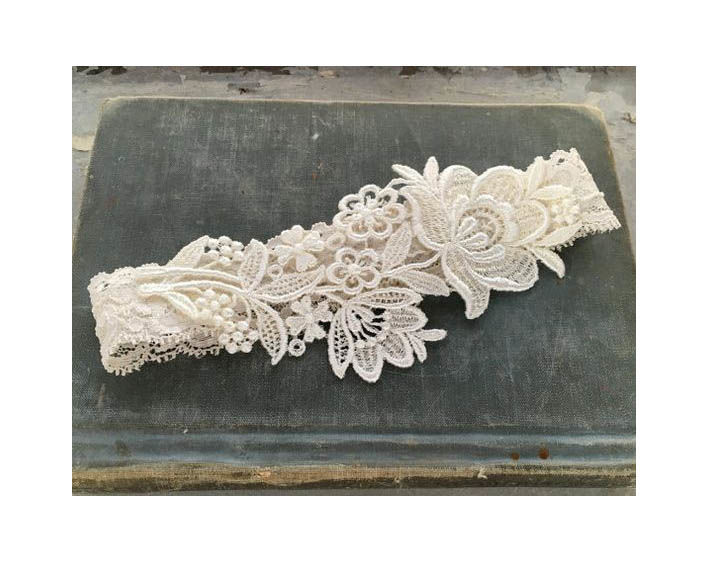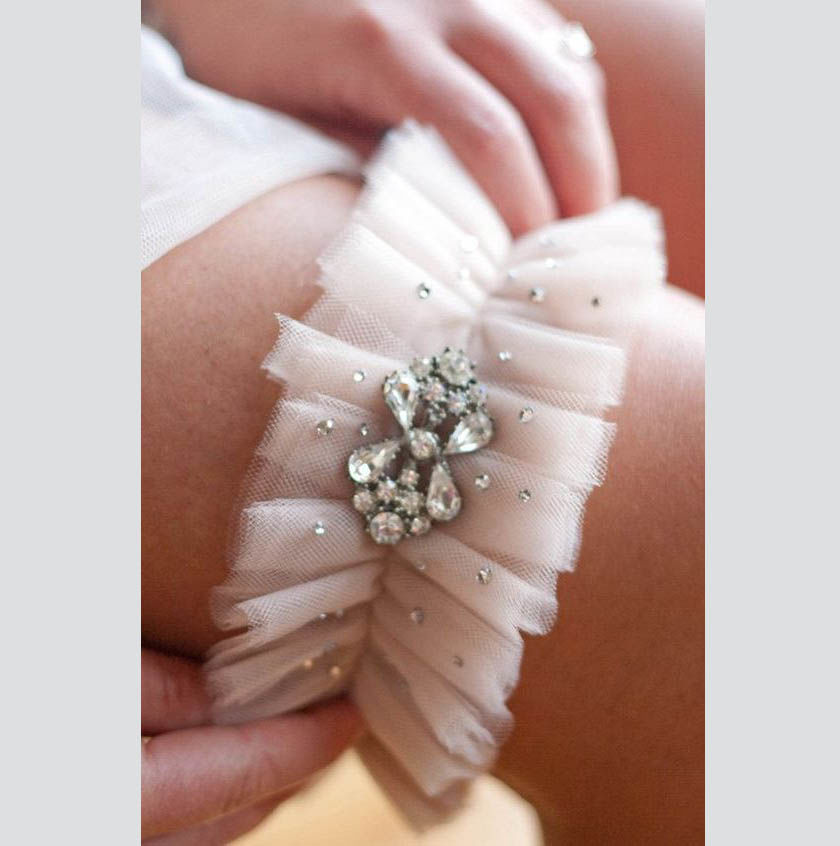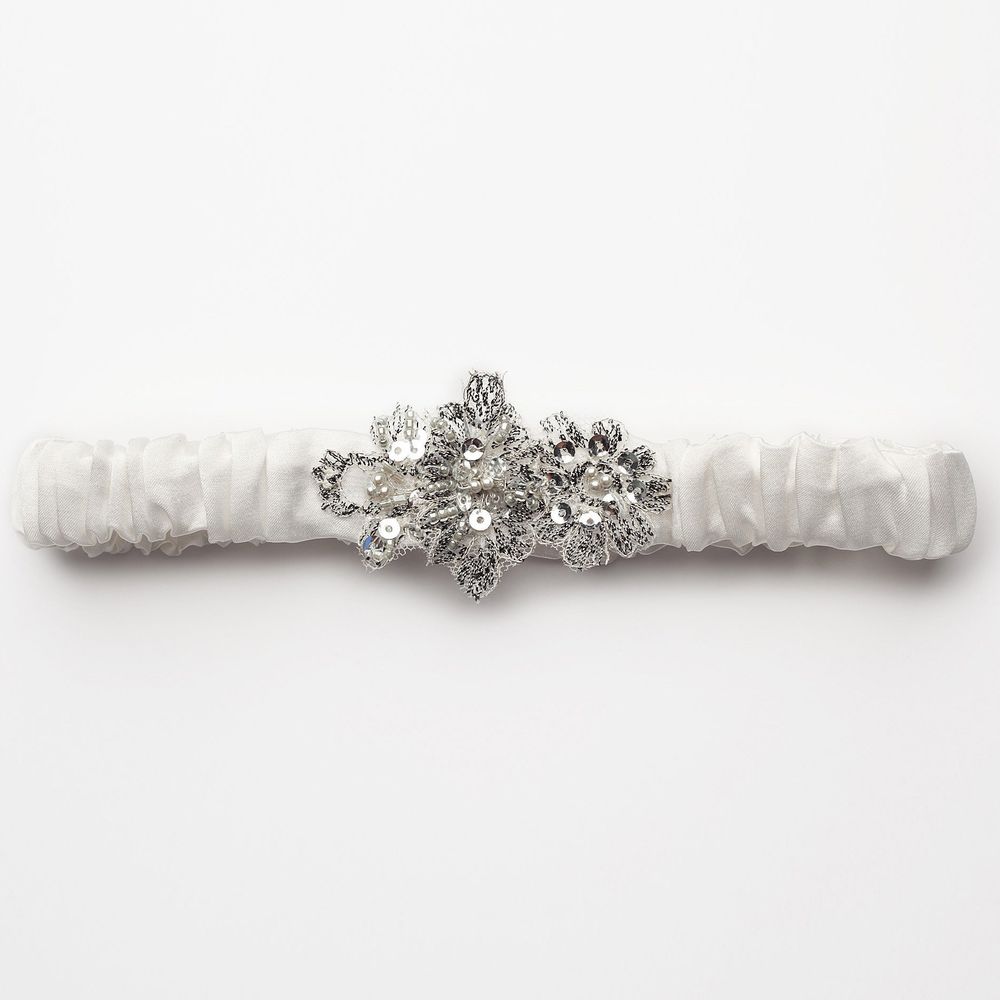 On which leg to wear a bride's garter and traditional colors
Traditionally, a garter is worn on the right leg, but there are no special rules for it, so do what is comfortable for you.
The top garter is usually worn 10–15 cm above the knee, and the second, 2–3 cm below the first one.
In the middle ages the tone of a garter was of great importance, and allocated the members of the same order, group, family or job.
Favorite colors, especially in European countries, were blue or light blue, this shade symbolized faithfulness, innocence, loyalty, purity.
By the way, by the color and decoration of a garter one could often much to say about the bride and the future of the couple.
So, for example, a gold embroidered or gold garter predicted great wealth, red — passionate love, pink was for lightness in everything, blue was purity, green for fertility.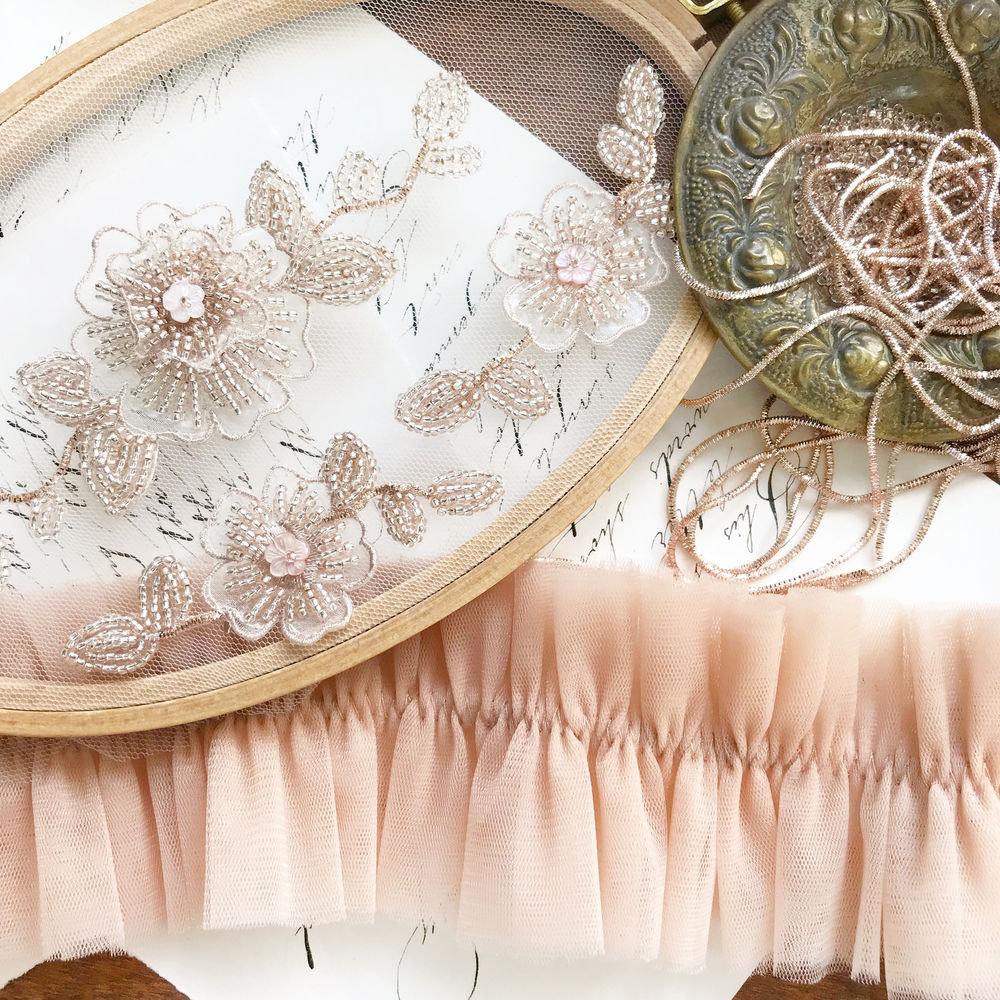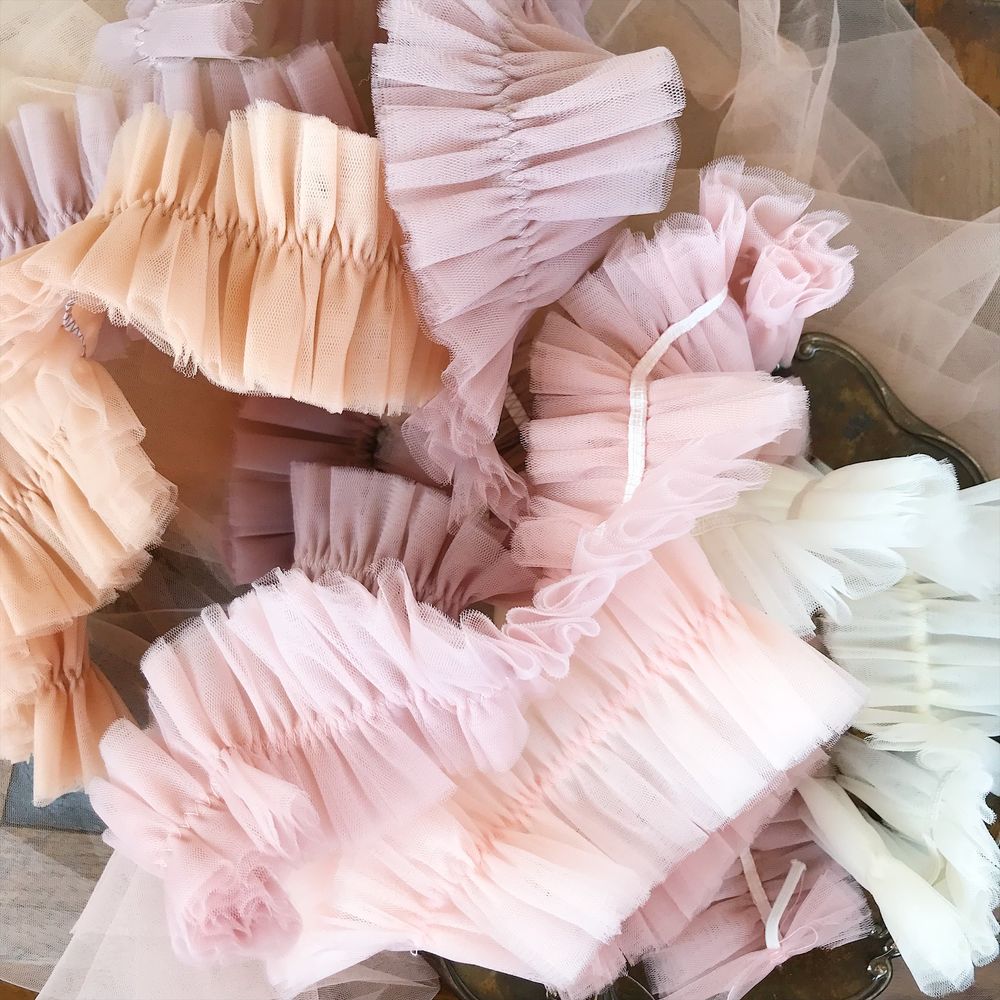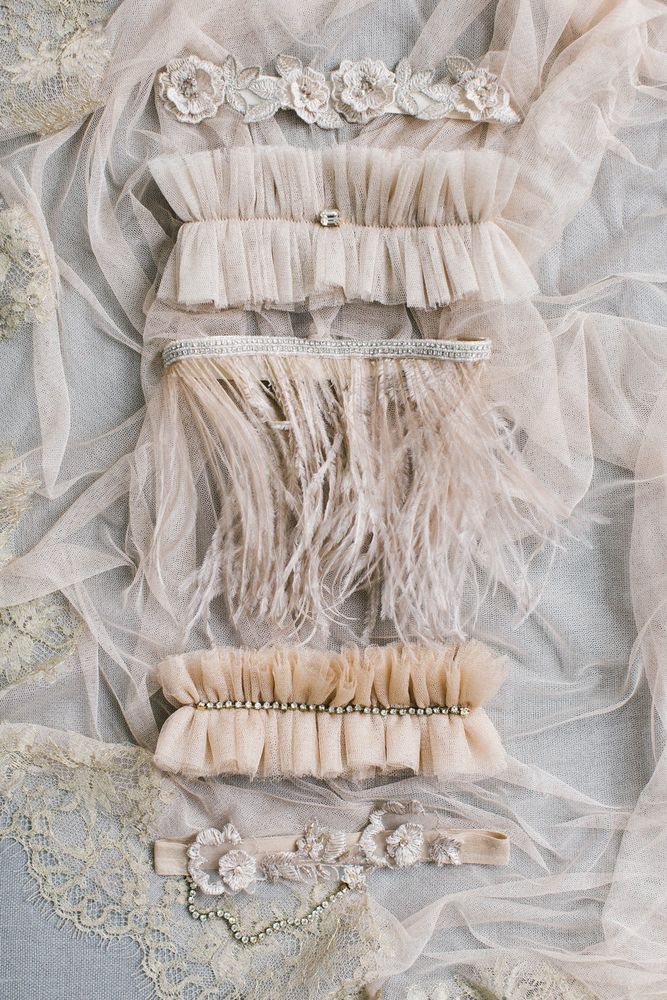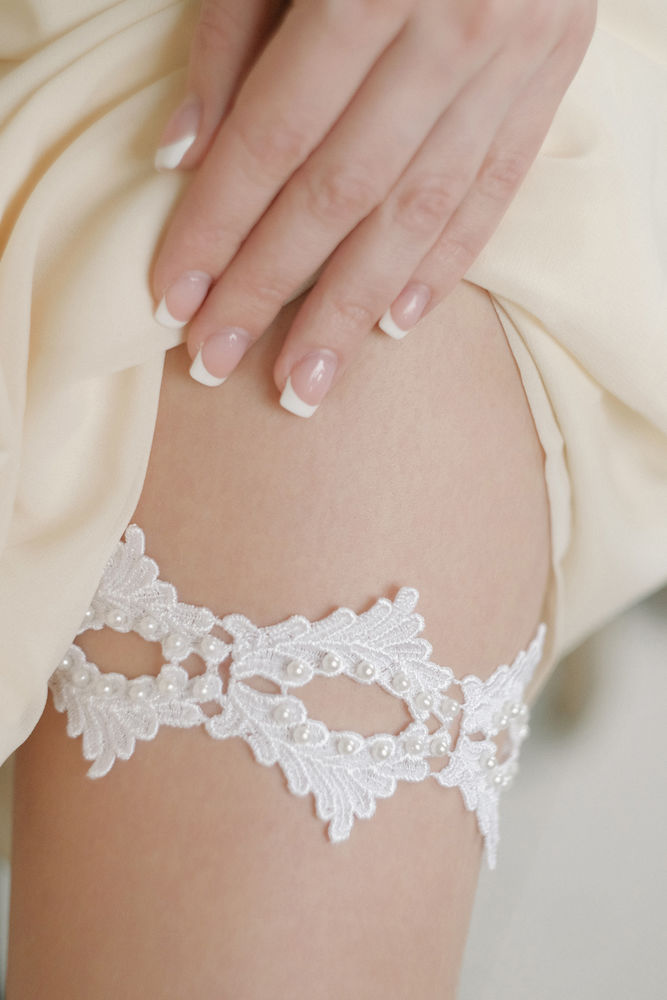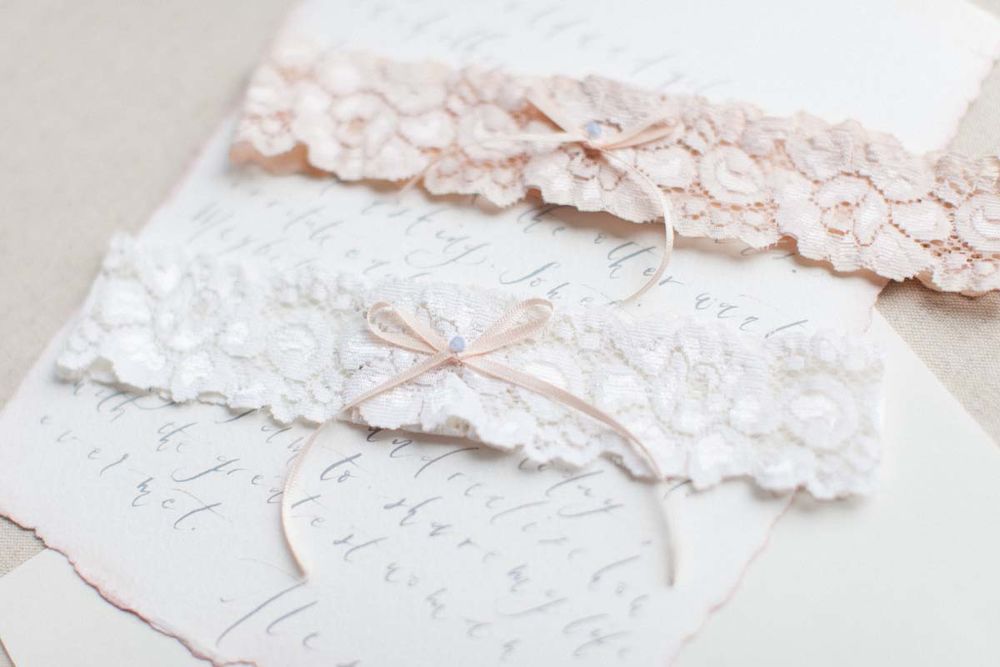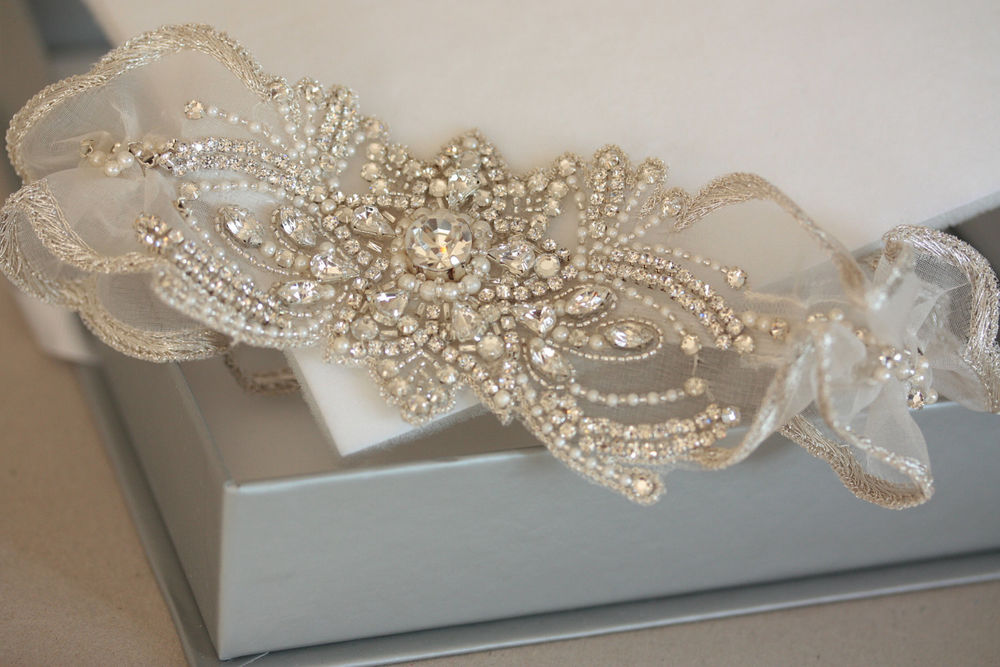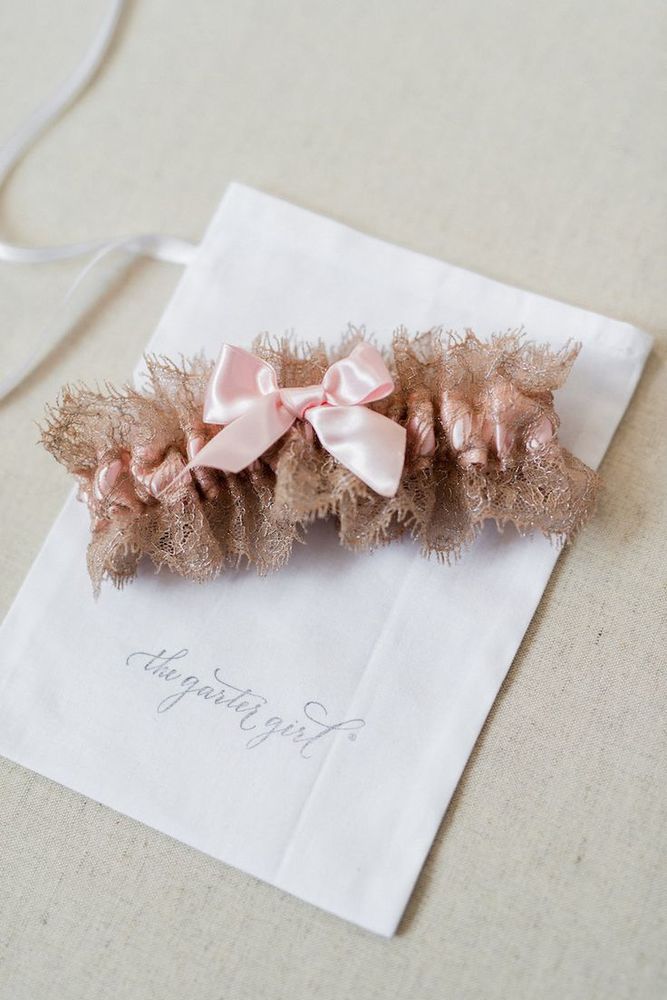 How to choose a garter
Despite a huge selection of wedding garters, there are some nuances in choosing this accessory:
A lace garter. When choosing a garter, look at the softness of lace, do not choose lace on organza or crisp lace, these types of lace will be confusing because of their stiffness. Delicate lace, soutache lace, tulle are ideal. Always check with the seller the softness of the lace.

The volume of a garter. Here we should pay attention to the silhouette of your dress, if it is lush, a garter can be absolutely any, but if you have a narrow skirt, choose a thin, barely visible garter, so it is not conspicuous.

A garter made of tulle. There are different types of tulle and at first glance, at the photo, it is difficult to distinguish it, but when you touch it you will understand what I mean. Choose a garter made of knitted mesh or European tulle.

The size of a garter. Measure the circumference of your leg 10 to 15 cm above the knee, this measure will help to calculate the circumference of the top and the bottom garter (if you order a set).

Decoration of a garter. It depends on the silhouette of the dress and of course on the wedding palette. Here you can give free rein to your imagination or the imagination of your designer.

The shade of a garter. Only you choose it!

Materials for a garter. At the present time — it can be anything, it depends on the style of the celebration and application of accessory. Different fabrics, flowers, twigs, beads, embroidery, textile, bulk flowers and so on. It is possible to make any fantasy, even if you decide to follow the style of the middle ages.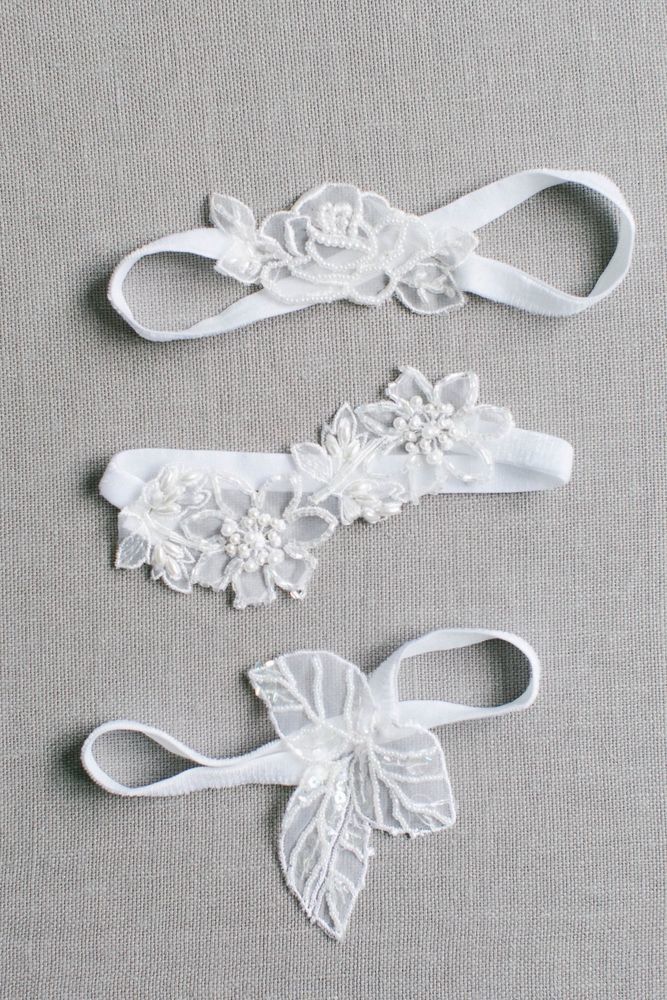 Garters came out of our daily lives, but this accessory found its place in the wedding ceremony. And on the wedding day brides pay tribute to tradition putting on a garter.
In the modern world there is an incredibly huge selection of garters for brides, they are made of various materials, in various techniques.
A wedding garter is an element that will express your individuality.
Leave your prejudices behind and enjoy the magic of the moment!