How to Make a New Year Postcard with a Pig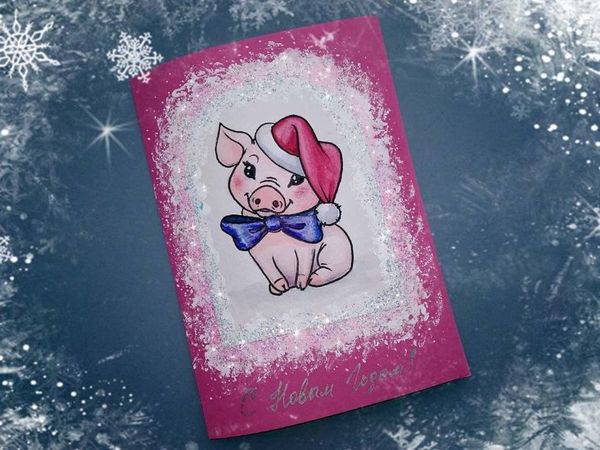 In this tutorial we will make a New Year card with a pig — the symbol of the coming 2019. At the end of the article I'll show a few ideas of other cards, so you could be inspired by something, and make a postcard by yourself for your loved ones. The postcard with a pig is easy to make, it can be made with kids and please grandparents.
For the work we will need:
watercolor paper;
a brush;
a pencil;
red, blue, and purple watercolor;
glue (I used white glue, but it can deform paper, and for greater accuracy of the cards you can use a glue stick);
white gouache;
paper napkins;
decorative sequins, they are sold in stores for creativity, you can finely chop ordinary tinsel;
thick colored paper or cardboard of A4 format;
black, silver markers. First, I create a sketch of a pig.
This pig is not copied, I made it up by myself, and I'm ready to share with you this drawing so you can print, transfer and paint it, you can make exactly the same card, not being able to paint. The contour drawing is attached to the tutorial. Use in good health! Of course, you can use any other pattern.
I paint the pig with watercolor. When the paint is dry, I make a contour with a maker.
The drawing is ready. I fold a sheet of heavy paper in half, marking the location of the image with a pencil I glue it on. Make some kind of stamp of a paper napkin, and paint with white gouache the perimeter of the drawing to create a snow effect and disguise the edges of the paper. Complement the effect with snow dots. Put glue on the gouache and sprinkle it with glitter. When the glue starts to dry, you can shake off the excess glitter. Under the picture I write "Happy New Year" with a silver marker. The lettering can be of any kind. On the back of the postcard you can show your imagination adding snowflakes and patterns of white gouache, glue white paper for congratulations and decorate it with white frames.
Ideas for New Year cards.
For this postcard I used an image of frosty patterns, they are made with watercolors on wet. For this pattern you need to make a round puddle and put paint of cool colors into it — from blue to ultramarine, purple, then put at the top a piece of food film so that it would make folds and wrinkles, you can drag it in the center. When the paint dries remove the film. You can add silver gouache in the watercolor puddle to make the patterns more mother-of-pearl, or you can use sequins (there are special gels with glitter for children's crafts, they are easy to apply and dry quickly). On this card, the picture is inserted in a slit window, not in top, so the card looks neater, but it is more difficult to make, it requires precision in calculations, decorating the inside of the card, covering the inner side of the inserted image. If you are interested in this technology, I will make a separate tutorial on making original postcards of a higher difficulty level. To make this card I used decorative paper with stars. A postcard of craft cardboard, decorative paper and an image made with white gel pen on dark blue thick paper.
The design of the cover, the page spread and the back part of cards is carefully studied and thought out. And a few more ideas with "no comments". Video on making a greeting card with a pig.
DIYs & Tutorials on the topic