How to Paint a Gingerbread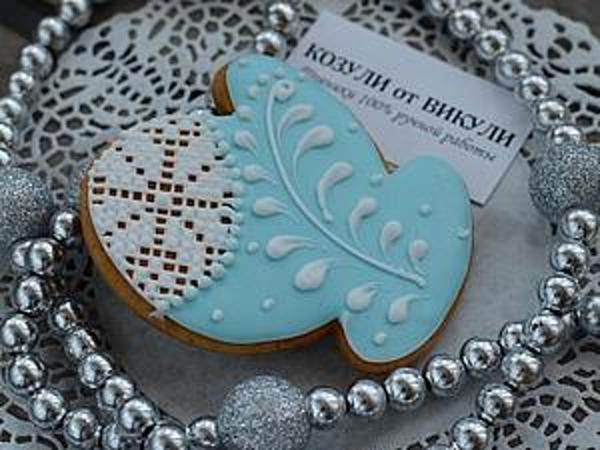 I am an artisan of "Kozuli" gingerbread painting. In my tutorials I teach baking delicious gingerbread and painting them in different techniques.
Today I will show you a combination of the most popular techniques of painting — mesh and openwork curls. This painting is widely used in the Czech Republic for decorating their national gingerbread (perniks).
The most popular form of gingerbread for New Year is a mitten. I have made more than thousands(!) of them in my life, so today, let us together create a beautiful Christmas gift! You can decorate with icing sugar cookies, gingerbread or kozulis.
In my work I use professional Italian icing, but for home creativity you can make sugar-protein icing.
To make icing at home you need to take 2 whites of the egg (always check the absence of drops of yolk or knots in the white), 400 grams of very finely ground powdered sugar, sift it, a few drops of lemon juice and tsp of corn starch. Starch does not affect the taste of the icing, but it will help it to be more elastic and smooth when applied. We need two icing consistencies: thin icing for filling and more dense icing for painting. We also need food dye (optional).
For beginners, the most simple work is to get pastry bags with nozzles.
Put the more dense icing in a pastry bag with a nozzle marking 00 or 01, put the more liquid icing into a disposable bag without a nozzle (we'll cut the tip of the diameter with which it will be convenient to work).
The surface of the gingerbread should be clean, without flour. 1. Make a contour using the bag with a nozzle, try to keep the same gap between the edge of the gingerbread and the contour. 2. Pour more liquid glaze on the most part of the gingerbread, evenly distribute it across the entire surface of the gingerbread. 3. The next step is a mesh. To make it always smooth, first make a center line, and keeping the same width make a parallel line, then parallel to the previous line, etc. We begin to make cross lines from the center. 4. Next, make a pattern on the mesh. You can use monochrome schemes for cross-stitch or use the most common pattern — "Nordic Snowflake". 5. When the filling is dry, it is possible to make a volumetric pattern. The pattern is made with a more dense glaze. This pattern is very similar to "commas", with branches in one direction and then the other. This technique is perfect for gingerbread cookies for a christening or Easter. A combination of different types of painting gives unlimited possibilities to gingerbread decoration, which will help you to make your gift (sweet table) unusual and individual. Create with love,
Victoria.
DIYs & Tutorials on the topic