Tutorial on Making an Interior Hare. Part 1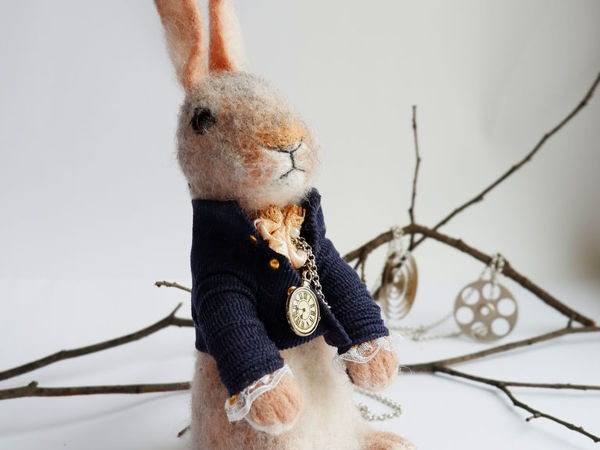 I present to your attention a tutorial on felting a hare in a realistic technique.
The tutorial consists of several parts, I couldn't put all the photos in one publication.
I tried to make as many photos as possible to make a detailed tutorial.
We need: wool of colors for making the animal, a felting needle + a reverse needle. I added a felt pouch with dry lavender inside to prevent appearance of biting insects. Well, at least I hope it will help :) As our hare is beige, it still has black hairs, so you will need to combine colors, to put out hairs of different colors when using a reverse needle. Form the head, referring to the photos of live models. Now the ears. First felt: Then process in the wet technique to make them compact. Correct all the defects with a needle. Get smooth, thin ears. Now make them volume. Process the head again and add a slit for the mouth and the contour of the nose with black wool. Mark with white wool the places for the eyes. Now felt the ears to the head. Make sure that they are accurately in their place :) Now, the eyes. Select by color and size. Mark on the head the places where the "legs" of the eyes will be with a lead pencil. Use a long needle to mark the places and check from all sides. Now sew. Under the back of its head tighten the thread and make a knot. Now we need the eyelids, take some various types of wool, use black wool to felt the edges, to make the contour of the eyelids. Felt them near the eyes, do not forget about the shape of the eyes and the place from which we should start felting:) First I make the bottom eyelid. Don't forget to check the location of colors and when needed add a pinch of a needed color.
DIYs & Tutorials on the topic