Vintage Christmas Decoration. A Christmas Star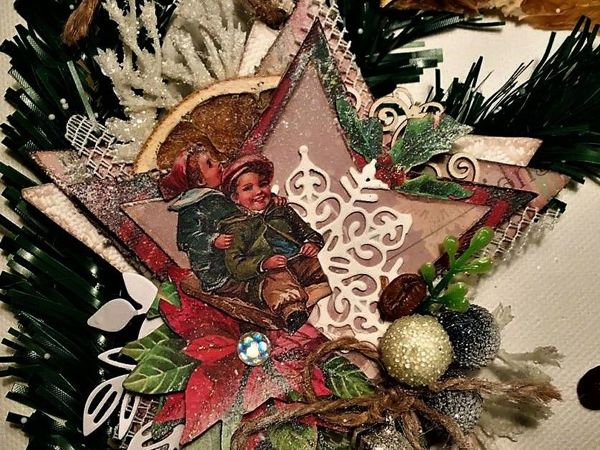 New Year is a wonderful occasion when even adults act like children, believe in miracles and get excited about shiny things, sparkling lights and bright wrapping paper. You can, as usual, decorate a Christmas tree with traditional glass and plastic balls, but it is much nicer and more fun to make Christmas decorations and the process is fun and positive.
So, we begin to create.
The materials and tools that we will need:
1. Binder board.
2. Christmas scrapbook paper.
3. Vintage lace.
4. Cutting of paper.
5. Chipboards.
6. A dried orange.
7. Coffee beans.
8. Sprigs of spruce.
9. Decorative jewelry.
10. Acrylic paint.
11. Rhinestones, beads.
12. Scissors.
13. A ruler.
14. A glue gun.
15. Glue for paper.
16. "Snow" texture paste.
17. A brown cushion for toning.
18. A knife.
19. "Stars" templates.
20. Eyelets.
21. Setter for grommets. 1. Using templates, cut out 3 stars of scrapbook paper, 2 stars of white paper for glueing cardboard on two sides, 1 star of lace and one star of cardboard (the base). 2. The star is vintage, so each star must be toned with brown paint. Process the edges with a knife to imitate aging of the paper. 3. Glue two white stars on a cardboard base. Make a hole, insert a grommet and thread a rope.
It is better to stick the remaining stars to the back side with double sided duck tape to make it volume. Assemble the star. 4. Cut out additional decorations of scrapbook paper. As we have a multi-layered star, and the squares on which we glued all the stars are small, you can use pincers to put decorations and glue them between layers.
Decorate as your imagination dictates. The flight of fantasy is unlimited! Here is a vintage Christmas tree ornament I made. I added another orange slice and coffee beans to add flavor. I covered the finished work with "snow" texture paste to make it a little snowish.
I will be happy if my DIY inspire you on making Christmas decorations.
DIYs & Tutorials on the topic