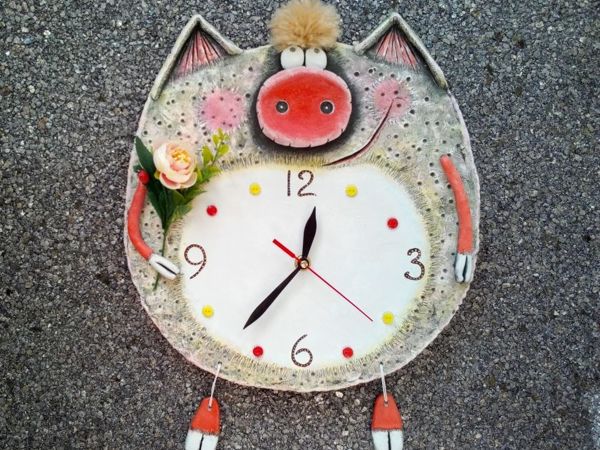 In anticipation of New Year, I decided to make a clock in the shape of a piggy — the symbol of the next year. This is the first piggy I made, I though about a shape, colors and content in process. So, I made what I made! In my opinion the piggy turned out pretty cute, it can be hung in a children's room and in a kitchen. I'll be happy if my efforts are not in vain and someone wants to repeat something like that!
We will need:
a chipboard base for a clock;
paper clay, water, white glue;
a knife, stamps, stacks for sculpting;
paints, brushes;
a clock mechanism;
decorative elements;
a husband with tools. To begin with, I took a piece of paper (which I've already lost) and draw a rough sketch of the future clock. I made two clocks, they were different in shape and size. Then I drew a pattern for the clock on Whatman paper and my husband cut out a base of chipboard.
You can find a recipe for paper clay on the Internet. Since I'm a person who lives with a "by eye" principle, I almost never measure with spoons, cups and even grams. I always follow the expression "so that it doesn't stick to your hands", so I can not share with you the exact recipe because I simply don't know it.
When all the materials are at hand and paper clay is ready we can get to work. Smear the cloak base with a thin layer of white glue to make paper clay stick better and so that it won't peel off in a time. Thoroughly smear the sidewall. Begin to cover our base with paper clay. I begin this process from the sidewalls. I make sausages and press them against the side of the blank. Then I make a relief on the sidewall with a stack for sculpting, thereby creating a texture and pressing paper clay to the base. I fill all the base with mass, smearing the joints with water, so after drying our surface is not layered, does not crackle and is as even as possible. You can also use a rolling pin, but not to zealously, press a little, once I got so enthusiastic that put away all paper clay with a rolling pin. I made the piggy's ears of paper clay cords, don't forget to water the joining points of our parts and also to wash the joints. Cut the ears with a thin knife. I make a snout of a large flattened ball. Place it in the right place and make holes-nostrils with a tool of the necessary shape and size. Make two little eyes above the snout, use a knife to make a smile. Then make texture for our future pig. I used a stack to make small holes, but you can do whatever you want: make cuts, use a rolling pin and tulle or make stamps with any tool you like, the main thing is to create texture, preferably cute. Do this all over the body, except the belly, there will be the dial. Now make arms. Roll thin sausages, make their ends thicker. Use a knife to cut a hoof. Make the legs in the same way, they must be thicker. Make holes in them, as they will be hung and fixed to the main body with laces. Here's the piggy I made! Leave it in a warm place (on a battery, in the sun) to dry for about two days.
After the workpiece is dried out proceed to its coloring. I primed the clock with black watercolor paint, leaving untouched only the place for the dial, we don't need black color there. The paint will get into all cavities and create an interesting relief on our clock. Then use a wet sponge to wash the black paint from all protruding parts. I put a clean, dry sponge into a white gouache and press or spray the surface of the clock, you don't have to press too much, white paint should not get into the cavities. But I whiten the tummy as much as possible. Our blank is ready for coloring. In the same way as we did with gouache paint, we put a piece of dry sponge in a desired color and paint our piggy. Draw eyelashes, hair and all the small details that will finish the piggy's "look" using a black gel pen :) Next, we need a husband and his gifted hands! Ask him to drill a hole for the clock mechanism strictly at the center of the belly. You also need two holes for the legs below the body.
Mark up the dial. Draw numbers. You can draw just some numbers, not all of them. I replaced some numbers with colored buttons of matching colors and inserted the clock mechanism. Our clock is almost ready. It remains to add decorative elements. I made a hair-do of some synthetic yarn, I do not even know where I found it, but it fitted perfectly. When I was making the arms I dried them separately. I put a small bouquet of faux flowers in one of the arms, our charming piggy is in the prime of life and who knows what he can do :) I glued all the details. The second arm is empty. Well, that's all. As the saying goes — what the eye fears, the hands do! Hang the legs with laces and our clock is ready. And here is my second beauty. Oh, it was so hard to paint it. Thanks to everyone who dropped by. I wish you happy New Year (I know it's early but the time runs fast :) and may it be as bright and kind as our clock!
I will answer all questions in comments. And please when copying this DIY place a link to the source and name the author — me.
Sincerely, Strelnik Lyubov.
DIYs & Tutorials on the topic