How to Paint Silk with Basma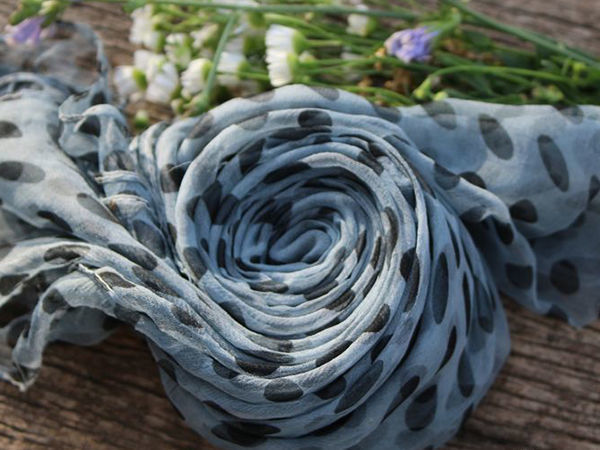 I have known that basma is a natural dye for hair for a long time. But I've recently found out that basma is a grayish-green powder made of indigo leaves. And indigo is a plant containing a blue indigo dye.
"Why not to try to get the blue dye from basma?!" — I thought and ran to a store.
In the morning I poured 0.5 liters of water in 25 grams of basma. Couple of hours later the mess gained a beautiful bright green color. In the evening blue spots appeared. In the morning I was sure that there is a blue dye in basma! I poured this beauty into a pot, added another 1.5 l of water and put it all in a water bath. Warmed it up to 80 degrees.
I strained it and added 2 tsp of soda ash. Mixed it thoroughly. I took another pot and poured my mixture here and there several times, to rich the liquid with oxygen.
Then I added 2 tsp of dithionite sodium. The color of the solution did not change. This time I took for the experiment a white silk scarf in black polka dot. I could not help taking pictures of this miracle! So, I washed the scarf and put it in my sky-blue pink solution! I held it there for about three minutes. Pulled out. The color was changing before my very eyes! After holding it in the wind for a minute, I put the scarf in basma. Held it for about three minutes. Pulled out. The color was much brighter! I straightened the scarf and hung it to dry in the breeze! In a day I washed my new scarf, and here is the result. But it didn't stop there! I put there a big piece of white cotton. I did the same thing as with the scarf — put it in the solution two times! And here's the result! I am very pleased with the result! My conclusion is that there is indigo in basma.
Now you can change the concentration of basma and continue experimenting!
Thank you for reading to the end.
I wish you luck and inspiration.
DIYs & Tutorials on the topic