Visiting the German Masters. Weaver's Workshop. Part I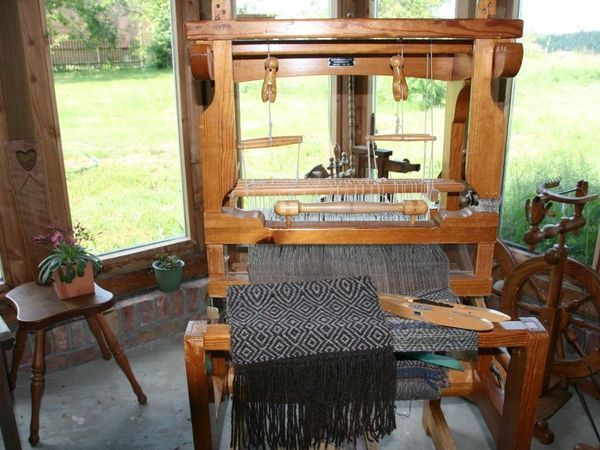 I love to visit workshops of artists and craftsmen. If possible, i observe how they work. Today I want to invite you to a weaver's workshop of one of the German craftswomen.
The workshop of Iris Schöne, as well as her house, a café and a small boarding house are lost in the remote village of Pulov with a population of about 300 people.
The workshop of Iris and a cafe are in the same building.
In good weather, guests dining here can enjoy homemade pies, coffee or tea outdoors. And when it's cold they can snuggle by the fireplace... Old building weaving looms where Iris and her students work are located on the second floor. Everyone can learn to weave on these machines typically for a few days. They stay at the guesthouse of Iris and come to the workshop every day. The first day is completely dedicated to filling the threads on the machine. Iris. In addition to the machines in the workshop there are materials and finished works for purchasing almost everywhere. There are also just all sorts of cute things that create a creative atmosphere. Here's a view from the workshop's window on the second floor. And this is the view on the workshop from the yard. On the ground floor behind the cafe there is another shop in which Iris conducts more simple classes. This workshop is a kind of hybrid... There are decorations... ... and finished goods for sale... ... and a collection of old national costumes... Spinning wheels Machines and materials Frames There is an unusual atmosphere in the workshop and in the courtyard. You simply don't want to leave. The secret probably lies in the town, where Iris settled. It is from the past... Thank you for your attention. Next time we will go to visit the master of fabric painting in the technique of "Shibori".
All photos taken by me during a visit to Iris.