Femininity and Self-expression throughout the Year: Romantic Outerwear
Category: Fashion, Style & Trends
Practices: Sewing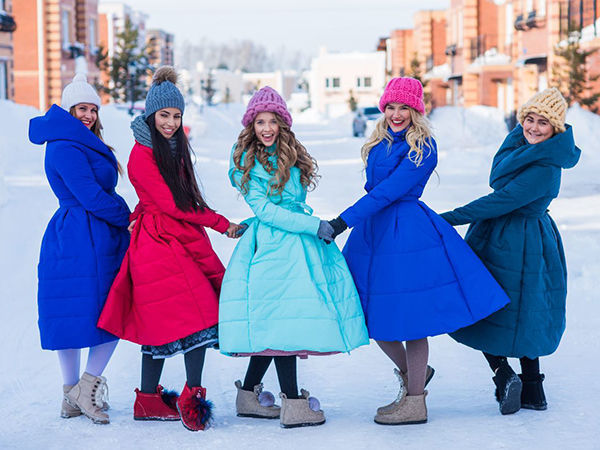 The warm golden autumn will end, and we again will face winter. During the long autumn and winter, we get tired not only from the cold, slush and icy conditions, we are tired of the greyness and monotony. Black and white nature outside the window, in the mirror, and the same images around us day by day — plain unisex outerwear, sports beanies, jeans. Some people manage to get warm with a twist, keeping their taste — most have to compromise. And we begin again to wait for summer to express ourselves wearing bright clothes and admiring ourselves and others.
Fortunately, many designers and craftsmen think about it and create romantic clothes, which look feminine, elegant and unusual all year round.
Clothes of young brand Vitalyan Dress is designed for the Russian winter. Its founder Vitalina Kruger, a resident of Novosibirsk, has developed a collection of "down-dresses", maximum fitted and flared. They create a feminine look by themselves but are also ideal for wearing with long skirts and dresses. "What to wear with a skirt in winter?" is one of the most challenging fashion questions. A leader among manufacturers of unusual warm coats is perhaps the Chinese brand Artka, known for its atmospheric looks with an ethnic touch. Delicate colors, unexpected cuts, folk styling — many of these models have become iconic in the network. But until the cold came you can turn for inspiration to the Serbian IVKO brand which creates a distinctive wool clothing. The Spanish brand Desigual has also its own memorable images. Their recognizable forms and lines are retained in outerwear: "Russian style" also looks feminine in winter: Pavlovsky Posad shawls' motifs, floral embroidery, fur on the collar and sleeves. To our delight, at the Livemaster there are mistresses that create such "boyar" coats and caftans. A few interesting models: Warm up brightly! :)