Patterns for Bead Pendants for a Halloween Bracelet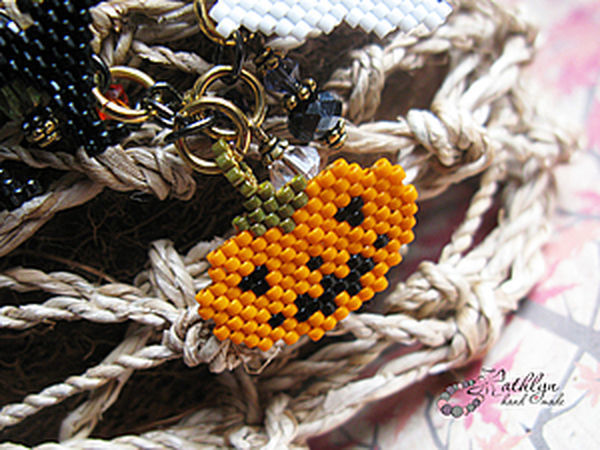 In anticipation of the upcoming Halloween I would like to offer you patterns for bead pendants. You can make a bracelet as well. If you like several pendants you can combine them into a pendant or earrings.
There are five pendants: a bat, a ghost, a Jack's pumpkin, a black cat and a witch hat. You will need the following materials: Japanese Delica 11/0 seed beads, Nymo D thread for beading, a thin and flexible needle for beading, scissors. The pendants are made using a brick weaving technique. You should start weaving from the longest rows. These rows are marked in patterns with red dashes. Vertically arranged beads of yellow and green in patterns mean that you should make a loop for attaching the pendant. Each loop contains 7 beads.
I made all the patterns by myself, taking into account the material and the need to make pendants as little as possible in order to use them in a bracelet.
So, here are the patterns...
A bat.
Bead colors: dark grey metallic matte, red-pink transparent matte, gold. A ghost.
Bead colors: white matte opaque, black, gold. A Jack's pumpkin.
Bead colors: orange opaque, herbal with a golden shimmer, black. A black cat.
Bead colors: black (marked as light grey), black with hematite luster (marked as dark grey), transparent yellow, gold. A witch hat.
Bead colors: dark purple rainbow, fuchsia, gold. Some photos of the bracelet I made: Thank you for your attention!
I wish you inspiration and success,
Catherine)
DIYs & Tutorials on the topic