Look at the World Through the Hoop: Embroidered Travels by Libby Williams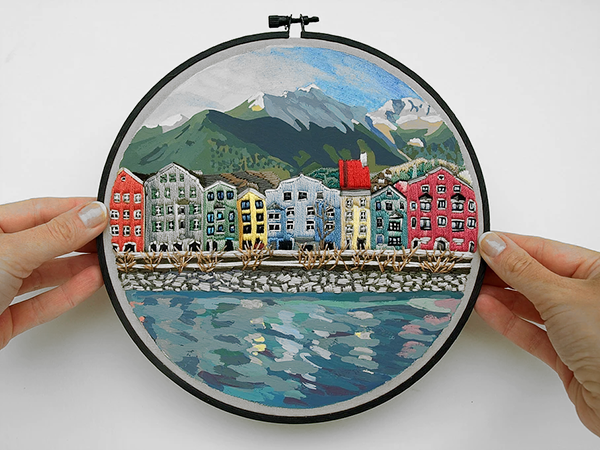 Travelling is one of the main sources of inspiration, joy and new experiences. And the distance or extensiveness of a trip make sense, they are not particularly important: this can equally be traveling to another country and the study of unfamiliar streets of your native city. Today, the excitement of visiting new places is easily captured by a camera. American Williams Libby decided to go a step further: she embroiders iconic locations from her travels turning memories into art objects. Libby is a native of Oklahoma, U.S., where she received a master of arts in painting. Currently, she lives in Luxembourg and travels extensively across Europe. Innsbruck, Austria Monterosso, Italy Kotor Bay, Montenegro The Rooftops Of Paris, France Grindelwald, Switzerland Remich, Luxembourg Jardin Des Tuileries, Paris, France Kinderdijk, Holland Bacharach, Germany Clouds over Ghent, Belgium Riomaggiore, Italy Kansas City, USA Driving through Central Switzerland Luxembourg in the spring The Moselle river on the border of Luxembourg and Germany Remerschen, Luxembourg Neuschwanstein Castle, Germany Caracas, Venezuela Give likes, add the publication to Favorites and share your impressions in the comments! Thank you for your attention :)