Decorate It Yourself: How to Make a Kitchen Backsplash Using Corks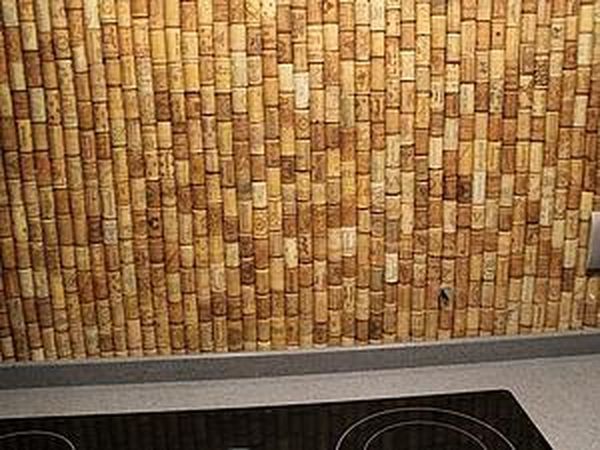 I've long been eyeing ideas for cork decor in the kitchen. Inspired, I decided to make a backsplash in my kitchen on my own :) Follow my pictures to see how it was.
You need the following materials:
- wine corks
- construction glue
- stationery knife
- a toughened glass of the backsplash size
- drill
- fasteners for glass
- and one helpful handyman :) I used about 1200 corks per 240 cm! They were collected by me, friends and relatives... And there was still not enough! So I had to 'rob' a bar nearby! A checkerboard pattern is a very beautiful pattern but you need corks of the same size for that. We cut them in half, too.
We painted the background for the backsplash dark because the whole kitchen was also dark. Before glueing, install the kitchen without the baseboard. Take much patience and start glueing :) Apply glue to each half and carefully pressed against the wall. All pieces that go over the marked line are not touched, they can be cut by the end. Be careful with the sockets, leave enough space around them! Here's what you get: To protect the corks from water and dirt, hide the panel behind the glass: And install the sockets: Glue the baseboard: Hang the cupboards.
All! Beautiful, practical and unusual :) You can call guests! Here's our kitchen: Depending on the interior, the surface under the glass can be decorated with a variety of materials: leaves, cut branches, wallpaper, photos, recipes, anything that your fancy prompts you!
Let your house be nice and cosy!
DIYs & Tutorials on the topic