How to Make a Scarf Necklace with a Detachable Dryad Bracelet
Difficulty: Medium

Materials:

natural beads

,

acorns

,

bumps

,

leaves

,

bead caps

,

pins

,

limit switches

,

lock carabiner

,

rings

,

chain

,

scissors for needlework

,

thread

,

glue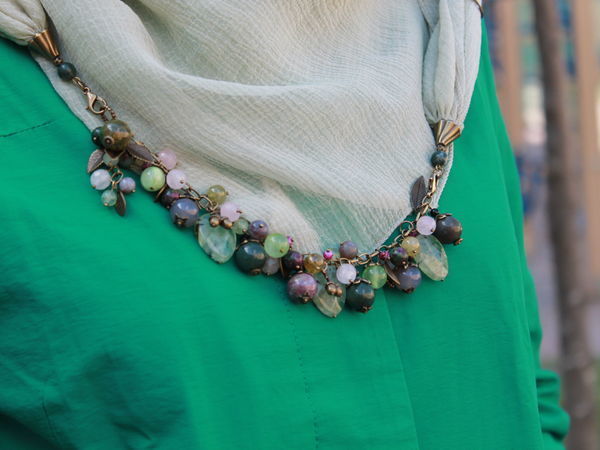 The assembly of such scarf is simple but a bit laborious. I hope you'll enjoy this jewelry. So, let's start.
Take materials and tools shown here or pick those to your taste: Sew fixing cones to two edges: You need a hard base for this like this bundle of threads: Add some glue: And pass a wire through the cone: Decorate it: Make a loop out of the wire: Go on assembling: Now the necklace. When all metal findings are in their places, add beads, I use natural gems and stones: Prepare as many such beads as possible: Start attaching them: And fasten the necklace to the neckerchief: The necklace is also used as a bracelet: I hope you've found the creative process interesting. Decorate yourself and your loved ones with the craft fruit of your creative imagination. I'd be happy to get your likes and see your comments :)
DIYs & Tutorials on the topic