Red currant is made of epoxy resin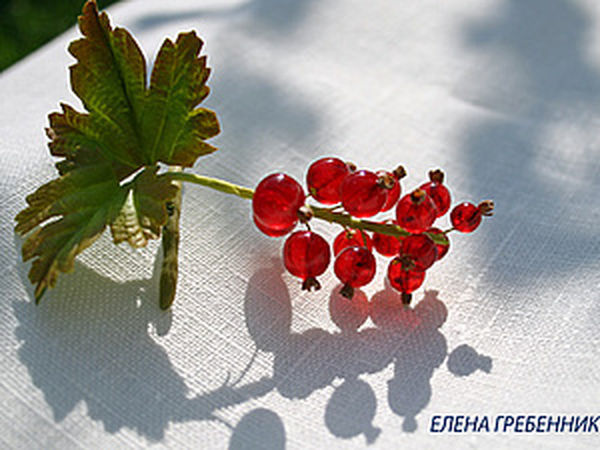 Well, friends, it's time to share my secret of how I make realistic redcurrants. To make a twig, you need:
epoxy resin
polymer clay
cold porcelain
wire
oil and acrylic paints
glue
disposable containers for mixing components.
To begin, see a living twig of redcurrant, look at it properly to see its main features and size proportions:
I mix resin: Use a wooden stick to make resin drops: Make bones: This is how you can learn if the drops are dry — use a test drop for that. 5 hours gone. Put the stones on the resin drops: Take a drop from the surface and shape it: Roll and wait 2 more hours to see the drop is dry: Make the leaves: Insert a wire: It's a little more difficult when drops are completely dry: Leave the bead for final drying: I use Naples Yellow to draw veins on the berries and test it on my nail: I use stained glass paint to paint the berries and leave them transparent: Remove excess paint: Leave to dry for 2 hours: Meanwhile, make the twig out of cold porcelain, paint it soft green and knead: Make stems: Start assembling: Curve the twig: Make the leaf a shape: Here I used oil paint. All is done! I wish you success!
When copying the tutorial, please add the link.
DIYs & Tutorials on the topic