Create Bright Sneakers! DIY Project on Painting Your Shoes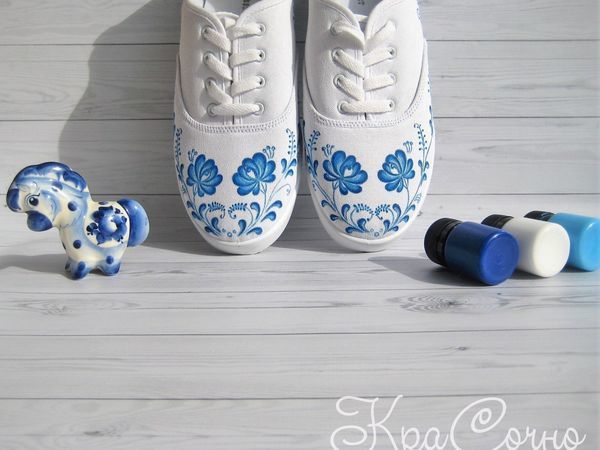 Grey winter weekdays passed. The soul needs the spring, flowers and bright colours! Urgent updated closet, create a spring mood and draw bright colours on sneakers in Gzhel painting style!
To create a masterpiece, you need:
1. White sneakers
2. Acrylic paint for fabric
3. Brushes
4. Pencil
5. Eraser
6. A glass of water
7. A piece of cloth
8. Hairdryer I used a traditional Russian pattern — Gzhel rose. You can choose any other. Transfer the pattern. Apply the first layer of paint: Make shades or line contours: Draw elements step by step: Ready! your usual shoes have blossomed with bright colours! Let the paint dry for two hours, then take the hairdryer and fix the paint with hot air holding the hairdryer over each part of the pattern for 3 minutes.
Voila! Enjoy the result!
You can also paint a t-shirt :) Useful tips:
1. For a better result, use acrylic paint marked as 'textile'.
2. It is desirable to use a hard graphite pencil.
3. It's convenient to use disposable plastic plates as a palette :)
4. Paint behaves itself a bit differently on fabric than on paper. So try it on fabric before painting on fabric.
5. If you make a mistake when painting, don't try to remove the spot. Turn it into a butterfly or flower.
6. Don't be afraid! You will succeed! Regardless of your drawing skills, your shoes will be unique! This is important!
Wish you good luck!
DIYs & Tutorials on the topic