Step-by-Step Guide on Embroidering a Flower Brooch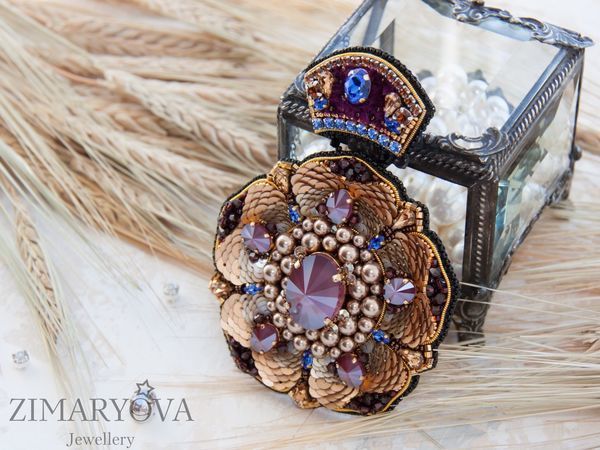 When you smile the stars align. Flower of the Universe, And child of mine.
Let me accompany you today to the wonderful world where the Flower Universe is born.
Materials and tools:
4122 Oval Rivoli 18х13 5 mm, colour: Dark Red — 1 pc
4122 Rivoli Oval 8x6 mm colour: Dark Red — 5 pcs
4120 Fancy Oval Stone 8x6 mm, colour: Sapphire — 1 pc
4228 Xilion Navette 6x3 mm, colour: Sapphire 7 pcs
4328 Xilion Pear 6x3,6 mm, colour: Golden Shadow — 7 pcs
Chain with Swarovski crystals: 2.4 mm — colour Sapphire, 2 mm — colour Smoked Topaz
Swarovski bicone: 3mm, colour: Burgundy — 35 pcs, 2.5 mm colour: Golden Shadow — 8 pcs, colour: Jet — 2 pcs
Swarovski pearls: 3 mm, 4 mm, 5 mm, colour: Bronze
Chaton Montees 53200, colour: Smoked Topaz
LM Paris sequins 4mm flat, Or C2 Mat (LM16)
Sequins LM Paris 3 mm flat, Or B2 Mat (LM06)
2 mm flat sequins Nero (9919)
Preciosa Czech seed beads Charlottes, size 15/0, colour dark bronze
Preciosa Czech seed beads Charlottes, size 15/0, colour 24K gold
MIYUKI round seed beads, size 15/0, colour MIX05 (Strawberry Fields Mix)
The Delica Cut beads, Hexagon (hexagonal), size 11/0, colour: 0031 (gold 24K)
MIYUKI round seed beads, size 15/0, colour 401 (black)
hard gold twisted thread 0.9 mm, colour: gold
Chenille (France), colour: amethyst
two pins for brooches 20 mm and 25 mm
needle for beads (Hemline 10 and Pony 12)
monofilament
thread
scissors
Moment Crystal glue
cardboard
felt
Proceed to magic?
1. Print A4 pattern. The brooch is 6,1*6,1 cm. Сut it out: Transfer it and all its lines on the felt.
2. Stretch the gold twisted thread, baste it to the surface and then properly sew it on the felt: 3. Embroider another outline with Czech beads and Delica Hexagon Cut. 4. Sew the bicones according to the scheme. Purple dots indicate the Miyuki mix of Strawberry Fields. Fix the jewellery stones with glue right in the middle and sew with a double thread (One-G here). 5. Begin to embroider the petal with sequins like this: Embroider with any convenient thread. I used Chinese No. 40 metal 102 thread and 4mm flat LM Paris Sequins Or C2 Mat (LM16). The second row is embroidered with these same 4 mm sequins. Row 3. Begin to alternate the sequins you work with and LM Paris 3 mm flat Or B2 Mat (LM06) sequins. Row 4. Still alternated 4 mm and 3 mm sequins. Row 5. Use only matt golden 3 mm sequins. Row 6. One white pearl 3 mm LM Paris 4501 (LM37) sequin is added. Row 7. At the end, add three pearl sequins. 6. The most difficult is to reflect the location of sequins on a different part of the petal and embroider all petals this way. Sequins are slightly raised and shape an interesting volume. 7. Continue. Sew Swarovski on both sides from the red stones + 3 bronze beads and a 2 mm black sequin. 8. Add bridges from the Czech bronze beads and Swarovski bicones. You can see here where the needle is inserted. 9. Decorate all petals this way. Work with a double thread but a very thin needle. 10. Fill the heart of the flower alternating Swarovski pearls of different sizes: 3 mm, 4 mm, 5 mm. Row 2. Continue to fill. 11. Make the crystal and pearl look inseparable. Pick 5 beads + 2.5 mm Golden Shadow bicone + 2 more beads and decorate the frame: 12. Fill all free spaces between the pearls and decorate the outer edge of the pearl heart. 13. Ready! Cut, retreating 0.5 mm next to the thread and flush to the beads. 14. Transfer the pattern on the cardboard, mark the side that will be close to the suede. Cut out leaving extra 2-3 mm. 15. Mark where the pin will be: 16. And make a crown if you wish: 17. Sew Czech golden beads. 18. Add crystals in frames. 19. Sew some chenille. Cut out, treat the edge like in the picture below: 20. Here's what you get: Thank you for this wonderful journey into the depths of the Universe with me.
Sincerely yours,
Katerina
DIYs & Tutorials on the topic