Crochetting a Four Leaf Clover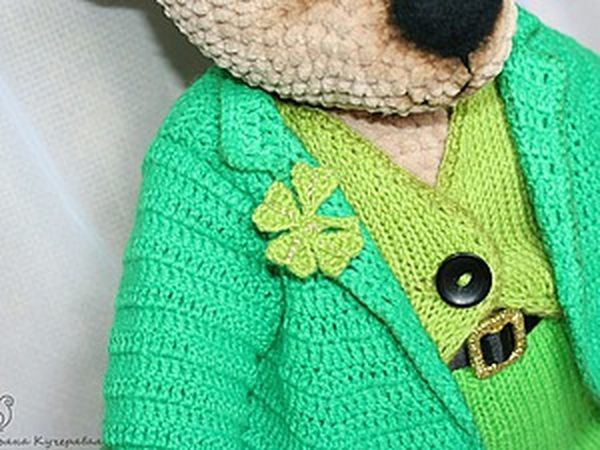 March is coming, and I am very much inspired by Ireland and St. Patrick's Day. I have implemented an idea of a leprechaun teddy bear. But my bear lacks something very small and important — a clover brooch. I want to share the scheme with you.
You need:
green yarn
crochet hook (1.5 mm)
brooch pin
metallized thread (for decoration)
needle
The Key (British)
CH — chain
SC — single crochet
DC — double crochet
HTC — half treble crochet
TC — treble crochet
DTC — double treble crochet
Let's start!
This is a scheme of 1/4 the leaf. Pick 8 CH, 2 DTС into the third loop from the hook. Next, 1 TC, 1 HTC, 1 DC, 1 SC. 1 free CH, turn the work, crochet from the other side, meanwhile, the working thread comes from the top: 1 SC, 1 DC, 1 HTC, 1 TC, 2 DTC in loop 1, 2 CH, 1 SC in the same loop. Make a line out of 4 SС along the centre of the leaf, and 1 SC in the free loop. The remaining 3 leaves are crocheted similarly, pick 8 CH, 2 DTC in loop 3 from the crochet. etc.: All 4 pieces of the leaf are ready, make the stalk: pick 10 CH, 8 SC starting loop 3 from the hook on the backside of the chain out of CH (1 thread). 1 SC is connected with leaf 1 (the first CH — the beginning of the work). Cut off the thread leaving the end enough to make a couple of stitches with the needle.
Fix the middle as shown in the following photo: Make one more turn, tighten the thread and hide it. Hide the end, start crocheting. The leaf is almost ready, the last touches are left. The leaf looks quite nice, but I still want to make the edge thinner — take the needle and thread and embroider the edge grabbing the cable. Stitch the central veins up to the middle. The stem isn't touched. Hide the thread. Decorate with the metallized thread, if you want :) Fold the thread, repeat 5 SC along the centre of the leaves with the needle. Embroider the middle, randomly. Sew the brooch pin. And the brooch is finally ready! :) The brooch in the title photo has been crocheted with one thread (3.5 cm), and the brooch in the photo above with two threads (5 cm).
Thanks to everyone for reading, I hope my DIY was useful to you! Wish you all success!
DIYs & Tutorials on the topic