Creating a Little Bouquet of Clovers for Good Luck out of Fabric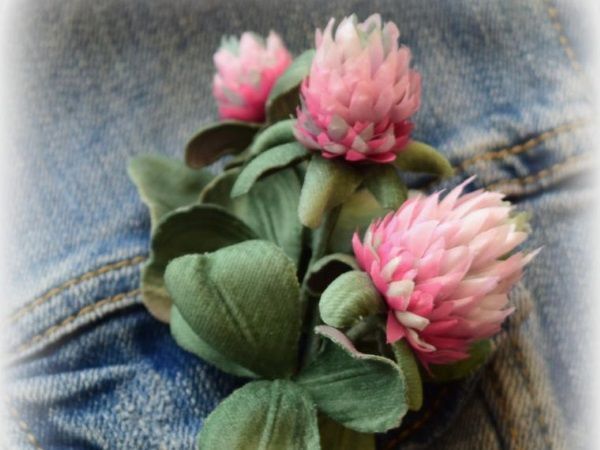 I want to show and tell you how to make a little bouquet of clovers.
Share your own ideas on how to make clover out of fabric. It would be great!
I'll be glad if this DIY turns to be useful for some of you.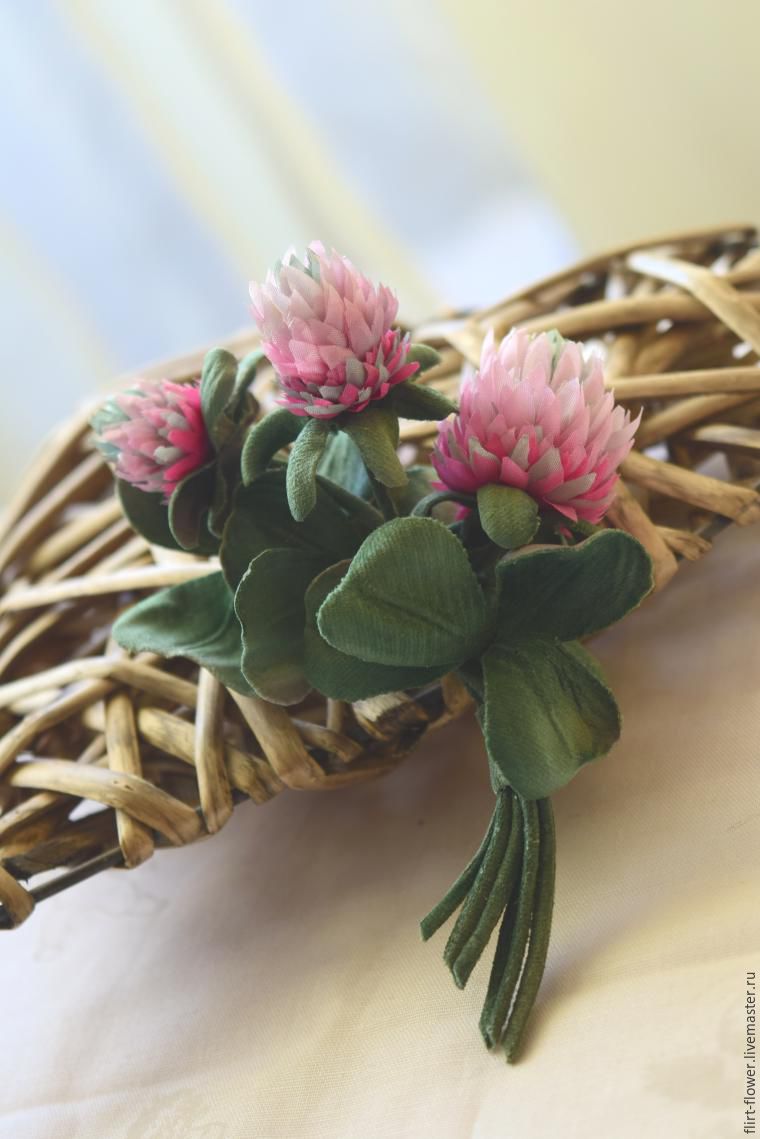 So, let's start!
Materials:
Desire and patience! The process is laborious!
You need Japanese fabric for making flowers:
velvet pieces: 18X18 cm and 7Х18 cm
habotai #10: 40X40 cm
usu: 18X18 cm
Floral wire:
White paper tape about 40 cm.
Paints (I used drip Japanese):
green
pink (very light, medium and bright)
Glue for fabric.
Tools:
brush with natural bristles
stick with a synthetic brush for glue
pencil or pen
compasses
ruler
scissors
nail scissors
awl
Japanese ultra-thin single knife
metal ball tools of two or three dimensions
welded knife #2
tweezers
soldering iron
semi-soft cushion (mat)
smooth surface for applying glue (file or glass)
damp cloth to wipe fingers from glue
And please remember about safety when using the electric soldering iron!
Make patterns for heart-shaped leaves and back sides.
Three leaves 3 cm + ten leaves 2.5 cm. Cut them out with an allowance of 1-2 mm.
Six back sides of different sizes: the biggest 4 x 2.5 cm, the smallest 2.5 x 1.7 cm. Cut them out with an allowance of 1-2 mm.
Cut out petals without patterns, just draw them directly on fabric with the compasses:
large flower:
petals with a diameter of 5 cm — 3 pcs
petals 4.5 cm, diameter — 4 pcs
petals with a diameter of 3.5 cm — 6 pcs

intermediate parts

with a diameter of 2.7 cm — 7 pcs
medium flower:
petals 4.5 cm, diameter — 3 pcs
petals with a diameter of 3.5 cm — 4 pcs
petals with a diameter of 2.7 cm — 6 pcs
intermediate parts of diameter 2 cm — 7 pcs
little flower:
petals with a diameter of 3.5 cm — 3 pcs
petals with a diameter of 3 cm — 4 pcs
petals with a diameter of 2.5 cm — 4 pcs

intermediate parts

with a diameter of 2.5 cm — 9 pcs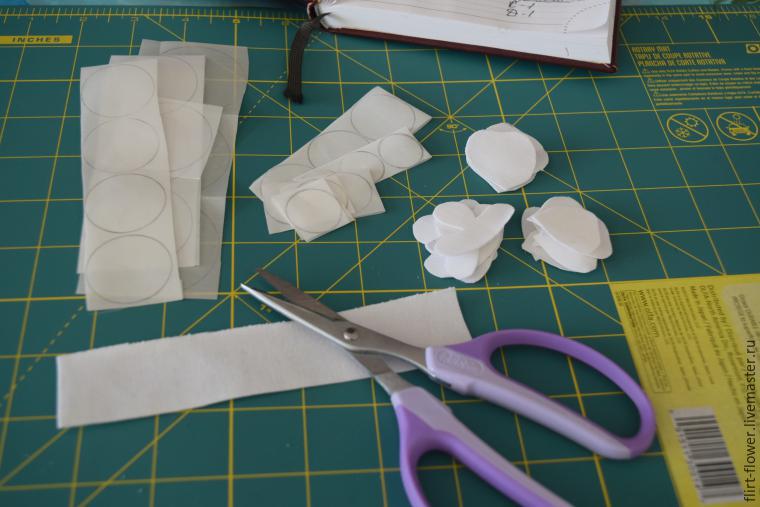 Once you cut out all the parts, you need to paint:
petals pink,
intermediate parts, leaves, underparts, wire and duplicating cloth green.
Or choose the colour you like most.
Cut wire #33 into 3 pieces (this can be done before or after painting).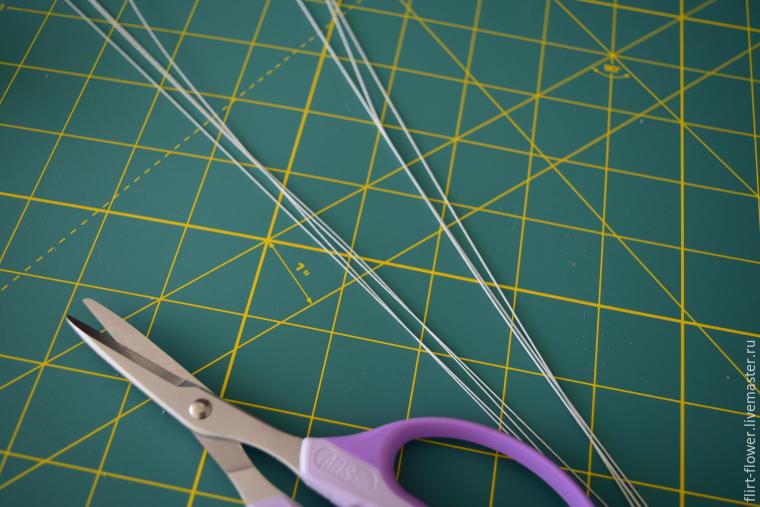 Velvet pieces can be painted again after drying if the colour doesn't seem quite saturated.
That's what I get (I cut out petals after painting):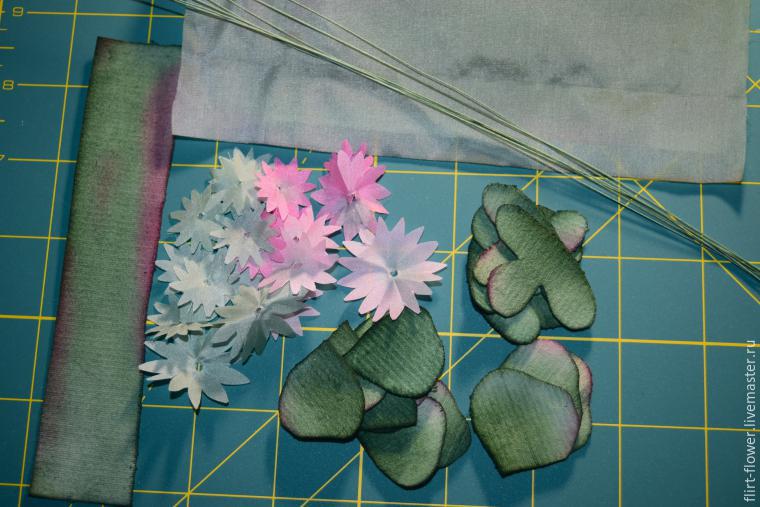 Next, fold the circles to divide them into 16 sectors.
Cut the petals: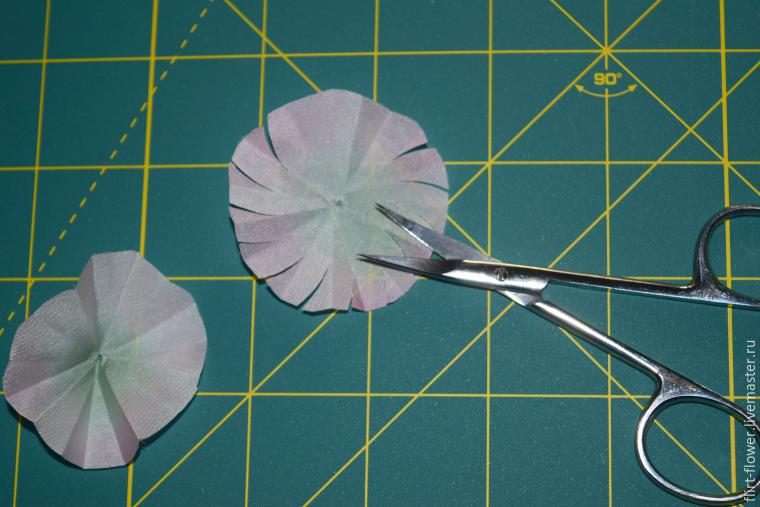 Make holes with the awl: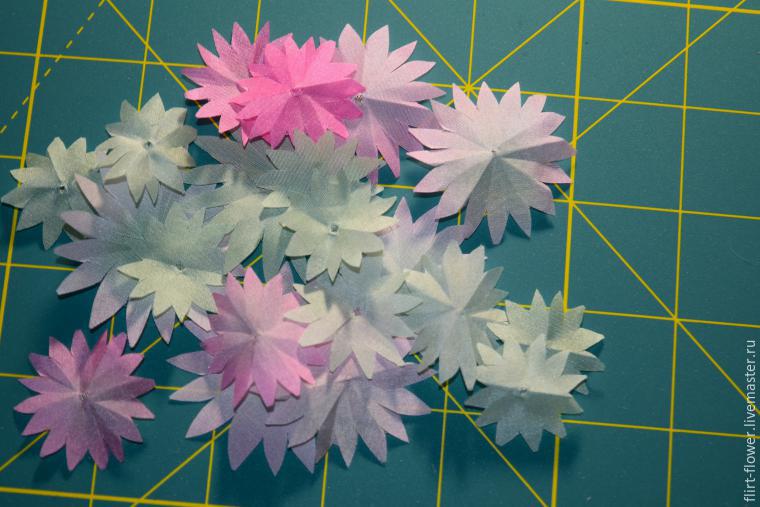 Treat each petal and each heart on the cushion with the metal ball tools (petals and intermediate parts):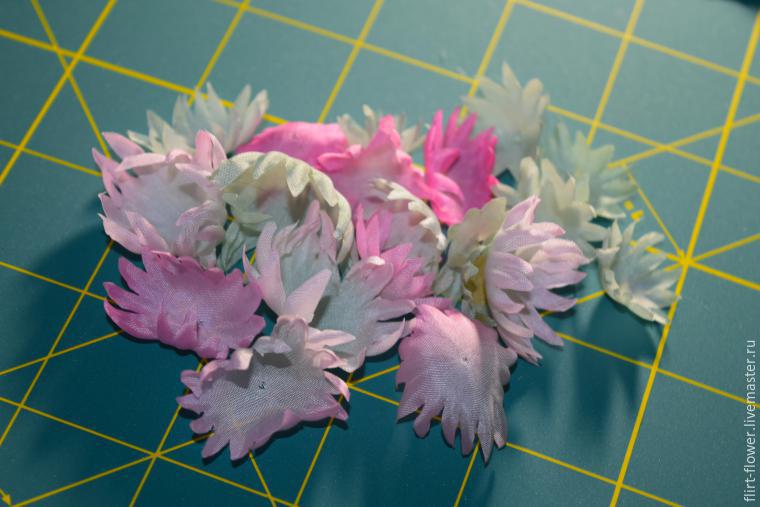 Apply a thin layer of the soft Japanese glue on the smooth surface. Apply each leaf to the glue with its backside, take it with tweezers, attach a wire No. 33 (1/3) not reaching the top of the leaf at 2 mm. Cover with overlapping cloth on the bias and properly smooth it at both sides with your fingers to remove air bubbles. Do the same for back sides (without wires).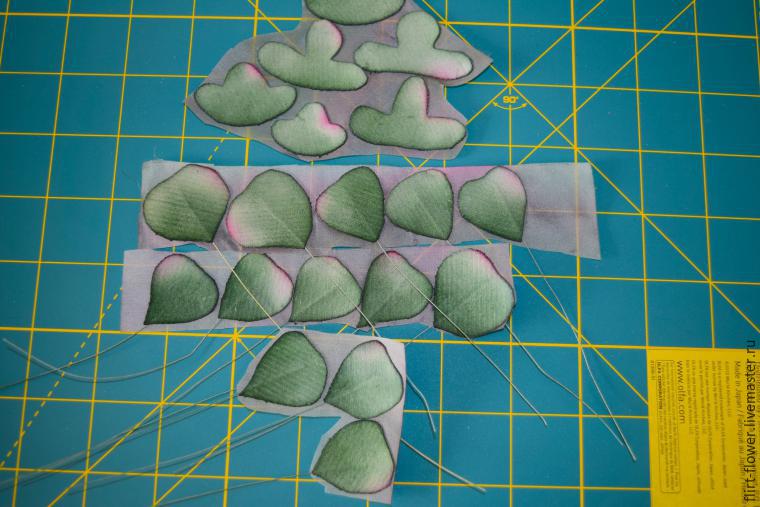 Cut out the leaves and underparts. You can use your patterns for that: apply them to the back side and circle with the pencil.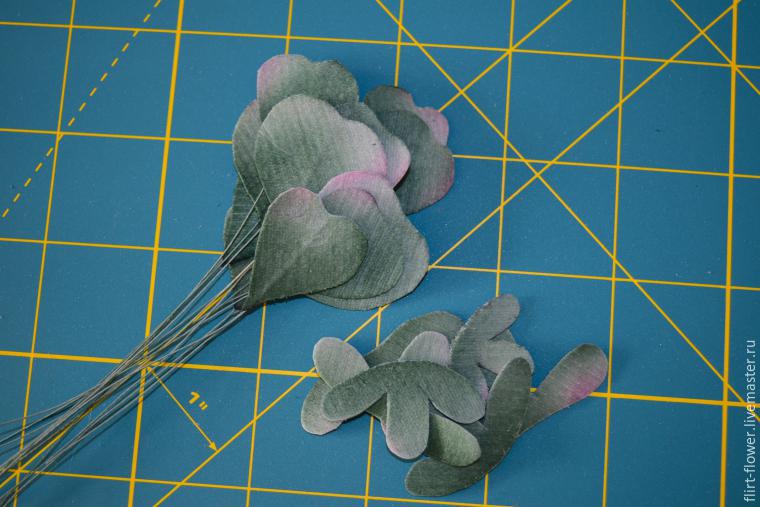 Make holes with the awl at the bottom of each underpart: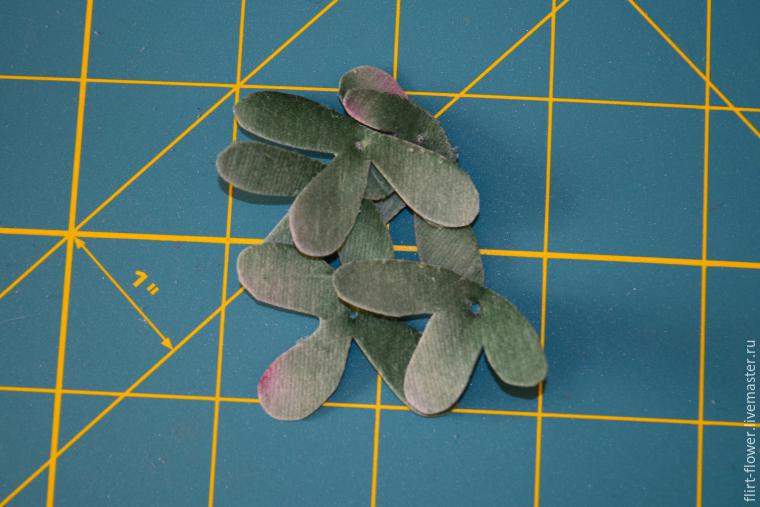 Treat the leaves and underparts on the pillow. Make marks in the centre of each leaf along the wire with the single knife. Use the welded knife for the sides. Use the boh knives for the underparts at their backsides.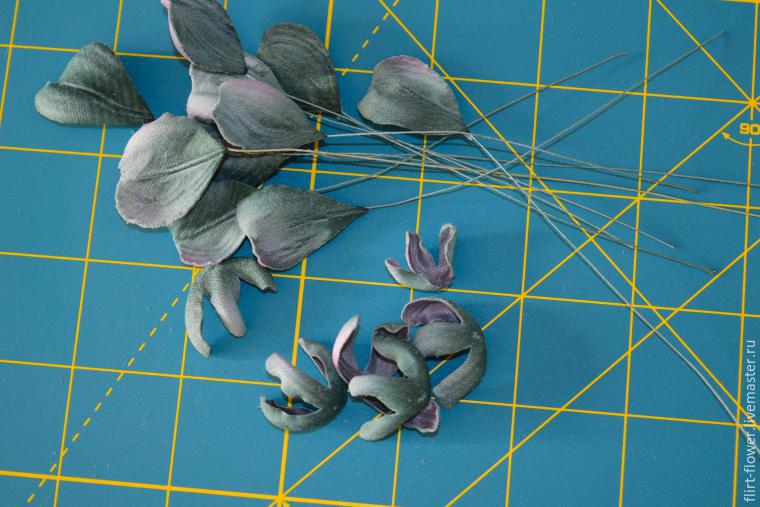 Now assemble the leaves wrapping them with a paper tape, slightly glueing.
Get three trefoils and one twig with four leaves.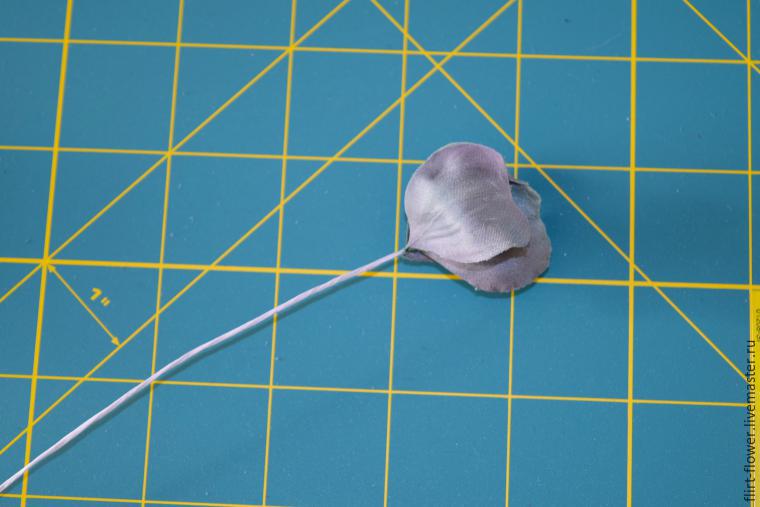 Take wire #26 (3 pcs) for each flower and bend it in half shaping a loop, slightly cover it with glue.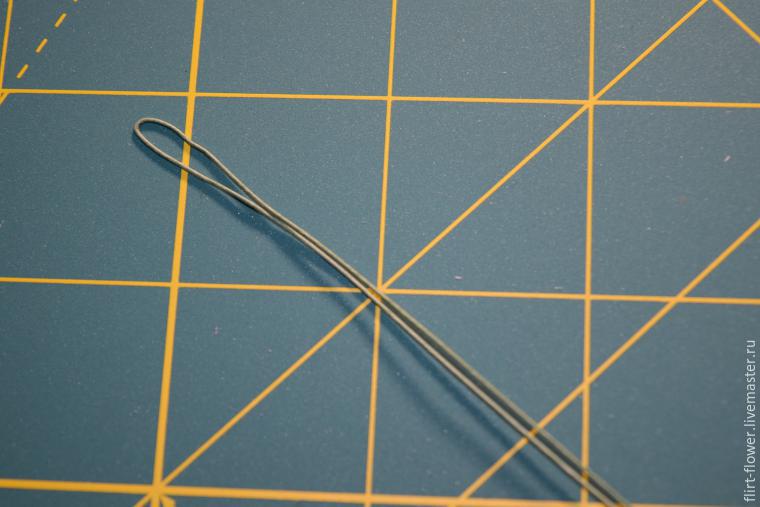 Wind a bit of cotton wool with your fingers forming a small cone. Height about 1-1. 5 cm (depending on the size of your flower).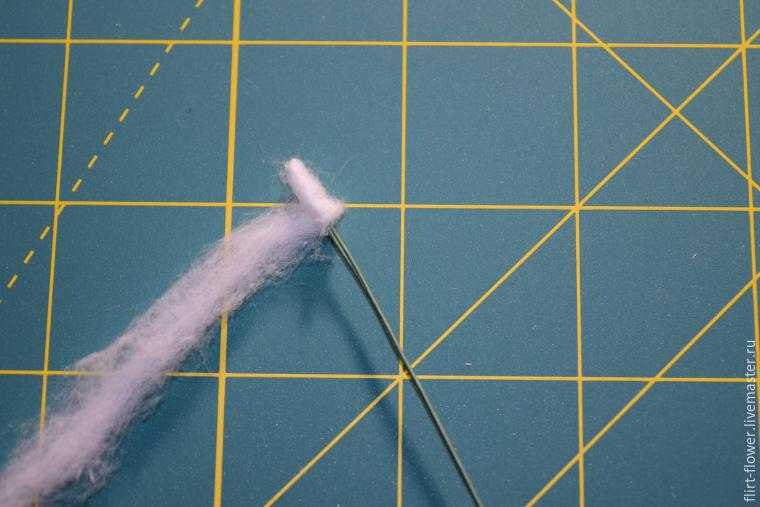 Glue the blank slightly. Cut the largest petal into 4 parts. Attach two of them to the blank, and the other two pieces are attached one to the other. The rest of the petals are cut into two parts. Slightly glue the base of the flower, set petals so that each following was a couple millimetres below the previous one. Starting with the second petal, put on the green intermediate part. The last leaves and intermediate parts aren't cut.
Glue a stem blank — a velvet strip about 1 cm by 15 -18 cm
Glue it gradually pinching from top to bottom to the wire.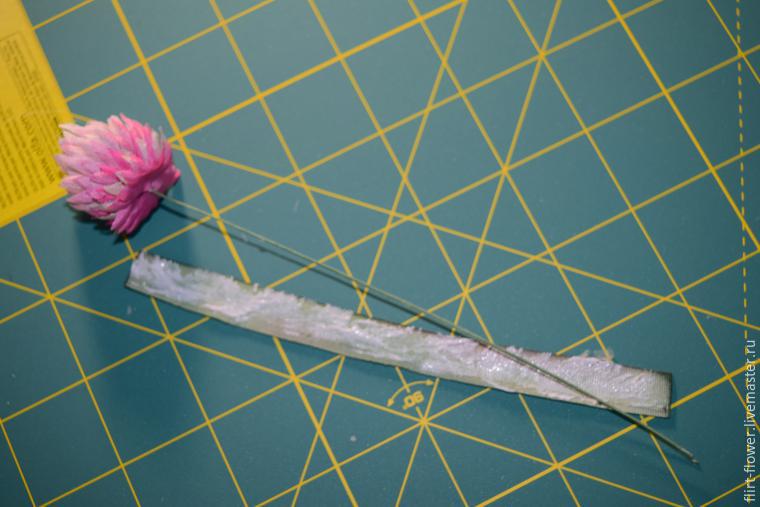 That's what you get: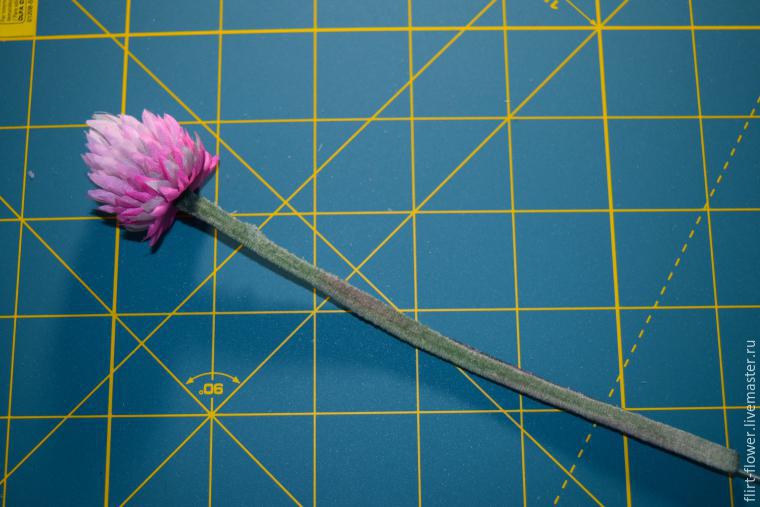 Remove excess fabric and shape the stem: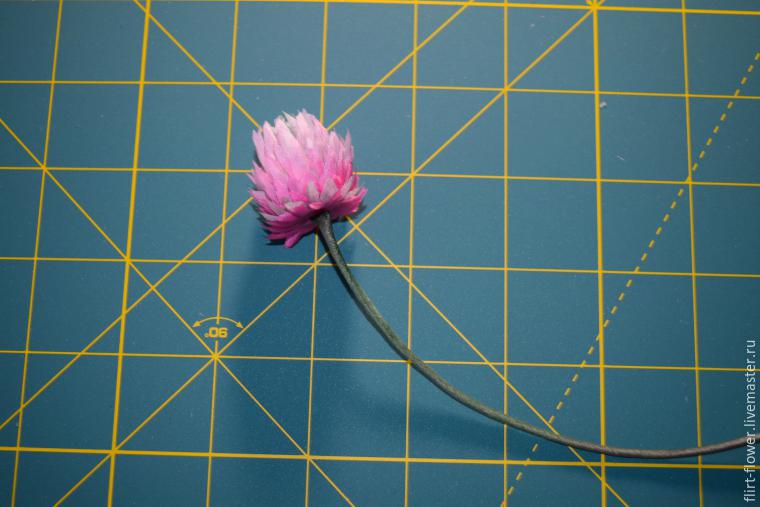 You should have four leaves and three flowers.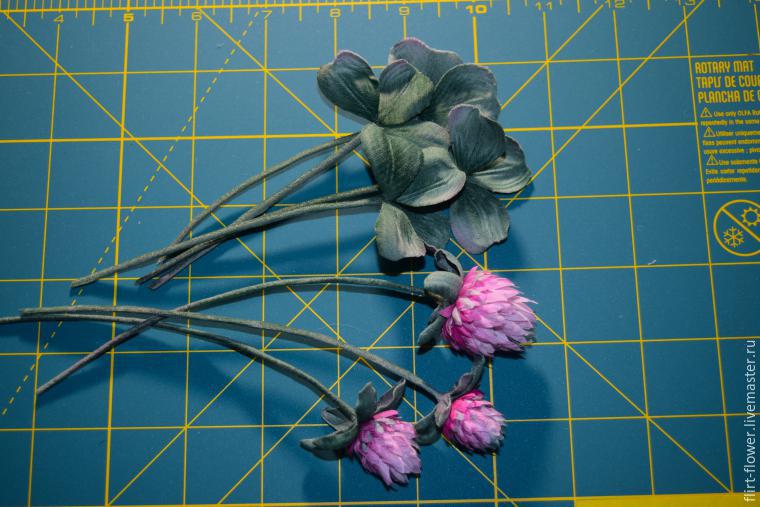 Assemble them the way you like, remember the rule of the triangle.
Cut off the excess stems.
Attach a pin, if you wish.
A sprig of clover that brings good luck to those who made it and those who will wear!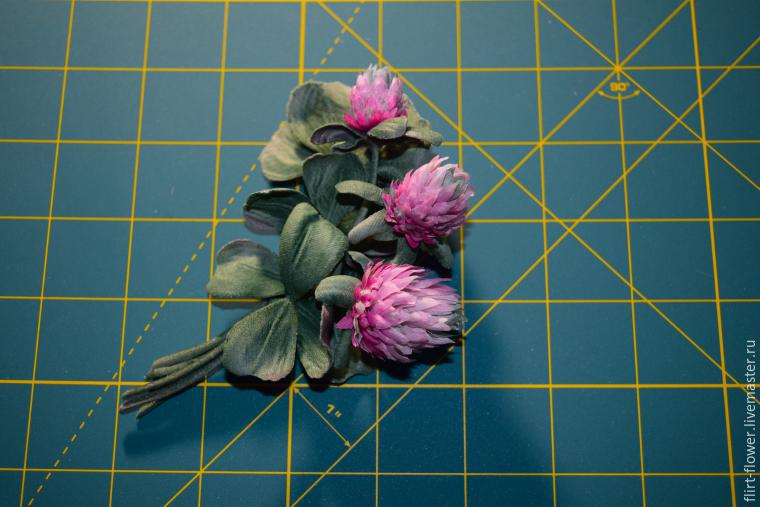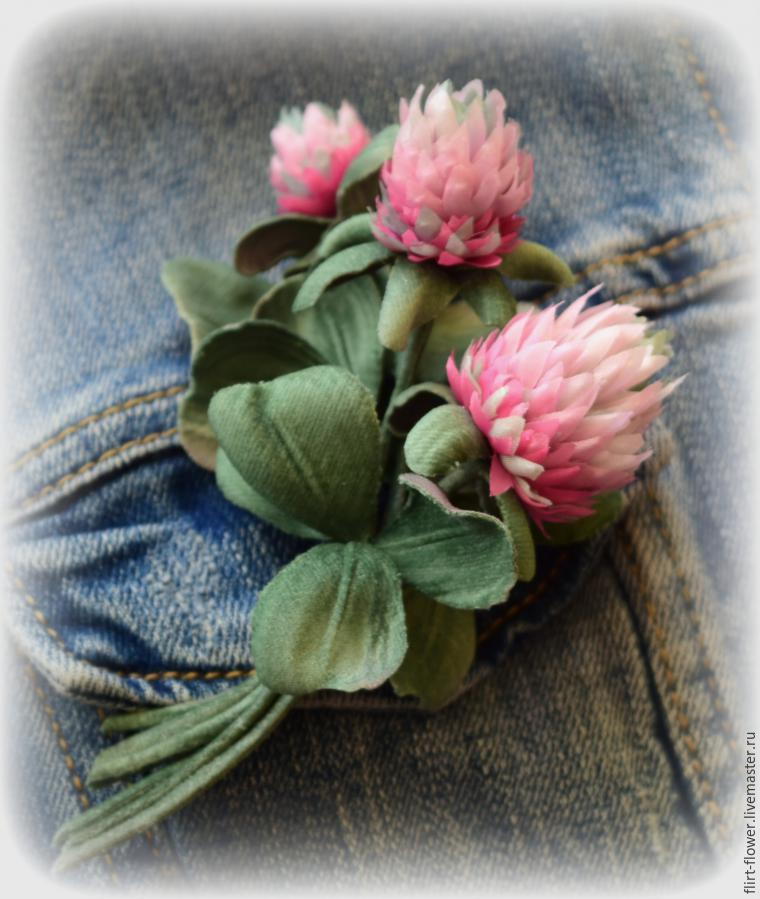 DIYs & Tutorials on the topic