Making Cute Valentines for People You Love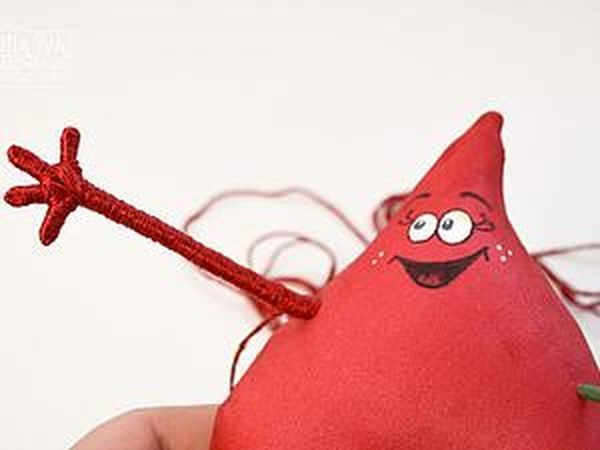 There's little time left before St. Valentine's Day, so one could make a nice souvenir with his own hands!
For this, you need:
PVA glue
paint on fabric
cotton cloth
a piece of fleece
two types of wire (thin and thicker)
polyester batting
thread
tape
pencil, permanent marker
wire cutters
scissors
sewing machine
pattern And here is the pattern (by Marianne Averyanova): Sew the hearts, leavу a hole for stuffing, turn it outside in and stuff properly. Make the legs: bend 40cm of the thicker wire: Wind the tape: Make two holes where to insert the legs: Take fleece ribbon with width 1.5 cm, wrap the legs: Make a liquid for priming. A half cup of water + two tablespoons of PVA glue + paint + any flavouring (I added vanilla and rum).
Properly impregnate the toy and put it to dry in the oven at 150 degrees for 40-60 minutes with the door open. I put the toy in a ceramic mug, made it stay vertically. While the heart dries, make hands — use the thin wire of 26-28 cm wrapped with thread. The ends of the thread are fixed with a drop of glue: Then, apply them any shape: Draw and paint the face: Pierce the toy to insert the hands: Wrap with the tape: And with thread: Don't tear off the thread, bring it to another hand: Make a haircut for the smaller heart: Our two hearts are ready! You can now dream of creating romantic scenes. The toys can be glued to any base: If you lack time, sew hearts with loops to hang at: Thank you for your attention, wish you love, joy and creativity :)
When using the materials of this tutorial, to avoid confusion, add the active link to the source.
DIYs & Tutorials on the topic