Creating Rose Leaves out of Iranian Foam and Oil Crayons
Difficulty: Very easy

Materials:

tameran

,

tameran 1 mm

,

wire

,

wire floral

,

scissors

,

scissors for needlework

,

talent

,

tape tape

,

pastel

,

oil pastels

,

sponge

,

acrylic lacquer

,

mold

,

mold sheet

,

iranian tameran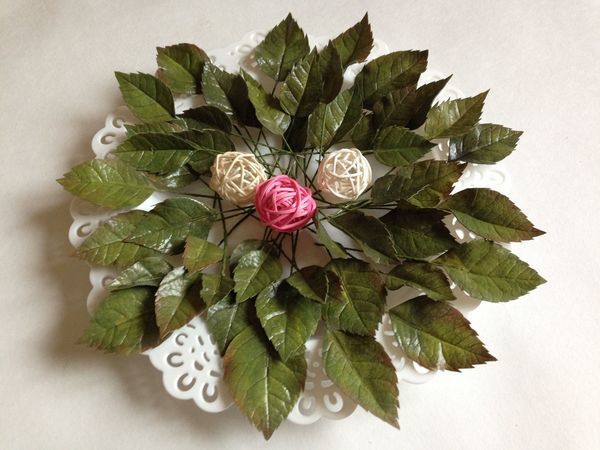 Today I want to share with you one of the variants of creation rose leaves out of foam.
You need:
- iron
- Iranian foam, any bright colours
- melamine sponge or an ordinary sponge wrapped it in a soft cloth
- a mold of a rose leave
- scissors
- oil crayons
- acrylic semi-gloss varnish
- brush
- floral wire 26-28
- green tape
Cut out a piece of foam, the size about 6*6 cm. Wrap it around the sponge, iron and apply the mold — several times: Next, cut out the leaves: And paint. I again selected oil crayons: I usually use several colours of crayons to make all leaves different — and, thus, realistic. Painting takes several steps: Cover the painted leaves with the semi-gloss varnish: And carefully glue stems made out of the wire: It's time to show the finished work :) I hope that my tutorial will be useful for you!
I wish you enjoy your creativity and endless inspiration!
DIYs & Tutorials on the topic