Implemeting a DIY Winter Brooch out of Leather and Fur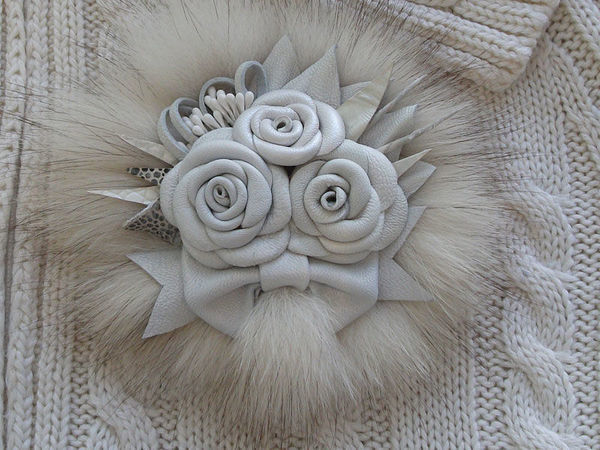 You need:
white leather of medium thickness (0.4-0.7 mm)
white fur
PVA glue
white stamens for flowers
candle
tweezers
pin brooch width of 3.2-3.8 cm
puncher
Roses
1-3. Cut out by 4-5 petals for each rose. 4-6. Scorch each petal after that. 7-9. Apply glue and roll central petals: 10. The rest of the petals are glued at the edge of the right side. 11-12. Use them to wrap around the central bud: 13-14. Go on: 15-19. Finish one flower: 20-21. Make the point smooth, cut off the exces at the bottom. Make some more roses: 22-23. Glue all roses to a piece of leather or cardboard: 24-25. Cut out a fluffy base: 26-27. Glue it to somathing hard like caps: 30. Comb fur, attach a leather circle in the middle: Decor.
31-32. Prepare leaves of different sizes: 33-34. Soak them in the water solution with PVA glue, twist them and dry. 36-37. Make a bow: 38. Glue and press it to give the right shape: 39-40. Assemble: Assembly.
41-42. Smooth out the leaves, glue and apply to the base in a circle: 43. Add the bow: 44. Prepare various decor: 45. Apply it: 46. And the roses: 47-49. Finish with the brooch pin: 50. Now, the fur brooch with flowers can adorn your outfits! I would be glad if you liked the idea!
DIYs & Tutorials on the topic