Sewing A Cute Gingerbread Dog: For Those Who Love Handmade Symbolic Gifts
Difficulty: Very easy
Pattern or template:download

Materials:

calico

,

sintepon

,

scissors

,

needle

,

thread

,

acrylic paint

,

contours for textile

,

liquid pearls

,

coffee

,

cinnamon

,

vanilla

,

pva glue

,

pencil

,

brush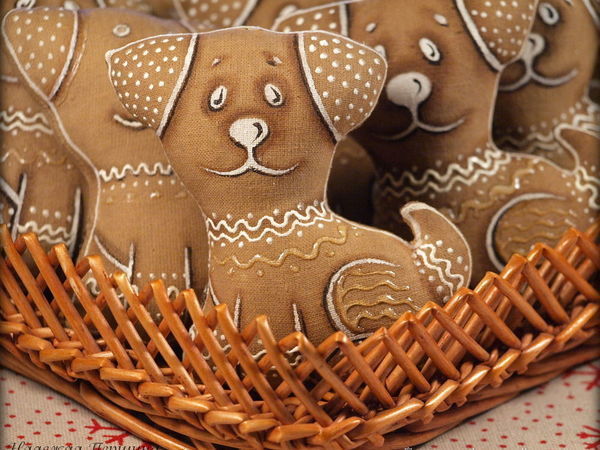 Sewing gingerbread toys has become my Christmas tradition. Today I want to share with you a recipie of manufacturing a cute symbol of the New Year 2018 — a sweet puppy.
Prepare all necessary materials:
white cloth
polyester batting
acrylic paint, white and brown
oil paint, brown
white fabric contour
liquid pearls, white
needle
thread
scissors
pencil
thin brush
Nescafe + cinnamon + vanilla
PVA glue Transfer the pattern to paper and cut out: Fold the cloth in two. Transfer the pattern: Stitch on the sewing machine, leave the marked line unsewn: Cut out the stitched blank making allowances about 3 mm.
Make cuts where marked: Turn the toy outside in: Stuff with batting: Then sew up the hole with a concealed stitch: It's time to paint! Make a mixture in a 300 ml cup:
- 2 tablespoons of coffee
- 1/2 teaspoon of cinnamon
- a pinch of vanilla (vanilla sugar)
- boiling water, about 150 ml
In a separate bowl, mix
- 2 tablespoons of PVA glue
- 2 tablespoons of cold water
Get a milk-like liquid. Gently pour it in the coffee mixture. This is the mixture for painting.
Before you start painting the toy, you can turn on the oven at 130 C. Before applying the coffee mixture, press the brush at the edge of the cup. The toy is painted with light strokes. I have a wide brush for that. That's made quickly. The toy are better dried when hanged. I tie a thread and pass a paper clip through it to hang in the oven. The oven door needn't be closed tightly. Drying takes approximately 7 minutes. After that you can paint the dog again if you want a darker colour.
Aplying a pattern

Apply marking with a white pencil — legs, ears, nose. Then tone it with brown oil paint. Add white contour: Some more details and clear brown contour: Go on decorating with your own or my pattern: The final step. Make a loop. Here is a company of friends I've made. Wish you to have a nice time preparing for the holidays! :) I will answer all your questions.
When you copy or partially use the materials of this tutorial on other resources, please add an active link to the source — it is obligatory.
Kind regards,
Nadezhda Pershina
DIYs & Tutorials on the topic