Crafting a Christmas House Night Lamp of a Garland and Cardboard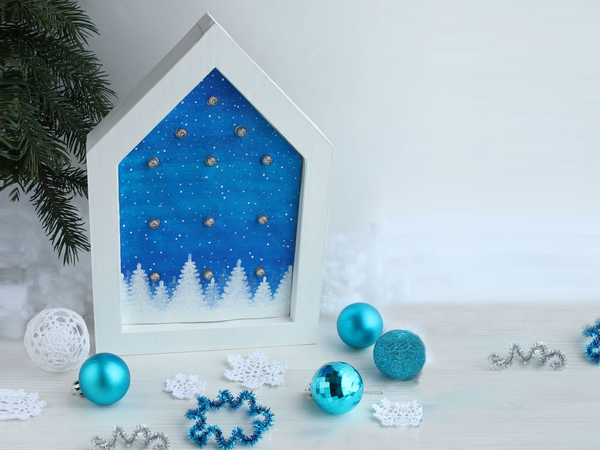 Have you already started preparing for Christmas and New Year or postpone it all for later? Let's not put anything aside and create a cute Christmas night lamp. You need:
containerboard
electric garland
PVA glue
white paper
ordinary cardboard
acrylic paint
art / utility knife So, use the template to cut out all parts of the house. Here's the number of blanks you need: Now is the time to work with the garland. Measure the diameter of the bulbs to cut out the holes of the right size. Smooth the edges of the holes with a pencil. Glue four framing details together: Hide the waves of the containerboard: Glue the blank with holes: Then turn the house to another side and glue all remaining parts of the frame. Wrap the edges with paper strips: And paint white: Insert the lamps: And hide all wires inside. Fasten the switch. You can glue or apply double-sided tape: Here's what you get at the end: You can leave it white, or draw a Christmas picture: Thank you for your attention! Whish you a Christmas mood:) DIYs & Tutorials on the topic