Sewing a Cute Girl's Dress: Guide + Pattern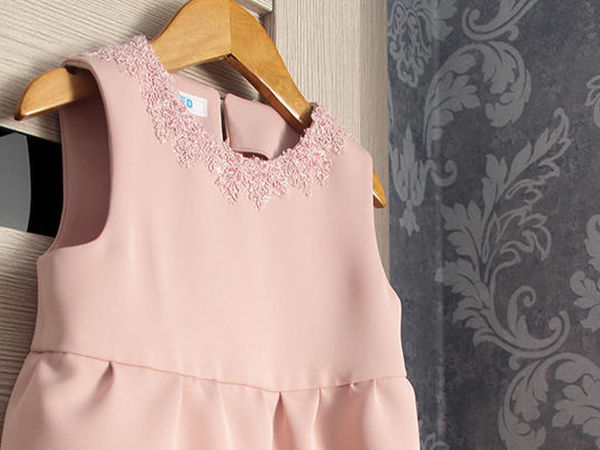 I think it's time to start preparations for Christmas holidays, buy presents, wrap them, find perfect garments. I offer to sew a nice dress for little girls with your own hand. Let's start :)
You need:
dress fabric (1 m)
dublerin (30 cm)
threads
scissors
needle
pieces of lace
beads
hidden zip (20 cm)
underwear hook
chalk
Modeling by the pattern
You can do it on your own.
1. That is a basic pattern: 2. Apply modeling lines: 3. All is ready! Tailoring
1. Cut out details with seam allowances of 1.5 cm on all sides.
2. The details of overcasting are duplicated. Dublerin is cut out without allowances. 3. Join shoulder seams, the overcasting details. Seam allowances are slightly cut to 0.5-0.7 mm and ironed. 4. Fold the details of waist and overcasting face to face aligning the shoulder seams. Sew up the waist and the overcasting on the armholes and neck. The allowances are cut off close to the seam and carefully cut at curves. 5. Turn parts of the back outside in through the shoulders. 6. Tack the armholes and the neck. Iron, then remove the tacking and iron again. 7. Join the side seams of the front and the back. Seams are ironed. Turn the tacking inside out and iron. Tack the bottom. 8. Join the side seams of the right and back parts of the skirt. Sew up, iron the seams and tack. The lower and side cuts of the baskque are tacked and bent. 9. Gather the basque, put it with its back side to the skirt's right side, tack. 10. Sew up the bodice to the skirt at the waist line. Tack the cut and iron the bodice. 11. Glue the sew-up line of the zip and tack the seams. 12. Sew up the zip, join the back cuts of the overcasting and bodice, sew a hook. Sew up the back cut from the bottom to the zip, the seams are ironed. 13. The side cuts of the overcasts are sewn to the side seams mannually. 14. The bottom of the dress is straightened, tacked and bent.
15. Lay out lace details along the neck and carefully sew to the bodice. Steam iron, embroider with beads. Here is the dress you get! Thank you for attention! Bye! :)
DIYs & Tutorials on the topic