Getting Ready for Halloween: Cooking a Haunted House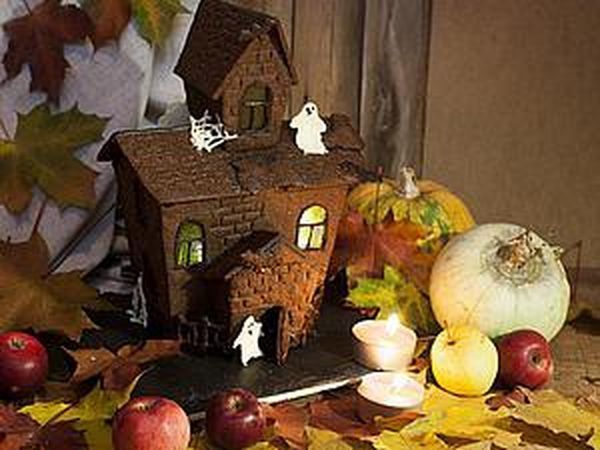 Today we're being a little naughty, the reason in itself sets the tone. I think Halloween is a treat for those who loves joke and fun. Booo!..
Take the following materials and tools:
dough (recipe below)
printed pattern
kitchen tools (rolling pins, spoons, knives, glass)
toothpicks
baking sheets
colourful candy
dark and white chocolate
icing;
food colouring
food bags, 3 pcs
oven
Let's start with the dough:
flour — 750 g
cocoa — 135 g
salt — 1 tsp
butter — 450 g
sugar — 400 g
brown sugar — 230 g
eggs — 3 pcs
Mix dry ingredients. Separately whisk sugar and soft butter. Add eggs and stir. Pour dry ingredients to the butter mixture. Mix everything with your hands. Divide dough into several pieces, wrap each part in film and put it in the fridge for 15 minutes.
Menwhile, prepare templates for walls, roofs and other parts of the house on three A4 sheets: You need two pcs of templates 1-7 and 9. And one template 8.
Template 10 is cut out from walls as many times as you want. Template 11 is a doorway and cut out from part 8.
The dough is rolled out at 4-5 mm on a baking sheet. Apply the templates and cut out the parts. This photo shows the thickness of the rolled dough: Almost ready.
Decorate before baking. Make stripes: Or briks: And roof tiles: Before baking, put the walls and roof into the fridge for 15-20 min.
And stained glass windows from broken candies: Take the walls out from the fridge and put in a preheated at 160 degree oven for 6 minutes, then take out, fast pour broken candies in the window holes, and take the blanks back for 4 minutes. Here is what you get after the oven: The rest of the dough is baked, too, for eating and further decorating. While the walls cool down, take black (70% cocoa) and white chocolate. Chocolate is broken into small pieces, melted and poured in cooking bags. Paint these cuties on baking sheets: Put the pictures to harden in the fridge. Proceed to the decoration of the house: Make icing. Whisk egg whites and gradually pour powdered sugar until the mixture becomes thick + dark brown food colouring. Smooth the edges of the house details if needed: And start assembling: I fixed the house between jars and left it like that for 30-60 min. Attach the roof: Install the turret on the roof: Remember my trash cookies? They're attached to the roof for shabby effect: And the icing decor: Well, that's all! Thanks everyone who read up to the end! I very much hope you'll try this :)
Yours,
Hedgehog Kolupy
DIYs & Tutorials on the topic