How to Model & Paint a Monstera Soap Dish from Clay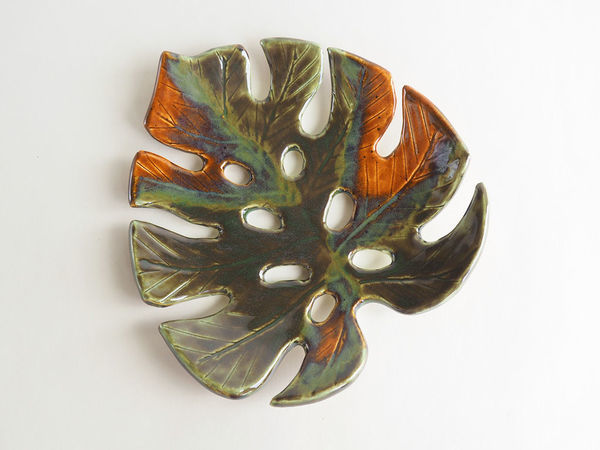 I love monstera for its decorative shape. The DIY is simple and is good for amatuer potters and beginners.
Before you start, stock up with clay and find or rent a stove. Read or clarify the burn-in temperature, the temperature of clay and glazes firing should match or be very similar.
Part 1. Modeling
You need:
– a small piece of clay (I used faience)
– wooden rolling pin
– a small bucket or other container with water to rinse the hands
– tools (sticks for modeling)
– sponge
– an image of monstera leaf for inspiration and illustration
– jar with slip and a brush
– a small dish and a piece of fabric a little larger than the dish Put on an apron and start. 1. Knead the small piece of clay well and make a ball of it. Roll out the ball in all directions: at 90 degrees, then at 45. To make equal thickness for all sides, use two pieces of acrylic glass or wooden rulers. 2. When you reach the desired thickness, transfer the pattern on the clay looking at the picture. Then cut it out. Extra lines are removed with a finger or wet sponge. 4. Now smooth sharp edges. Scrape off the excess of clay from all sharp edges and holes. Make all smooth with a finger dipped it into slip, or use a brush. From both sides. That's what you get: I stamp my brand: 6. Now take the small dish and a piece of cloth. Smooth the fabric and properly attach it to clay. 7. Carefully turn it all over. Emphasize the veins. Add fine lines. 8. And apply it the shape of the dish. Leave it in the dish to dry. 9. Keep the same temperature in the room, ortherwise, clay may crack. It's better to put it for 5-7 days in a cardboard box. When the product dries, it becomes lighter, whiter and smaller — clay always shrinks from 6% to 10%. Part 2. Painting
You need:
a piece of sandpaper
a small bucket or another container with water
sponge
wide brushes
glazes at your discretion Here's the blank, dry and fragile. Carefully remove cloth from it. 1. And sand it from both sides.
Note: you need to do it with two hands! My left hand was taking the photo at that moment: 2. Use a stick for hard-to-reach places. 3. And remove all dust with a wet sponge. 4. Try not to overdo! Excess of water would ruin all. Wipe from both sides. 5. The blank is ready to be decorated with glazes.
If there are no glazes, engobes or other paints, the leaf may be baked as it is. You will get a matt dish. After firing, all is sanded again.
Decorating with glazes.
Before applying glazes, they're wiped with a sponge because dust reduces the quality of glaze coating.
Just want to remind you that clay and glazes should be of the same temperature range! My faience has a firing tempertature of 1150-1250 C, and green and red glazes — 1180-1230 C. I baked my glazed dish at 1180 C to get the result I wanted. I recommend beginners to take average temperatures.
There are several methods of applying glazes. I use squirrel brushes for liquid glazes. The two glazes I selected for painting this dish are quite thick, so I took a wide bristle brush. 6. To try, start painting from the back side. Take any colour. I chose red for the bottom.
Note: paint only the edges of the dish. The bottom should remain unglazed! As a rule, glazes are applied in 2-3 layers.
Layer 1. Apply all brush strokes in one direction and each next brushstroke overlaps the preceding one to avoid blank spaces.
Layer 2. Is perpendicular to Layer 1.
Layer 3. An extra layer, can be applied diagonally to the first two, if necessary.
Try to remember the starting point — where you applied glaze first — as you won't distinguish one quickly dried layer from another and may add a couple extra layers — which would result in sagging or smugging. 7. Apply 2-3 layers to the right side. Remember about the sidewalls. 8. Paint the rest with green glaze. It's almost ready.
9. Now look at the back side and remove with a sponge all glaze that has flowed through the holes. You mustn't leave glaze on those surfaces that are in contact with the stove — your products will stick tightly! 10. Wait a day, let the blank dry. Tell the owner of the stove the temperature range of glazes and clay, and he would set the right mode.
If you do it all on your own, keep in mind that items mustn't touch each other and the sides of the stove. Your dish is ready in a day. 11. The finished product is treated with sandpaper and wiped with a sponge in blank places, which are without glazes.
Best wishes,
Tatiana (Red Panda)
DIYs & Tutorials on the topic