Guide to Selecting the Length of Shoelaces
It often happens that your favourite shoes are willing to serve you faithfully for many seasons, but the laces loose their original appearance, if not torn. Then a competent replacement is needed urgently. But how do you know which length of laces to choose? Yes, there is a way to measure your old ones, but it's not convenient, or a part of a lace may be simply lost, and some items could have even been significantly stretched.
We've repeatedly faced with this challenge — buying laces to exactly suit your favorite pair of shoes, and we decided to create a simple and clear infographics, which is designed to instantly help you with this choice.
Keep the chart, share with friends on social networks and click 'Like' so that we knew you appreciate our creative work.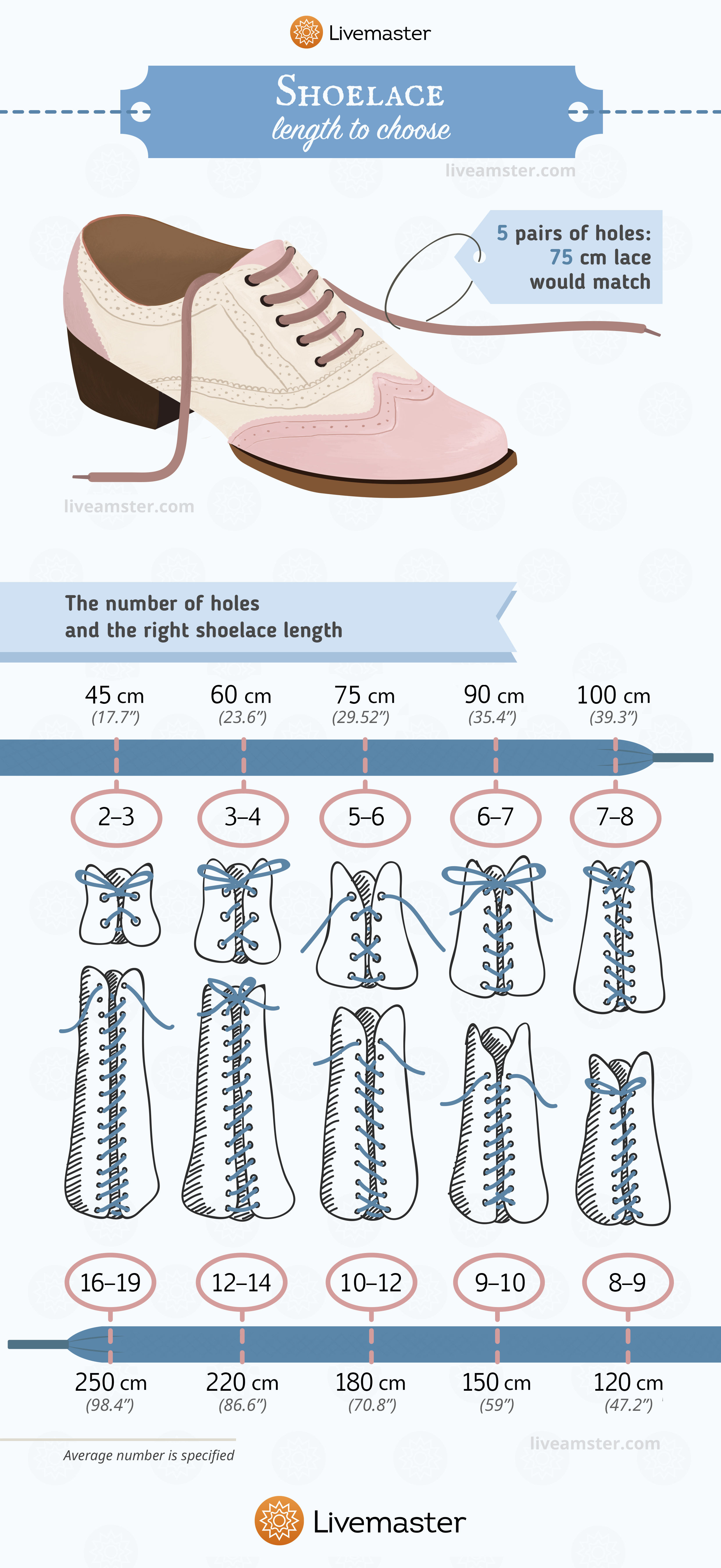 So, you only have to count how many pairs of eyelets are there in your shoes, and then find the corresponding length in the table. For example, if there are six pairs of holes in your shoes — the suitable length is from 75 to 90 cm. If this pair of lace is tied tightly, the edges of eyelet tabs are joined, so choose the length shorter, or buy laces of 90 cm if you need them to be longer.
What colour to choose
If you prefer classic style and one-colour shoes, get laces of the same shade.
For brown shoes, laces of one or two shades lighter would match. Actually, a pair of shoes has several colours — you can select laces to match the color of soles.
If you love expressing yourself even in small things, pay attention to bright laces with prints, patterns and contrasting colours. It is welcome when a shoelaces colour matches another accessory in your image, for example, a handbag or scarf. Laces for sport shoes and sneakers can be very bright and even retro-reflective.
What an aglet is
And now a couple of words about functionality! Aglets are what allows you to quickly and easily retie shoes. For light coloured shoes, select laces with properly fixed plastic or metal aglets so they don't damage during upcoming laundries and overall exploitation. If shoelaces play the role of decoration, for example, they additionally have a zipper or another fastener, and tying is a rare phenomenon, you can buy laces even without aglets, for example, leather laces, velvet or rep ribbons.
Laces for sports and outdoor shoes simply must keep the knot well — so select natural materials: jute, cotton, leather, and you'll never have to worry about shoelaces untying on their own.
Select perfect laces for your favourite shoes and wear them with pleasure!