Colourful Wedding Outfits and Amazing Jewelry from Different Countries of the World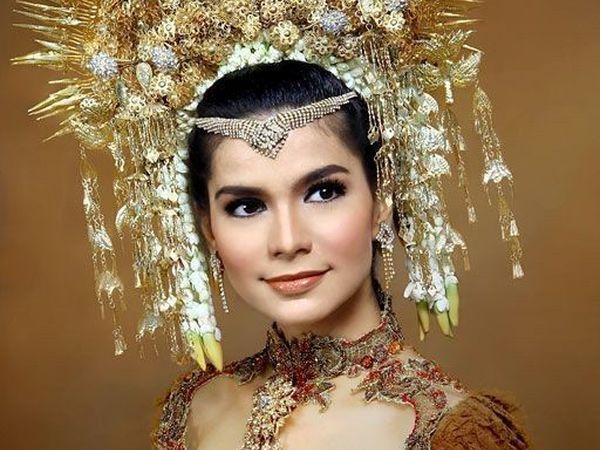 Wedding is a very important event for many people. A wedding dress, perhaps, is one of the most desired outfits in a woman's life because it should be special, beautiful, the most elegant and memorable... Today's fashion offers a huge number of models, styles and trends from traditional and classic to vintage and exotic.
I offer you to have a look at amazing, unusual, colourful, sometimes bizarre, wedding dresses from different countries of the world.
Indian wedding
The dress should be red according to the tradition, but you can see other bright pure colours. Nigerian bride
The outfit depends on the part of the country, but all brides wear a turban. Weddings in Nigeria are always numerous. Wedding in Ghana
Very bright traditional patterns are characteristic there. Brides in Mongolia
Very specific garments are worn. Wedding in Japan
Traditional weddings in Japan: a bride wears a white kimono, symbolizing purity, and after the ceremony she puts on a red kimono that symbolizes good luck. Weddings in Kazakhstan
Here a special headdress is found. Modern Kazakh brides. Wedding in Scotland
Scottish grooms traditionally wear a kilt of their clan and cover the wife's shoulders with a shawl with the same pattern. Hutsul wedding
In the Carpathians, a true fairy-tale happens. They beautifully decorate their houses, horses and trees. Wedding in Romania
As a rule, the organization of a wedding rests on the shoulders of parents. Goranska bride
Pagan elements are often used. Wedding in China
Red should be everywhere. Janska wedding
They use two ceremonies, Islamic and an older one, pre-Islamic. Peruvian brides
Traditional skirts and ponchos are made for brides on the wedding day. Norwegian wedding
Here you see the traditional costumes: And a heavy crown: Wedding in Indonesia
Weddings here are very different from each other depending on the region and ethnic group. Modern fabulous fest: Wedding in Bali
Very bright and lavishly decorated. Gold crowns are put on the heads: Wedding in Jakarta
Much gold, beautiful patterns, bright colours and unusual hats. Wedding in Palembang Hamar wedding
Impressive collars of black, green and red beads. Wedding in Korea
National costume in Korea is called 'hanbok': Traditional outfits in Russia.
Russia is a home of over 185 ethnic groups. Many Russian weddings can last two days, some even longer. A Russian folk wedding garment includes all shades of red. The red colour symbolizes joy and new life. Wedding in Uzbekistan
Uzbek brides wear a very colourful and bright hand-embroidered outfit. Wedding in Turkmenistan
A bride is dressed in a red silk dress with lots of golden and silver ornaments. Bedouin wedding in Israel
An integral part is a heavy veil consisting of different jewelries. Wedding in Hungary
A taditional Hungarian wedding dress is embroidered with floral pattern of three bright colours. It has a lot of petticoats with interwoven wheat. Wedding in Malaysia
The wedding dress colours are purple, violet and cream. Polish brides
If you notice a bride trying to throw the hem of the wedding dresses on her groom, according to traditional belief, this will allow her to dominate in the new family. Maasai wedding in Kenya
A mandatory attribute of a bride is a bright and colourful necklace made of beads and sea shells. Javanese wedding
The groom and the bride wear head gears. Woman's hair is placed in a special pin. A traditional costume from Schaumburg-Lippe, Germany
A wedding headdress is large and decorated with hundreds of glass beads. Brides in Eritrea
In a Muslim tribe from Eritrea and North-Eastern Sudan, a woman remains in seclusion before the event. The members of the tribe can marry only their own members. The wedding veil of a bride is embroidered with metal thread and pearls geometrically. Tibetan brides
Traditional Tibetan wedding dresses have so many layers that it is difficult to see a bride underneath. Brides from Kinnauri
A bride of this Indian nation wears a heavy layer of gold and silver jewelries and a garlands of dried fruits. It was very interesting for me to see all these patterns, decoration, fabrics. I hope for you also.
Yours,
Oksana Shvaykovskaya
Author's jewelry from beads