Sunny Lampwork Jewelry by Elizabeth Johnson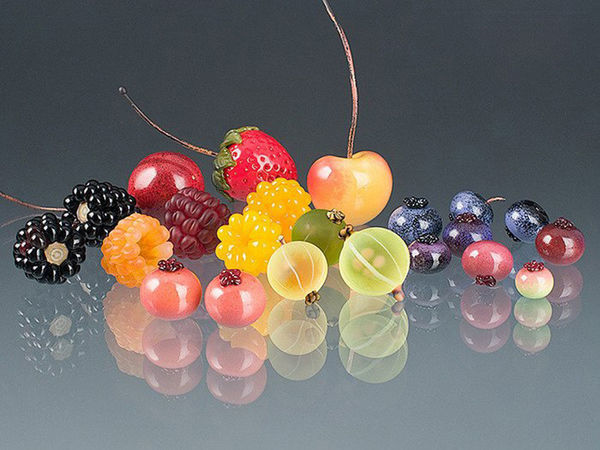 Honestly, I'm in love with lampwork. I think this technique is a true magic. A heavenly garden, full of mysterious flowers, the abyss of space with floating stars, the shining blue depths of the ocean. This is my declaration of love :)
Recently I found a magic lampwork garden of artist Elizabeth Johnson on the Internet and now want to share it with you. Elizabeth's dad was a gardener, so their house was always full with fresh fruit. In her youth, she studied pencil drawing and oil painting in a photo-realistic manner. Her husband offered her to work with glass, provided lessons, tools and materials. Then he arranged a journey to the Murano island where she saw works of world-famous glass artist Vittorio Costantini. We should all have such husbands :)
In 1998, she opened her own studio. Now Elizabeth Johnson creates some of the world's best glass jewelries in the lampwork technique: her berries and fruits impress with realism and are gaining admirers around the world.
Wish you pleasant viewing and sunny fruitful summer! Just want to eat! What a miracle, nothing more, but as elegant and cute! In gooseberries the bones appear :) The bracelets are amazing! Summer and sun! And here is the sun Master.